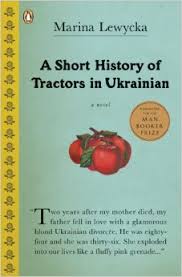 A Short History of Tractors in Ukrainian has a rather confusing title. At first glance, you might think this book is some sort of agricultural textbook that you would need an English-Ukrainian dictionary to help you decipher.
At least, that's what I thought. Instead, I was happy to find a book about a family (written in English) that was funny, and heartbreaking, and compelling.
Nadezhda and Vera are two sisters, (now both adults), who do not get along with each other. Nadezhda, the youngest daughter, grew up in England during a time of peace. Vera, ten years Nadezhda's senior, grew up in Ukraine while the war was going on.
After their mother dies, the sister's relationship becomes even more strained. Part of the reason has to do with money. The other reason is that Nadezhda wants to learn more about "the old country", and the lives of her family before she was born. Vera would rather not talk about it, and especially the struggles and the scary stuff.
Two years after the death of their mother, their father decides to get married to a Ukrainian immigrant. He is in love, and believes he is saving her from having to go back to the Ukraine and a difficult life. His daughters believe he is getting swindled by a much younger woman who only wants to get married to stay in the country, and also so she can take his money. The sisters band together to put a stop to this.
It is clear that Valentina (the woman their father is smitten with) is no sweet valentine. She yells, she smokes, she dresses "like a tart". She disappears to the homes of other men overnight, or for days at at time. She brings her teenage son to live with her new husband, and demands he pay for a private school for the son.
Valentina also wants new cars, a new stove, all the things that signify to her a good life in America. She doesn't want to pay for any of them herself, though. And, try as they might, the sisters have an extremely difficult time getting rid of her. Things get much worse before they get better.
Some of this book is funny, in a "Jerry Springer" show kind of way. Some of this book is incredibly sad, especially the parts where people are treated very badly. It is all woven together, with the past next to the present, and has many layers.
The book is about a dysfunctional family struggling to get along and help each other. The book is about how the same world seems so different to each person, because each person's experiences, good or bad, colors what they see. The book is about the cultural differences between immigrants and naturalized citizens. The book is about hope for a better future, in spite of the current problems one is facing. The book is about growing older and finding a way to remain dignified. The book is about a lot of things.
All along, the father is himself writing a book about the different kinds of tractors found in the Ukraine, and how each one affected the lives of the people who used them. The book is written in Ukrainian, and is sometimes translated into English when he reads it to people who don't understand Ukrainian. He has been working on the book for a long time.
At first, it just sounds like something he passes the time with. Looking deeper, the reader can see that this is how the father communicates his feelings. When he is happy, he writes about how wonderful a certain tractor made the lives of the Ukrainian people. When he feels sad, he writes about the changes in the tractors that caused people to have harder lives.
When things go sour between him and Valentina, he writes about a tractor of a similar name, in an unfavorable light. It's a very clever way to introduce the deeper feelings of a character who doesn't want to talk about how he feels.
This book was a quick read. I found myself wondering at the end of each chapter what would happen next. Will the sisters succeed in getting their father a divorce from this awful woman he married? What bizarre thing will Valentina do next? How is this all going to work out, especially now that this new problem has come up? The story is way more exciting than the title makes it seem.
This book review of A Short History of Tractors in Ukrainian – by Marina Lewycka is a post written by Jen Thorpe on Book of Jen and is not allowed to be copied to other sites.
If you enjoyed this blog post please consider supporting me on Ko-fi. Thank you!