Today was Day 20 of the 2017 Fall pollen season.  The pollen count wasn't at 10 – but it was close enough!  I had no choice but to go outside today because I had a doctor's appointment.  This appointment didn't have anything to do with allergies.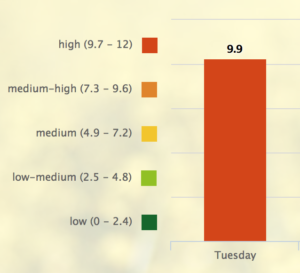 The pollen count today was 9.9.  It feels the same as when the pollen count is at 10.  Everything hurts.  It was not a good idea to go outside today, but I had no choice.
My health insurance company finally mailed me my insurance cards, and I immediately put them to use. Today, I had an appointment at Planned Parenthood specifically so they could remove the birth control implant that I had in my arm.
I wasn't having any problems with the implant.  It just was time for it to come out.  My only complaint was that my appointment was at 2:00 – and I had to sit in the waiting room until 2:50.  I finally got to see the nurse practitioner at 3:20.
I love Planned Parenthood because the people there are extremely nice and they really listen to you. There is no judgement at all.  The procedure to remove the implant from my arm was quick and painless. To my surprise, someone at Planned Parenthood took the time to contact my health insurance company to make sure this was covered and called me hours before the appointment to let me know that it was.
After that, Shawn and I went to get groceries at a store we had not shopped at yet.  It wasn't great for gluten-free food, so we probably won't go there very often.  I am tired, but ok, other than my sinuses are on fire.
At the Doctor is a post written by Jen Thorpe on Book of Jen and is not allowed to be copied to other sites.
If you enjoyed this blog post please consider supporting me on Ko-fi. Thank you!