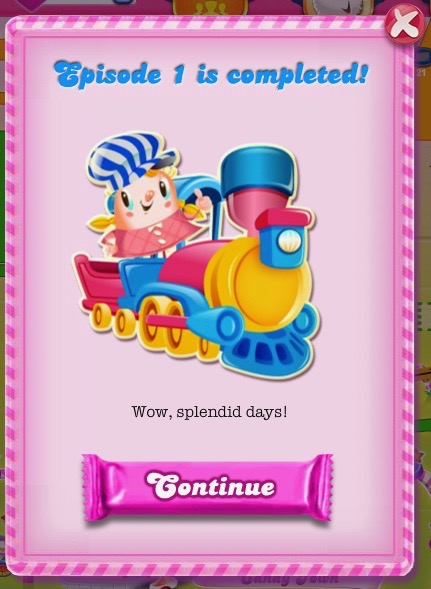 I started playing Candy Crush Saga shortly after I started playing Farm Heroes Saga. Both of them are "match-three" games made by King. There isn't much of a story in Candy Crush Saga, which is to be expected in this type of game.
Candy Crush Saga sort of looks like the Candyland board game I played when I was a kid. I suspect the nostalgia factor is part of what makes Candy Crush Saga attractive to people who are my age. (I'm in my 40's). I find King's "match-three" games to be amusing when I'm too sick to play other games, or when I am looking for a short break while working.
When I first started playing Candy Crush Saga, I wasn't sure if it would hold my attention.  I started tracking my progress through the game in one big blog.  Later, when it became clear that I was likely to continue playing it, I split that big blog into several individual blogs – one for each Episode of Candy Crush Saga.
For whatever reason, King calls the different portions of its games "episodes". The word makes me think of a TV show, not a "match-three" game. Maybe they couldn't call the different sections "lands" without facing a potential copyright issue with whoever made Candyland?
Episode 1 of Candy Crush Saga is called Candy Town.
My goal is to get three stars in every level.  Only one star is required.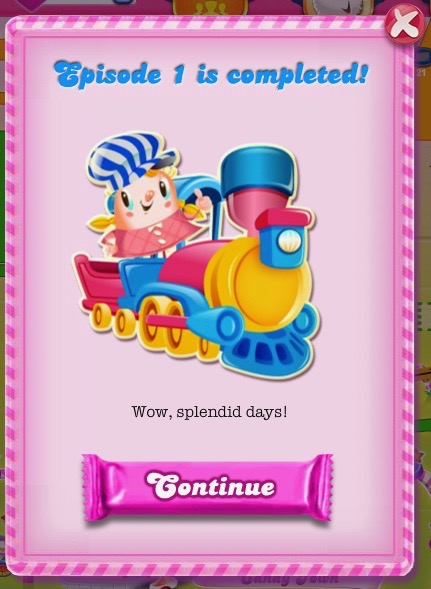 I completed Episode 1 – Candy Town on December 2, 2015.  "Wow, splendid days!"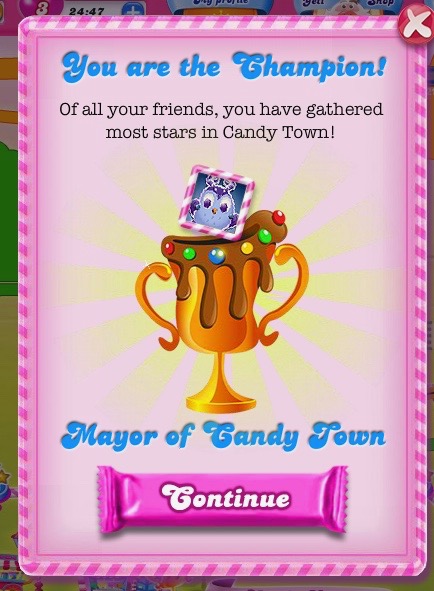 I earned the title "Mayor of Candy Town".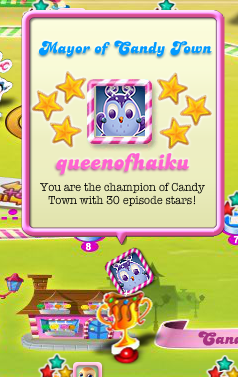 This is what the "Mayor of Candy Town" award looks like in-game.  It says I have 30 episode stars.