Blizzard Entertainment held an "invite-only" Launch Party for the Diablo III: Reaper of Souls expansion. This was the very first time they held a Launch Party for an expansion for any of their games. Shawn and I were lucky enough to attend because we are both involved with the Shattered Soulstone podcast. The Launch Party was really fun, and I am thankful that I had the opportunity to attend. In this blog, I will share my photos from the event.

From left to right: @Sadromeo (listener of Shattered Soulstone), Nevik (host of Shattered Soulstone), Shawn (editor of Shattered Soulstone) and me.  This photo was taken by the lovely woman that @Sadromeo was with. (I hesitate to put people's real names online because not everyone is comfortable with that). She and @Sadromeo are my new friends!  We met while waiting in line at the Vibiana before the event started and connected immediately.
Those who attended the event were presented with a list of "Bounties" to complete.  Do the Bounty – get a sticker – turn the card in for loot.  There were a total of 5 to try.  Shawn and I did not do them all, but we did take the time to do the one that involved taking a photo in front of a green screen.
Behold!  ThirtySeven and Smashez "in real life"!
Other Bounties included: having a caricature done, getting an (airbrushed) Diablo III: Reaper of Souls inspired tattoo, viewing the amazing art gallery, and signing the graffiti wall.  Shawn and I took a look at the art gallery, and signed the graffiti wall.  Here is what we wrote:
We didn't take photos of the art in the Art Gallery.  I have a background in art, and as a result, I'm overly cautious about taking photos (essentially, making copies) of other people's art.  To me, it feels disrespectful to the artists who are making their living from their artwork (especially if I am intending to put those photos online).
Instead, here is a photo the large screen that was right next to the Art Gallery.  There's Malthael!  Later in the evening, we returned to one of these big screens to watch streamers playing the expansion.  You can see some of the computers that were set up for the streamers in the background, behind the DJ.
The Vibiana started out as the Cathedral of St. Vibiana, and was completed in 1876.  You can read more about its history on its website.  I bring this up because I wanted to point out that the Launch Party was held in what was once a church.  The architecture was beautiful!  Much was done to make the atmosphere of the location feel very fitting for party celebrating the launch of the Reaper of Souls expansion.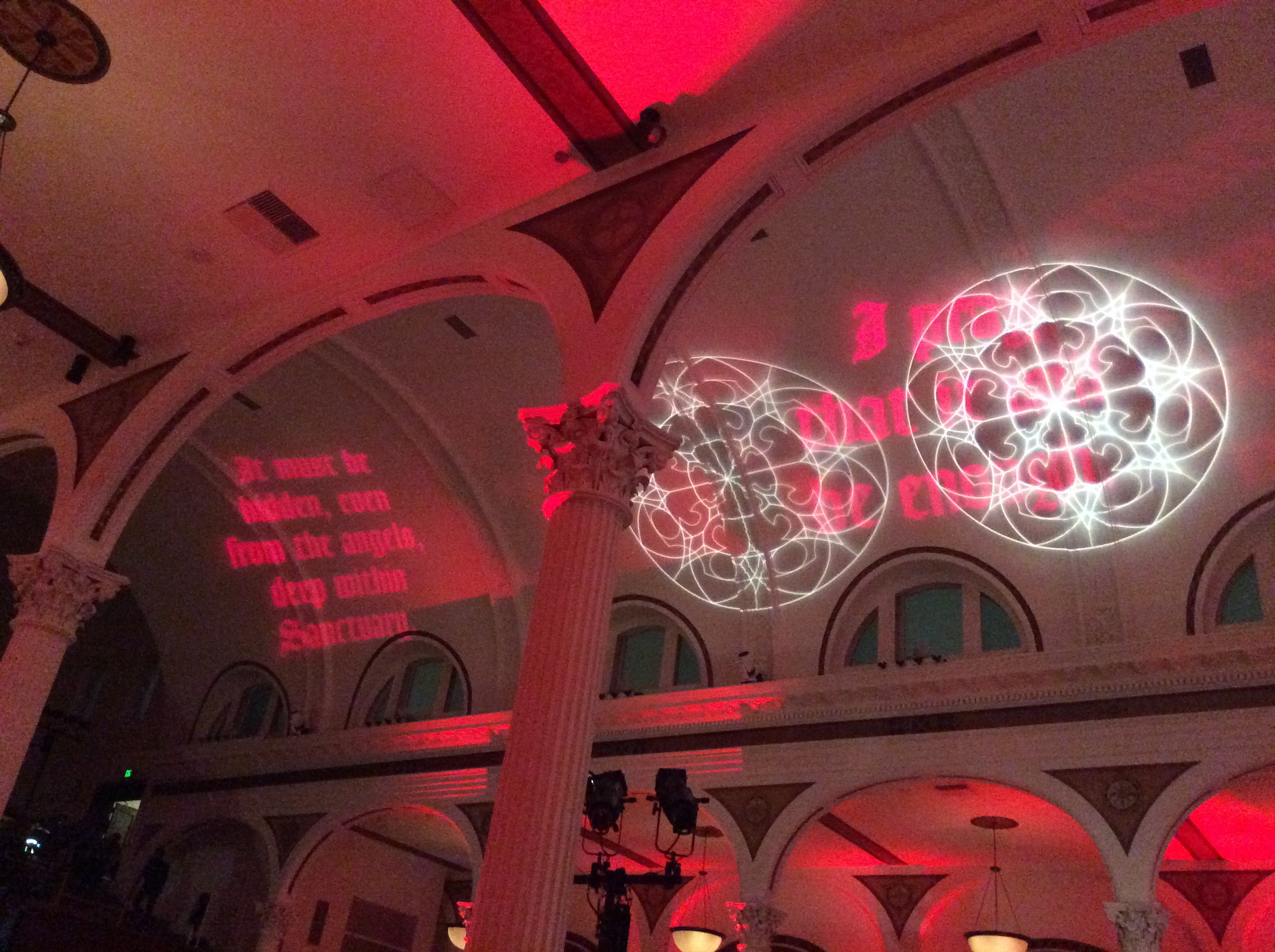 It must be hidden, even from the angels, deep within Sanctuary
This is the bar that was set up right in the middle of everything.  A portrait of Deckard Cain hangs from the bar, surrounded by candles and a random skull.  You can see the that the bartenders were dressed in a style that made them look like they just stepped out of New Tristram.  The servers, who were carrying plates of appetizers (and offering them to everyone) were dressed similarly.
There were at least three areas set up with different kind of appetizers that were "self serve".  As someone with a ton of food allergies, I wasn't super interested in the food.  I did manage to find a safe food, though – tater tots!  (One of my favorites!)  It is always difficult to find food that is gluten-free (and that doesn't contain any of the other foods I am allergic to).  It is much easier to find alcohol that is gluten-free.
Reaper of Souls Drink Specials
The Blessed Hammer – Jack and Coke – Summon the Spirits of this Celestial Whiskey
Blood Marsh Tonic – Gin and Tonic – Make Sure you Cab it to Westmarch After This
The Soulstone – Vodka & Cranberry – 40% Demonic Essence by Volume
The way I see it, "The Soulstone" drink had to have been made in honor of the Shattered Soulstone podcast, right?  I ended up having two of them.  Yummy!
Diablo was defeated, for a time.
Some very exciting stuff was revealed during the Q&A!  There will be ladders… I mean, "Seasons"!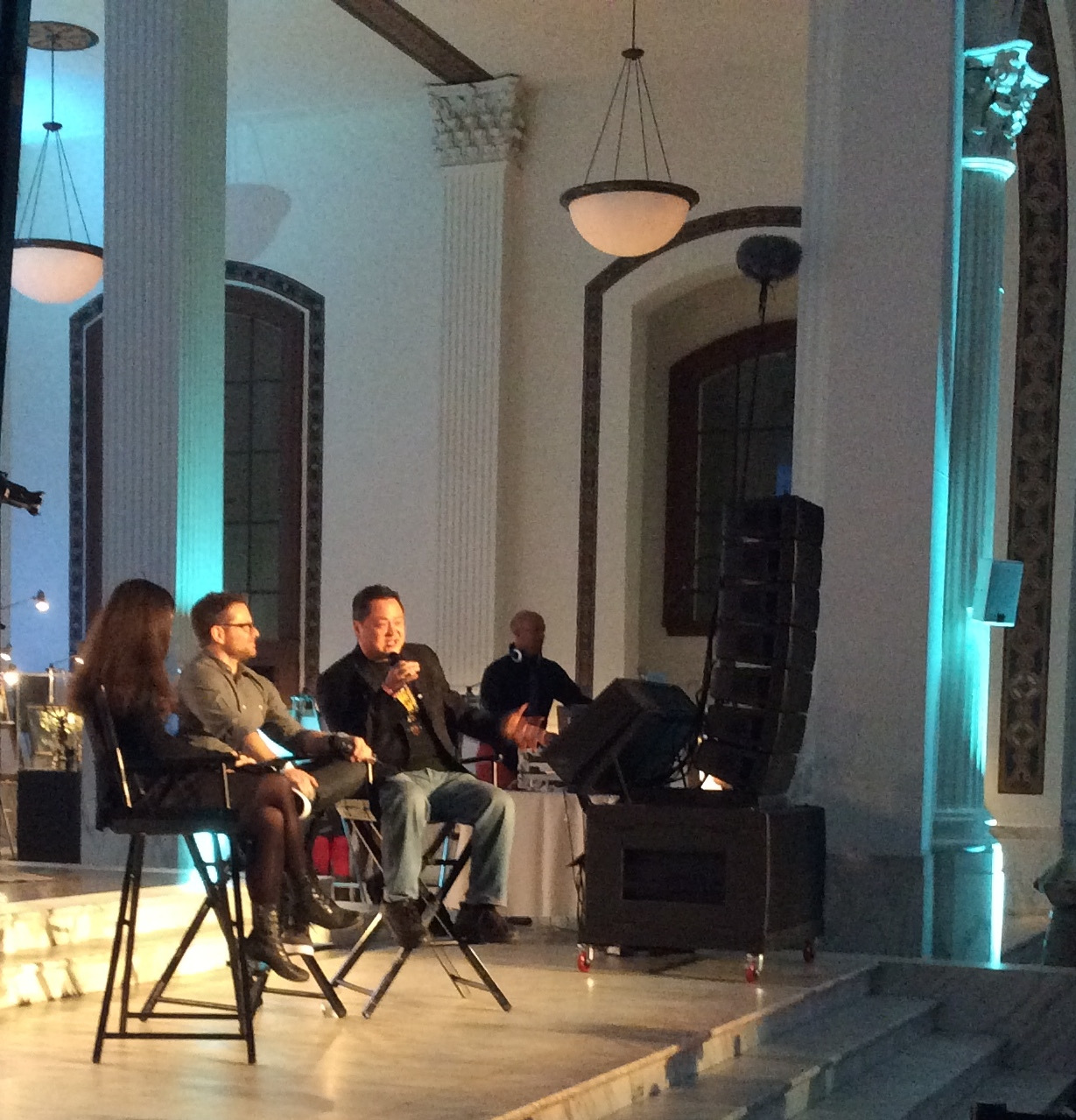 On the stage is Brandy Camel (@CM_Nevalistis), Josh Mosqueira (@joshmosq), and Wyatt Cheng (@candlesan).
Here is a photo of me with James Hong. (@TheJamesHong)  He is an amazing voice actor who does the voice of Covetous Shen in Diablo III.  It was wonderful to have the opportunity to tell him that I admired his work.  The music was playing pretty loud at the time, so it was probably hard to hear me. Perhaps my enthusiasm came through anyway.
I also had the opportunity to meet Jay Wilson (@Angryrobotics)  He is so nice, and extremely approachable.  The small group of people who were standing around a table with him got into a conversation about hats.  Fun!  I feel so bad about all the negativity he received from gamers who like to go online and scream at people.   He did not deserve to be treated so badly.
I got to speak with Brandy Camel (@CM_Nevalistis)!  I love what she has been writing about Diablo III (and I try and retweet it when possible).  For whatever reason, I didn't manage to run into her at Blizzcon 2013, so it was very exciting to say hello.  She and I talked about writing, and researching for writing about the Diablo "universe" and the Diablo books we were excited about.  It is always nice to meet other women who are involved with gaming.
A Diablo III party could not be complete without an appearance from The Skeleton Queen (@ashushuu).
On stage, there were streamers who were playing (and streaming) the Diablo III: RoS expansion.   Those who were at the Launch Party could watch them play from a couple of large screens that were placed on either side of the stage.  (You couldn't go on the stage unless you had a special wristband – we learned).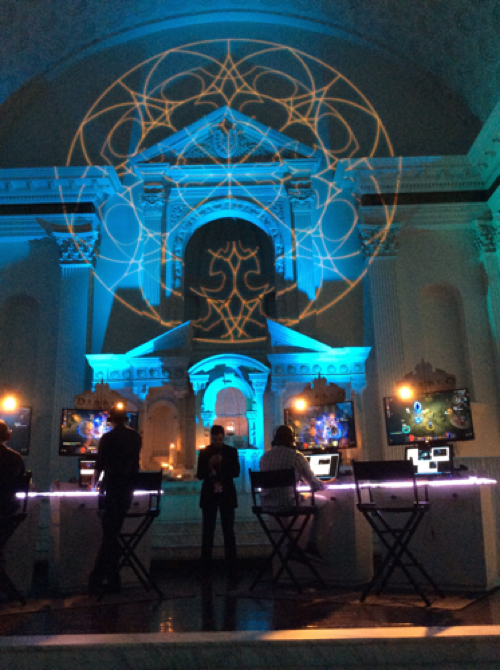 Everyone who was invited to attend the Launch Party received a Collectors Edition of the Reaper of Souls expansion.  We were able to go through a series of tables filled with people who were involved with the game and have everyone sign the box.  You can check out my Diablo III: Reaper of Souls Autographed Collectors Edition Unboxing blog for more details.