Sanguine Flight Wings were offered to players for a limited time. To obtain them, you had to login to Diablo III. It was announced on June 3, 2022, in a Blizzard News post.
The description of the Sanguine Flight Wings is: Each beat of her wings causes the blood in your veins to surge with trepidation.
Whose wings are they? Diablo Immortal has a boss called The Countess. She has large, dark red, wings, and is the leader of the Bloodsworn. The Bestiary in Diablo Immortal provides some knowledge about who The Countess is.
Beauty and nobility convinced the Countess of her superiority from her early years in an isolated Khanduran castle. Rather than accepting age, she bathed in the blood of hundreds to retain her youth. When her reign ended, she was interred in her own tower; reborn, she stretched her hands out to seize the lives of any who would not serve.
The wings are not Lilith's wings. The "Mother of Sanctuary" is going to make her appearance in Diablo IV, and is not part of Diablo Immortal. That said, Lilith does have bright red, blood filled, wings.
Those who were able to obtain the Sanguine Flight Wings (which came with a pet I'll talk about in another blog post) earned an Achievement.
Diablo Immortalized: Logged in during a moment Immortalized in time.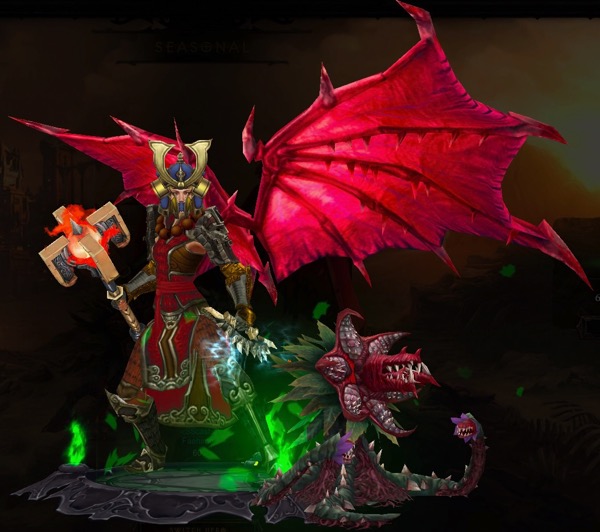 This is what the Sanguine Flight Wings look like on my Season 26 Monk. They do not match the wings of The Countess in Diablo Immortal, but they are clearly a very blood red color.
My best guess is that it was not possible to make these wings look exactly like the ones The Countess has because Diablo III was launched in 2012, and Diablo III: Reaper of Souls was launched in 2014. I'm not a coder, but I suspect there are differences in the coding used to make a game destined for PC/Mac and a mobile game.
The Sanguine Flight Wings are one of my favorite sets of wings in the game. There is so much detail in them! K. LeCrone was the creator of the Sanguine Flight Wings and the pet.
#Blaugust2022
Diablo III: Sanguine Flight Wings is a post written by Jen Thorpe on Book of Jen and is not allowed to be copied to other sites. 
If you enjoyed this blog post please consider supporting me on Ko-fi. Thank you!