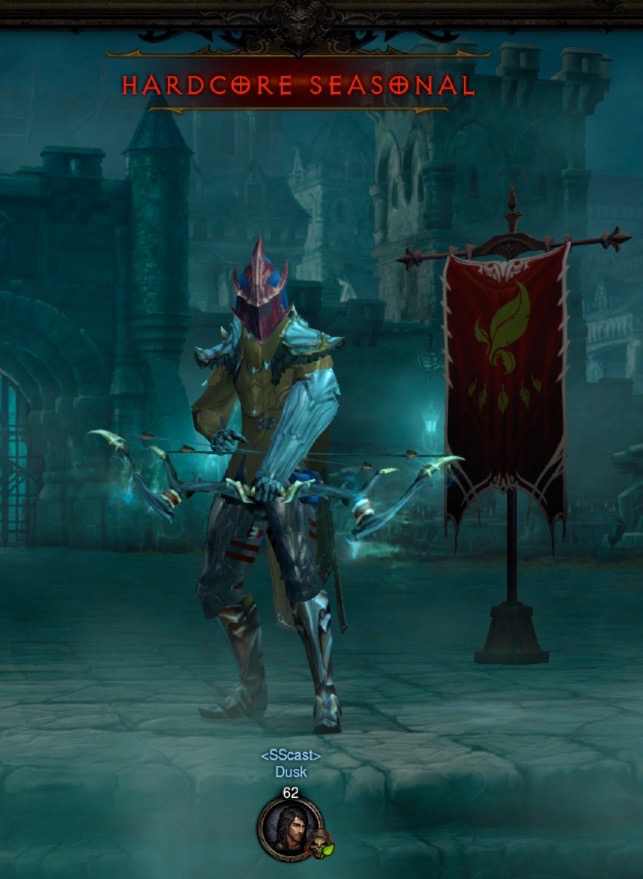 The end of Season 2 in Diablo III is coming up fast! So far, I've been doing a good job of keeping up with the blogging I wanted to do about my experience in Season 2.
My concern was I'd procrastinate, and end up with a dead hard core Demon Hunter and a bunch of screenshots that I intended to blog about but would then be too sad to follow through with.
In this blog, Dusk the Demon Hunter is at Level 62. I've been playing on Normal difficulty the entire Season. After finishing the Seasonal Monster Slaying Bounties that go with Act II, I decided to move on to Act III Bounties. The screenshots you see in this blog were taken on March 24, and March 25, 2015.

This time, Tyrael gave me some Bounties for Act IV. I wasn't quite ready for those yet. Fortunately, it just so happened that there was a bonus on Act III Bounties. That's where I wanted to be!

The last part of Season 2 happened during the Anniversary of Diablo III.  All players who logged in while the buff was going on got a 100% increase to Gold Find and a 100% increase to Experience gain.  This was helpful!
My first Act III Bounty in Season 2 was Kill Captain Donn Adams – and 150 other enemies (The Keep Depths Level 1).  I wasn't able to complete this Bounty, but it wasn't because my hard core Demon Hunter died.  There was another reason.

Captain Donn Adams, Leader of the Skeletal Guard
Shortly after I killed Captain Donn Adams, one of my friends, who was also playing Diablo III, reminded me of something important.  The game itself was playable, but Blizzard was still doing some maintenance on it.  The friend pointed out that the maintenance could result in me being booted from the game – and a very dead hard core Demon Hunter.  I thanked my friend for letting me know that and quickly logged out.
Hours later, I returned to Sanctuary to continue doing Bounties and battling demons.  The maintenance was all done and over with.
This time, Tyrael gave me some Act V Bounties.  I wanted to work on Act III Bounties, so I switched over to them.  There was no bonus associated with the Act III Bounties this time around.
My first full batch of Act III Bounties were: Clear the Fortified Bunker – Enter the Fortified Bunker and Kill all enemies in the Fortified Bunker Level 2 (The Battlefields), The Cursed Glacier – Enter the Icefall Caves and Cleanse the Cursed Shrine (The Bridge of Korsikk), Kill the Siegebreaker Assault Beast – Enter the Edge of the Abyss and Kill the Siegebreaker Assault Beast (Rakkis Crossing), Kill Haxxor – and 40 other enemies in the Tower of the Damned Level 1 (Tower of the Damned Level 1), and Kill Maggrus the Savage – Enter the Tower of the Cursed Level 2 and Kill Maggrus the Savage and 40 other enemies (Tower of the Cursed Level 1).
Here's a quick look at my Seasonal Achievement board.  I was now at 1220 Seasonal Achievement Points.
LEVEL 63!
Olympian: Use Vault 6 times in 10 seconds.
Golden Packs: Kill 20 Treasure Goblins.
Then We Will Fight in the Shade: Kill 10 enemies with Rain of Vengeance during a single activation of Vengeance.
If you find the Guard of the Keep, and he has a Quest exclamation point, he might give you a random item.
Guard of the Keep: Leave me; it is too late…Take this.  I have no use for it anymore.

This time, the Guard of the Keep dropped a Scholar's Gore.  It turned out to be a good weapon for my Enchantress.

Three Sentry Totems going at once while completing the Cursed Shrine Bounty.  I put this here because I thought it looked cool!
Deep Pockets: Pick up 500,000 gold.
Dusk the Demon Hunter killed his first Rainbow Treasure Goblin and got a portal to Whimsydale.
This was not my first time in Whimsydale, but it was the first time I got there during Season 2.  This area is worth going to if you are looking to gain some experience points.  There are plenty of monsters in Whimsydale, and all of them will run directly towards the player.
CORRECTION: This was actually my second trip to Whimseydale during Season 2.  The first time was during the very first night of Season 2 while I was playing with a group of friends.  That being said, this was the first time Dusk the Demon Hunter got into Season 2 by killing the Rainbow Treasure Goblin all by himself.
LEVEL 64!

Evil Oliver, A Subsidiary of Happy Company
Aggravated Assault: Kill the Siegebreaker Assault Beast in Hardcore mode.
I also got the Aggravated Assault Achievement as a Career Achievement.
Making a Breakthrough: Kill the Siegebreaker Assault Beast.

Haxxor, Wielder of Giant Axes
Maggrus the Savage, Barbarous Blood Clan Fighter

A Trip to Bountiful: Complete 100 Bounties
I'd completed 100 Bounties – but they were spread out over Act I, Act II, and Act III.  It seems unlikely that I will manage to do 100 Bounties, in every Act, before Season 2 ends.
This brings me to the end of the first five Act III Bounties (plus one) that I did in Season 2.  Immediately afterwards, I went ahead and did another set of Act III Bounties.  The highlights from that batch will appear in the next blog.