This is Emerald Serpent. I got this pet by completing Chapters I – IV of the Season Journey in Diablo III during Season 23. The flavor text for this pet says: A luminous being, not to be judged by his size.
Players who completed Chapter IV of the Season Journey during Season 23 got the Emerald Dragon as a reward. They also got a Portrait Frame made of a pile of gold, and the last two pieces of their set. (For me, those two pieces were the last ones I needed to complete the Barbarian's Wrath of the Wastes set).
If you didn't obtain this lovely dragon-like pet during Season 23 – don't worry. This pet was first released in Season 11. It is possible that it will be offered again in an upcoming Season… eventually.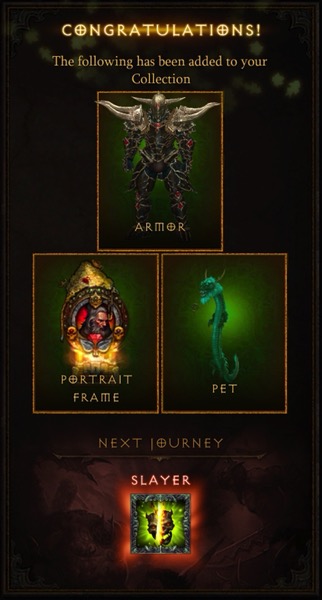 Here is a closer look at the rewards for completing Chapter IV of the Season Journey during Season 23.
Emerald Serpent is a post written by Jen Thorpe on Book of Jen and is not allowed to be copied to other sites.
If you enjoyed this blog post please consider supporting me on Ko-fi. Thank you!