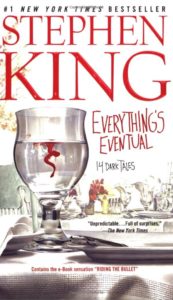 Everything's Eventual: 14 Dark Tales, by Stephen King, is a collection of his short stories. If you are a fan of King's work, you will likely enjoy at least some, if not all, of the stories it contains. A few of the stories reminded me of his Dark Tower series.
The cover of the book instantly sets the mood. It is a pencil drawing of a table at a restaurant. The water glass has a red drop of liquid slowly falling down to the bottom of it. Everything else on the cover looks normal, except for that red drop. Could it be blood?
The artwork on the front cover extends to the back. (Or, it did on the hardcover copy that I read.) The style is the same – a pencil drawing – and it shows a little more of the restaurant. There is now no doubt at all; the red drop in the water glass is definitely blood.
The artwork on the front and back of Everything's Eventual connects to one of the stories in the book. "Lunch at the Gotham Cafe" is a really gory story about a guy who goes crazy and becomes violent at a restaurant.
My favorite story in this collection is "Little Sisters of Eluria".  t feels like part of King's Dark Tower series, and takes place before the events in the first book (The Gunslinger). Roland goes into an abandoned town called Eluria, and things happen from there. It is just as captivating as the rest of the Dark Tower series. Another interesting thing about this story is that it seems to link up with something in the book he Talisman (which was written by Stephen King and Peter Straub).
The story that the book takes its title from, Everything's Eventual, is a story that also reminds me of King's Dark Tower series. You can enjoy this short story even if you have not read The Dark Tower series. A teenager, whose life is going nowhere, finds that he has a strange power. He gets offered an even stranger job.
Overall, there were more stories that I liked in this book than ones I didn't like so much. This is a good book for when you want to read a Stephen King story, but don't have the spare time that his larger books require. Bite sized horror, to be enjoyed like the little "fun sized" candy bars one gets while trick-or-treating.
This book review of Everything's Eventual: 14 Dark Tales – by Stephen King is a post written by Jen Thorpe on Book of Jen and is not allowed to be copied to other sites.
If you enjoyed this blog post please consider supporting me on Ko-fi. Thank you!