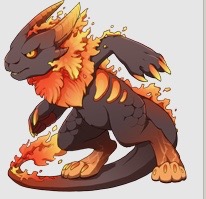 Flight Rising is a fun game where players get to control a Lair full of dragons.  Each dragon can have its very own Familiar (which is sort of like a pet for your dragons).  You can collect treasure by clicking on the Familiars every day.
There are special holiday festivals every month where players can obtain special Familiars.  The 2016 Flameforger's Festival took place at the end of August of 2016.  It honors the Fire Flight. The Blazing Goblin was the special Familiar for that festival.
All of the artwork in this post is copyright of Flight Rising.
I like to try and get the special holiday Familiars while the festival they are part of is still going on. That's the easiest way to obtain them.  It's also less expensive than trying to buy them from the Auction House after the festival has ended.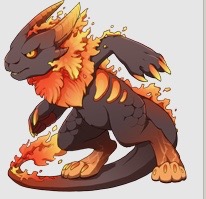 This is what the Blazing Goblin Familiar looks like.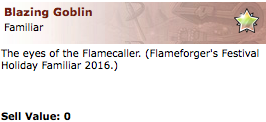 Blazing Goblin: – Familiar – The eyes of the Flamecaller.  (Flameforger's Festival Holiday Familiar 2016).
I bought a new dragon to match the Blazing Goblin Familiar.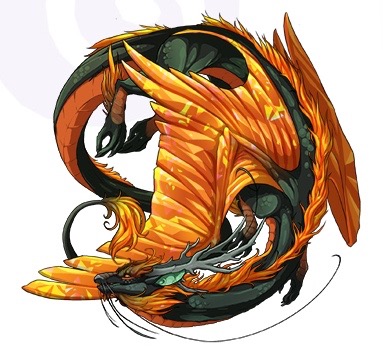 Eldritch is a female Imperial
Primary: Eldritch Iridescent
Secondary: Orange Facet
Tertiary: Orange Underbelly
She was on the Auction House with the name "Eldritch Orange".  I think the name was a signal to potential buyers about what genes she had.  (You can't see the genes of the dragons on the Auction House unless you click through to them.). I like the way "Eldritch" sounded, so that became her name.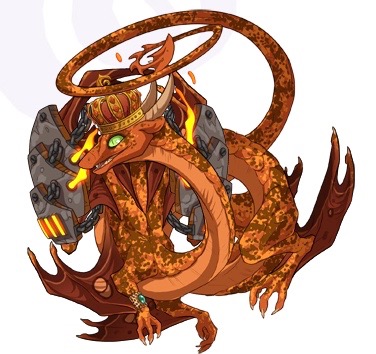 Naranja is a female Spiral
Primary: Orange Speckle
Secondary: Rust Eye Spots
Tertiary: Splash Basic
Naranja is wearing the Black Iron Plates on her shoulders.  The Black Iron Plates was the Apparel item that players could get while the 2016 Flameforger's Festival was happening.  (She's also wearing the Searing Crown from the 2015 Flameforger's Festival, and an Ornate Copper Bracelet.)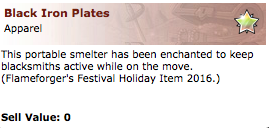 Black Iron Plates: – Apparel –  This portable smelter has been enchanted to keep blacksmiths active while on the move.  (Flameforger's Festival Holiday Item 2016.)