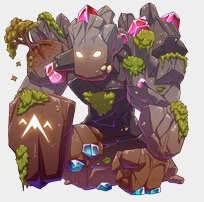 The Granite Guardian was the holiday Familiar for the 2015 Rockbreaker's Ceremony. Each of the holiday festivals are connected to a particular Dragon Flight. The Rockbreaker's Ceremony celebrates the Earth Flight.
The 2015 Rockbreaker's Ceremony took place during the last week of November of 2015. If you didn't obtain the Granite Guardian during the festival, your best chance to get one could be on the Auction House. All of the artwork in this post is copyright of Flight Rising.
The Granite Guardian is one of the acolytes that this year's Familiars have taken the form of. In previous years, they were bears or Sprites.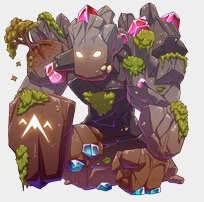 This is what the Granite Guardian looks like.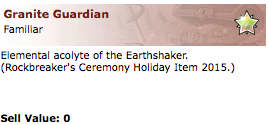 Granite Guardian: – Familiar – Elemental acolyte of the Earthshaker.  (Rockbreaker's Ceremony Holiday Item 2015.) – Sell Value: 0
It turned out that I had two Earth dragons in my Dragon Lair.  Both were Snapper dragons.  One of them looked good with some of the special items from the 2015 Rockbreaker's Ceremony, so that's where most of them went.  My other Earth dragon didn't look good with the new stuff, so I gave an item to a Snapper dragon who was Shadow Flight.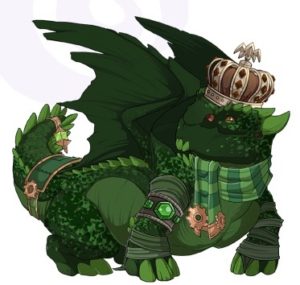 Pepper is a female Snapper
Primary: Jungle Speckle
Secondary: Jungle Basic
Tertiary: Tomato Basic
I gave the Granite Guardian to Pepper.  As you can see, Pepper was wearing some lovely green apparel items before the Rockbreaker's Ceremony.  She is wearing the Stonekeeper Crown.  It isn't green, but I thought it looked good with the rest of her outfit anyway.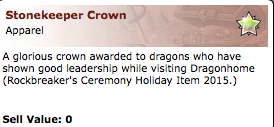 Stonekeeper Crown: – Apparel – A glorious crown awarded to dragons who have shown good leadership while visiting Dragonhome.  (Rockbreaker's Ceremony Holiday Item 2015.) – Sell Value 0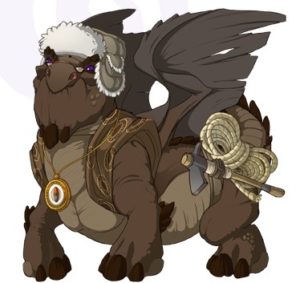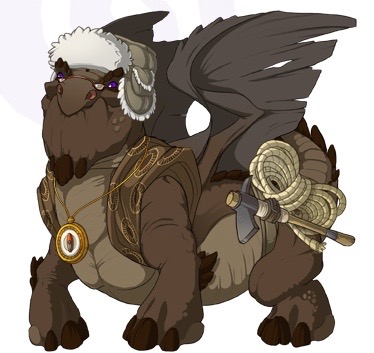 Cocoa is a male Snapper
Primary: Soil Basic
Secondary: Slate Basic
Tertiary: Green Basic
Cocoa is wearing the Bluffclamber Belongings, which was one of the special items that players could obtain during the Rockbreaker's Ceremony.  It includes the rope and pick that is at his waist, the compass necklace, and the fuzzy hat that sits on his head.  As such, it isn't possible for one dragon to wear both the Bluffclamber Belongings and the Stonekeeper's Crown.
In addition, Cocoa is wearing Copper Halfmoon Spectacles, and the Earthsong Haori.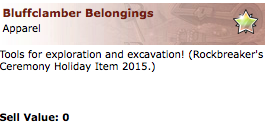 Bluffclamber Belongings: – Apparel – Tools for exploration and excavation!  (Rockbreaker's Ceremony Holiday Item 2015.) – Sell Value 0