Flight Rising is a game where players control a Lair full of dragons. There are many things you can do with your dragons, including breeding them, dressing them up, and having them fight in the coliseum.
Each month, Flight Rising has a special Holiday event that celebrates one of the Dragon Flights. The Mistral Jamboree celebrates the Wind Flight.  The  Mistral Jamboree was held during the last week of March, and the first few days of April, 2016. All of the artwork in this post is copyright of Flight Rising.
The Hurricane Herald was the Holiday Familiar for this year's Mistral Jamboree. It is one of a series of Familiars that can only be obtained by using special currency while the event was taking place.
This is what the Hurricane Herald looks like.
Hurricane Herald: – Familiar – Elemental acolyte of the Windsinger.  (Mistral Jamboree Holiday Item 2016.) – Sell Value: 0
I had a female Ridgeback dragon, but lacked a male Ridgeback.  I decided to purchase a male Ridgeback from the Auction House, and looked for one that was inexpensive and that had colors that would go nicely with the Hurricane Familiar.  I found a baby male Ridgeback that came with a name – Goshen.  Sometimes, its nice to not have to think up a name for a brand new dragon.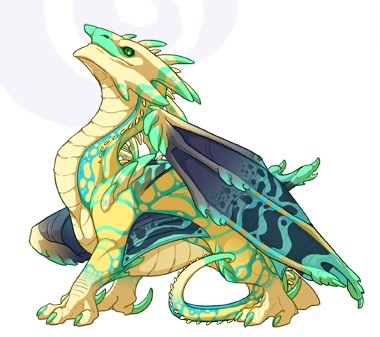 This is what Goshen looked like as a baby.  To my surprise, I could go ahead and give him the Hurricane Herald Familiar right away.  Players used to have to wait for baby dragons to grow to adulthood before they could be assigned a Familiar.
Here is what Goshen looked like as an adult.
Goshen is a male Ridgeback.
Primary: Banana Poison
Secondary: Aqua Toxin
Tertiary: Banana Spines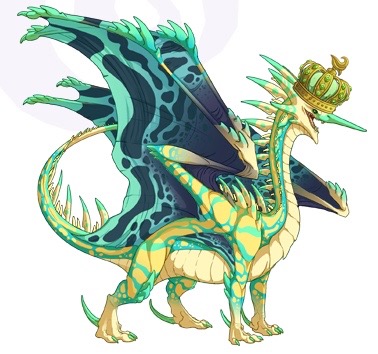 You have to wait for dragons to grow up before you can give them Apparel.  In the above screenshot, Goshen is wearing the Whirlwind Crown.  It was one of the series of crowns that were part of the Holiday festivals that the Acolyte Familiars were a part of.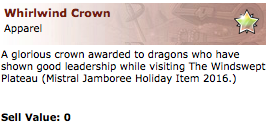 Whirlwind Crown: – Apparel – A glorious crown awarded to dragons who have shown good leadership while visiting the Windswept Plateau.  (Mistral Jamboree Holiday Item 2016.) – Sell Value: 0
I failed to obtain the Windbound Mask from the 2016 Mistral Jamboree.  Fortunately, I was able to purchase one from the Auction House for a reasonable amount of Gems.  The Windbound Mask is more than a mask – it also comes with some curls of air that decorate a dragon.
Cinnamon is a female Nocturne.
Primary: Rust Basic
Secondary: Carmine Basic
Tertiary: Royal Basic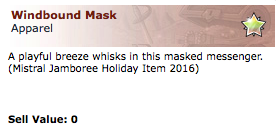 Windbound Mask – Apparel – A playful breeze whisks in this masked messenger.  (Mistral Jamboree Holiday Item 2016) – Sell Value: 0