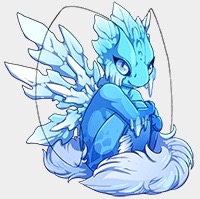 The Ice Sprite Familiar in Flight Rising is only available for a limited amount of time.  (Unless, of course, you happen to find one on the Auction House).
You can only earn it while the Crystalline Gala is going on.  Here is how I got this super cute Familiar! All of the artwork in this post is copyright of Flight Rising.  
There are several different Elemental Holidays in Flight Rising. The Crystalline Gala takes place in January. It is connected to the Ice Flight.
Start by visiting the Festive Favors shop to see the exclusive holiday merchandise that is available for a limited time. You need to collect a special form of currency in order to buy these items.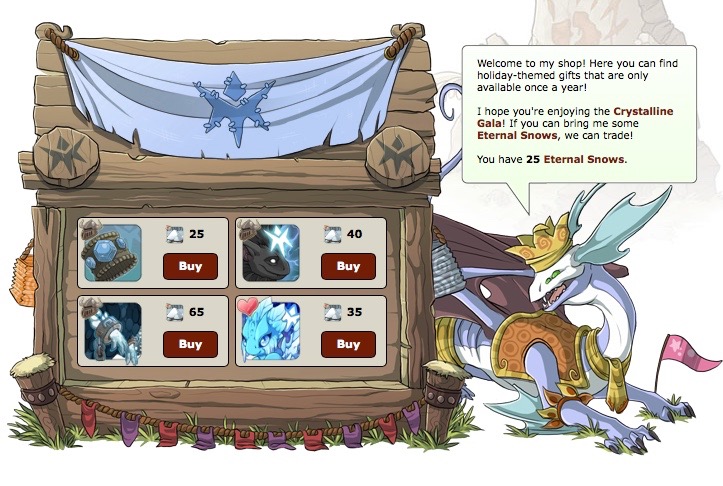 The special currency that you need for the Crystalline Gala is called Eternal Snow.
Eternal Snow: A clump of frigid snow.  It does not appear to melt, even when placed somewhere warm.  This can be traded at the Festive Favors shop during the Crystalline Gala. – Sell Value: 0
How do you get Eternal Snow?  Gather them up.  Use the drop down menu under the Hunting, Fishing, Insect Catching, Foraging, Digging, and Scavenging and select "Ice".   The Eternal Snow will randomly pop up as you gather.  I've found some in all 6 categories.
Spend 35 Eternal Snow at the Festive Favors and buy the Ice Sprite.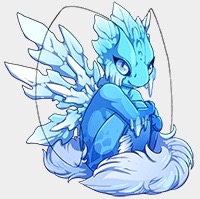 Ice Sprite: Familiar – Entourage of the Icewarden. (Crystalline Gala Holiday Familiar 2014.) – Sell Value: 0
It is possible to purchase more than one Ice Sprite, but you can only use one yourself.  Give one to a friend.  I suspect that you might find an Ice Sprite or two on the Auction House after the Crystalline Gala for 2014 is over.  The sell value is zero, but you can set the price as high as you want on the Auction House.