Flight Rising is a game where you manage a Lair filled with dragons. It is also a game with a sense of humor. Recently, a series of scarfs appeared in the game. These colorful items are among the many you can dress up your dragons with (purely for aesthetic purposes).
The Rainbow Flair Scarf caught my attention, and I knew exactly which dragon I wanted to put it onto. All of the artwork in this post is copyright of Flight Rising.
The Rainbow Flair Scarf can be found in the Gem section of the Flight Rising Marketplace. It cost 200 Gems. If you don't happen to have enough, it is possible to purchase more (with real-world currency). The other option is to wait until the game gives you enough Gems through random drops (which is what I did).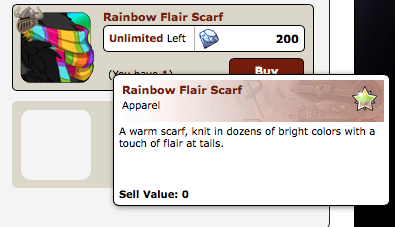 Rainbow Flair Scarf: – Apparel – A warm scarf, knit in dozens of bright colors with a touch of flair at the tails.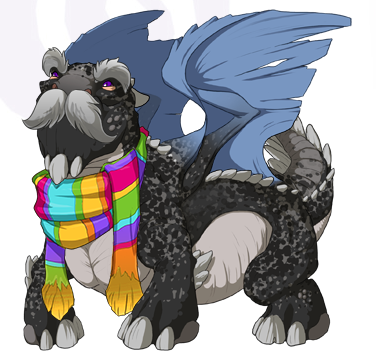 Which dragon should wear this eye-catching scarf?  I decided the best choice was a male Snapper dragon named Stonewash.  Previously, I purchased the Wise Whiskers from the Gem section of the Marketplace because it looks incredibly silly on Snapper dragons.  Every time I look at Stonewash, I giggle.   How would the Rainbow Flair Scarf look?  It looks even sillier.  Perfect!