Flight Rising is a game where players control a Lair full of dragons. One of things you can do with your dragons is dress them up in interesting outfits. I decided to put the Silver Steampunk outfit on one of my Pearlcatcher dragons.
All of the artwork in this post is copyright of Flight Rising.
Some of the pieces of the Silver Steampunk outfit came to me in chests. I think I had to buy a couple of them from the Auction House.
Reaper is a male Pearlcatcher
Primary: Black Tiger
Secondary: White Stripes
Tertiary: Rose Basic
Eye Type: Ice Common
Here are some details about what he is wearing:
Silver Steampunk Vest: Apparel – A plated vest of silver and rubbed leather. It is pockmarked with gizmos and sockets, perfect for connecting to other contraptions. The gauge on it measures in dapperness – Sell Value: 700
Silver Steampunk Goggles: Apparel – Tinted goggles of polished silver. They're perfect for shielding a dragon's eye from soot, smoke, or water. That is, until they get steamed up. The color is purely cosmetic. – Sell Value: 700
Silver Steampunk Spats: A pair of pressed spats with silver buttons. Is there really anything else to say? They're spats, and they're fancy! – Sell Value: 700
Silver Steampunk Gloves: Two large clunky gloves that are covered in extraneous silver gears and plating. The more gears, the better! – Sell Value: 700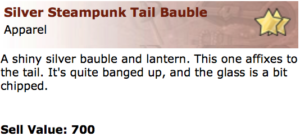 Silver Steampunk Tail Bauble: A shiny silver bauble and lantern. This one affixes to the tail. It's quite banged up, and the glass is a bit chipped. – Sell Value: 700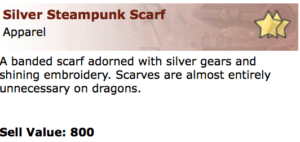 Silver Steampunk Scarf: A banded scarf adorned with silver gears and shining embroidery. Scarves are almost entirely unnecessary on dragons. – Sell Value: 800
Silver Steampunk Wings: An impressively-constructed arrangement of silver leaves, pistons, and rotors. With a constant supply of steam, the flying potential of the wearer could be doubled. – Sell Value: 1000
At the time I am writing this blog, I have no idea if any of these items are still available in game. You might find them on the Auction House. The Flight Rising Marketplace does not currently contain any of the Silver Steampunk items.
One of the things I love about Flight Rising is the amazing artwork. To me, it is worth the effort to collect (or purchase with in-game currency) all of the pieces of an interesting and aesthetically pleasing outfit.
#BlaugustReborn
Flight Rising: Silver Steampunk Outfit is a post written by Jen Thorpe on Book of Jen and is not allowed to be copied to other sites.
If you enjoyed this blog post please consider supporting me on Ko-fi. Thank you!