Flight Rising has been coming up with some fun topics for their Theme Weeks.  Each theme asks players to show off their dragons that match the theme of the week.  You can see everyone's contributions if you visit the Dragon Share Forum and take a look at each theme of the week post.
The topic for Theme Week number 6 was: Favorite Breeding Pair.  "Show us your most favorite breeding pair and the one offspring you love the most."  All of the artwork you see in this post are copyright of Flight Rising.
As always, I am going to recommend that you visit the Dragon Share Forum and check out all the lovely breeding pairs (and offspring) that other players shared.  Look for the Forum Post called Favorite Breeding Pair. I'm not sure how long the Theme Week posts stick around, so you may want to hurry.
Here are the dragons that are my favorite breeding pair, and one of their offspring:
Sassafras is a male Mirror.
Primary: Fire Tiger
Secondary: Royal Freckle
Tertiary: Goldenrod Underbelly
Naranja is a female Spiral.
Primary: Orange Speckle
Secondary: Rust Eye Spots
Tertiary: Splash Basic
I selected this pair because the very first time they bred they produced 4 eggs.  That's the highest number I've had in any nest!  They babies they produced all had some "special" genes (stripes, speckles, freckles, and/or eye spots). and were really pretty.  That one batch of babies earned me both the Sun-Flecked Achievement and the Dappled Achievement.
I was only allowed to pick one of their babies to show off in the Forum post.  I chose this one:
Speckles is a male Mirror.
Primary: Fire Speckle
Secondary: Shadow Eye Spots
Tertiary: Jade Basic
It has been suggested that people contribute to the Dragon Share Theme of the Week posts on Mondays.  So, I did.  A few days later, I noticed that my Dragon Lair had gotten too crowded and I needed to make space for incoming babies.  To make that happen, I put Speckles on the Auction House.  He sold, and was exalted to the Gladekeeper.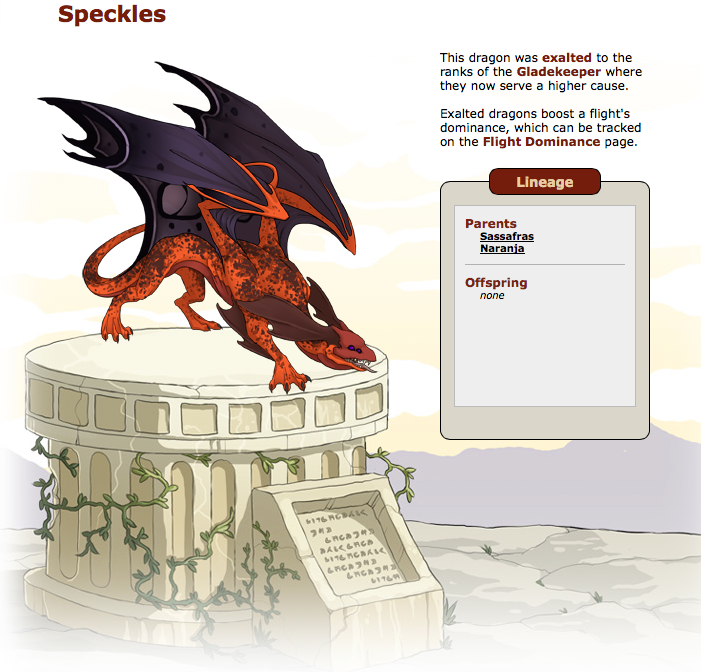 I also put one of his siblings, Ruckus, on the Auction House.
Ruckus is a male Mirror.
Primary: Orange Tiger
Secondary: Carmine Eye Spots
Tertiary: Jungle Basic
He sold and was also exalted to the Gladekeeper.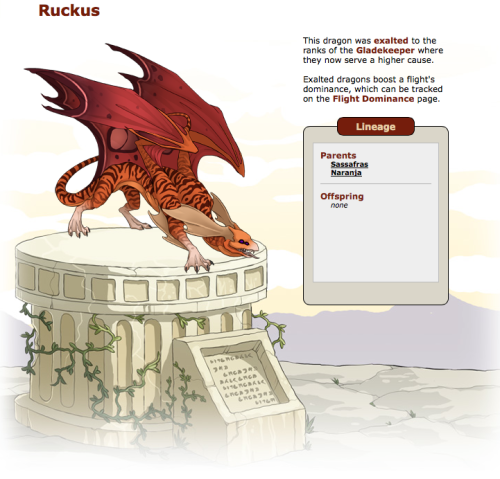 The other half of this batch of four dragons is still in my Lair.  I will be keeping them.  I'm trying not to keep all the dragons, though.
Freckles is a female Mirror.
Primary: Orange Tiger
Secondary: Carmine Freckle
Tertiary: Denim Basic
Fergus is a male Mirror.
Primary: Fire Tiger
Secondary: Grey Freckle
Tertiary: Jade Basic