Gardens of Time has gotten into the habit of putting together special items that take days to build. Each can take anywhere between 8 to 12 days.
You cannot complete the build on your own. Instead, you must rely on your Gardens of Time friends to send you a particular item each and every day until the time runs out. I play the game through the Playdom website, so this has never been a problem for me. I imagine it must lead to a lot of "game spam" on Facebook.
The one for April of 2013 was called "Rainy Day Song". As you can see from the image above, it required players to collect rain boots (of a specific color) each day. Here is what it looked like when you first put it into your garden: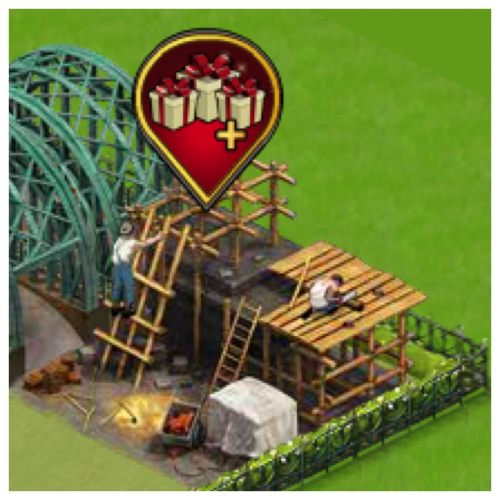 If you were unlucky, and your Gardens of Time friends didn't send you the amount that you needed on a given day, too bad! The only way to get the ones you were missing was to spend some gold.
Normally, I don't end up having to spend any gold. This time, the build took place while I was really sick and also while a family member was having a crisis. So, I missed a couple of boots on one day. Fortunately, I had plenty of gold left over from the "gold glut" that happened a while ago, so I just used some to buy the boots I needed.
Here are the boots we had to collect – minus two. (I somehow forgot to take a screenshot of the pink boot and the rainbow boot). These are in no particular order.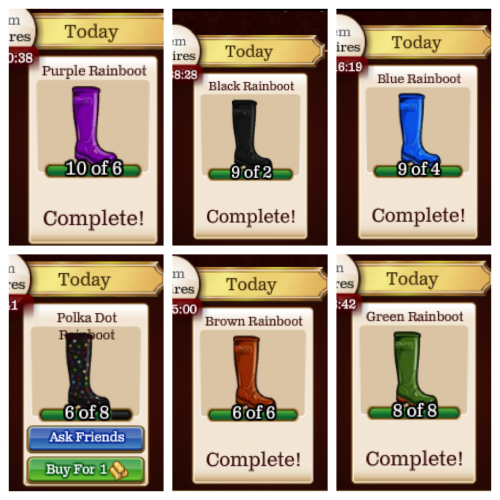 This is what the Rainy Day Song building looks like if you manage to complete it:
The Rainy Day Song building is animated. If you hadn't guessed it before, watching the dancing figure makes it clear that this item was inspired by the movie Singing in the Rain.  Here is a short video of what the animation looked like.