It's been a while since I played a Tavern Brawl in Hearthstone. I find it fun to figure out how to solve the "puzzle" that each, unique, Tavern Brawl presents. There must be some way to win!
Players who win one match in the Ragnaros' Fire Festival Tavern Brawl earn one free Classic Card Pack. This Tavern Brawl is also being referred to as The Midsummer Fire Festival Tavern Brawl. It will end on June 30, 2018.
Players who complete Daily Quests while this Tavern Brawl is going in will be awarded double gold for each Daily Quest they complete.  Feed Ragnaros 60 minions, and you earn "an explosive Fire Festival Emote".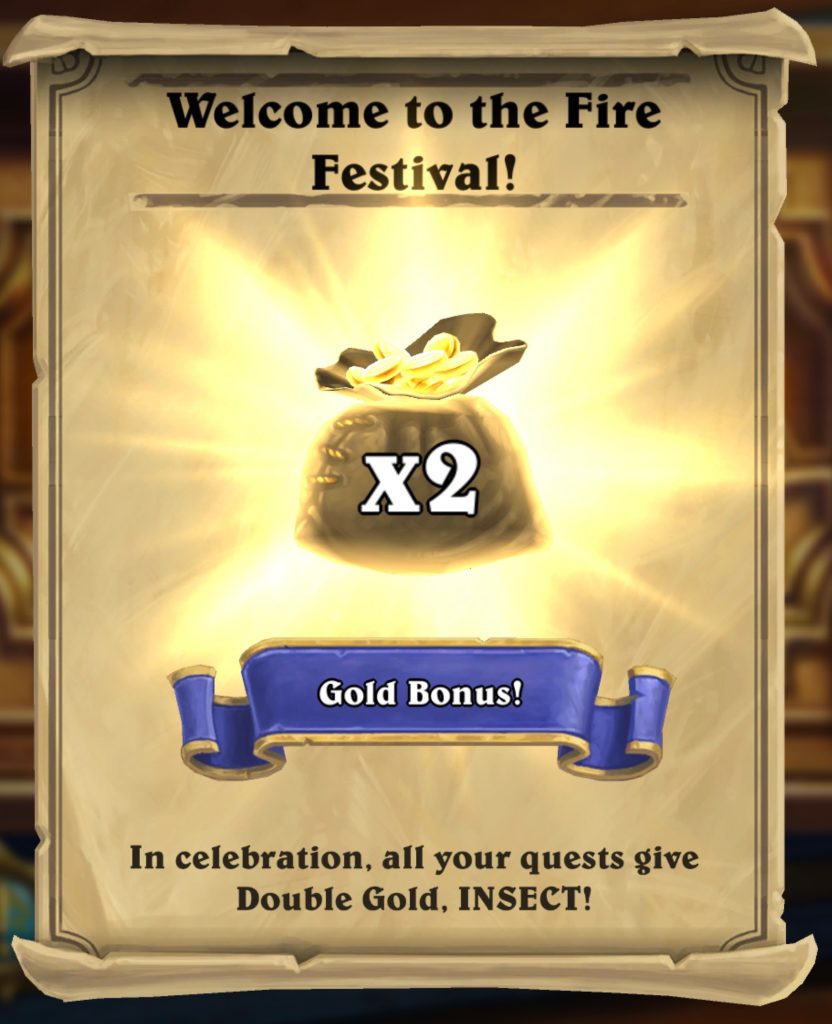 Welcome to the Fire Festival!  In celebration, all of your quests give Double Gold, INSECT!
Ragnaros: IT'S THE TRIUMPHANT RETURN OF THE FIRE FESTIVAL!
Ragnaros: QUESTS DURING THE FESTIVAL AWARDS DOUBLE GOLD!
This Tavern Brawl allows players to pick which Class they want to use, and to build a deck out of their own cards.  I decided to start with a Mage Deck, since it is the one I play the most often and am most familiar with. After losing two matches, I ended up trying different classes.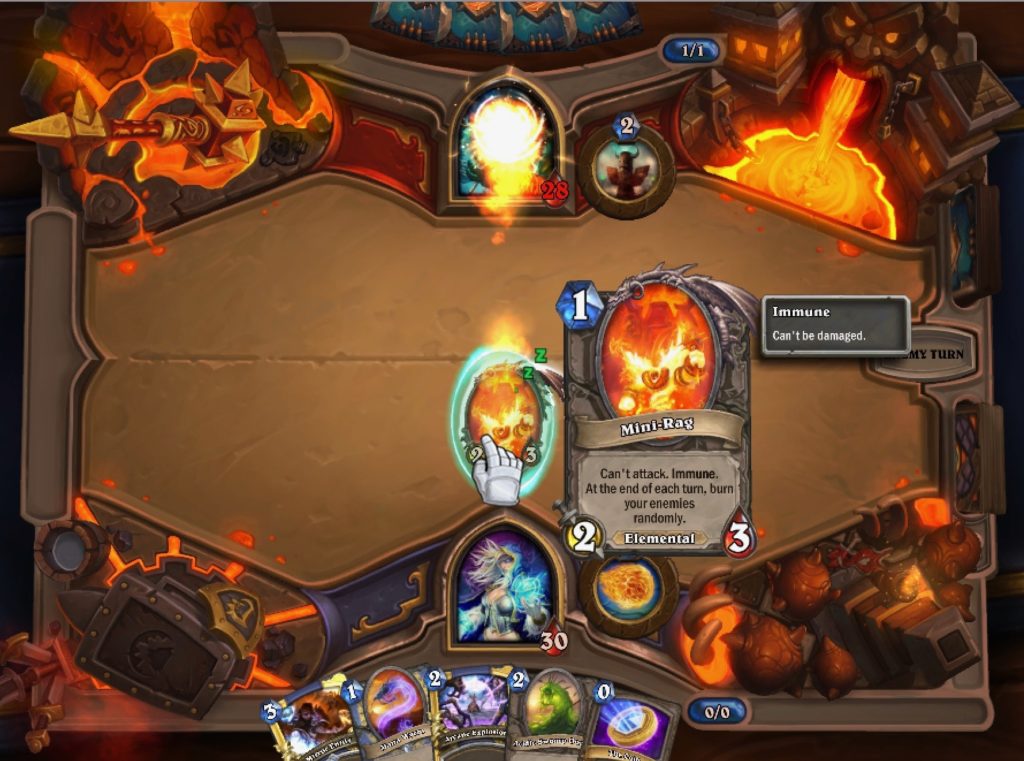 Mini-Rag: Can't attack. Immune. At the end of each turn, burn your enemies randomly.
The Mini-Rag card appears at the start of the match. It starts out in front of one player. At the end of that player's turn, Mini-Rag will start throwing fireballs at the opposing player and his or her minions.
Mini-Rag gains one more Attack point for each Minion it kills. Next, Mini-Rag changes sides, and moves over and sits in front of the other player.
Congratulations! YOU HAVE DONE IT! THE FIRST LEVEL OF FIREWORKS ARE YOURS!
My best guess is that the fireworks appear when you use certain emotes.  I'm not entirely sure if the fireworks stick around after this Tavern Brawl disappears, or if they are something the player gets to keep.  To earn them, a player needs to feed Ragnaros 60 minions.
After losing two rounds with a Mage Deck, I switched over to the Warrior Deck. My strategy was to see if I could armor up (by using the Hero Power and also from various minion abilities and spells) to slow down Mini-Rag's ability to kill me with a bunch of fireballs.
Well done! Incinerate as many as you can for a special reward!
My best guess is that the "special reward" is the Fireworks emote. Players win a free Classic Card Pack after they win one Tavern Brawl match. There is no connection between the number of things Mini-Rag has incinerated and the ability to earn the free Card Pack.
This strategy was unsuccessful.  I couldn't armor up fast enough to make any difference, and I lost this match. Fortunately, losing a match doesn't have any effect on how many minions a player fed to Mini-Rag.  I now had a total of 24.
Spell of a Time!: Play 20 spells.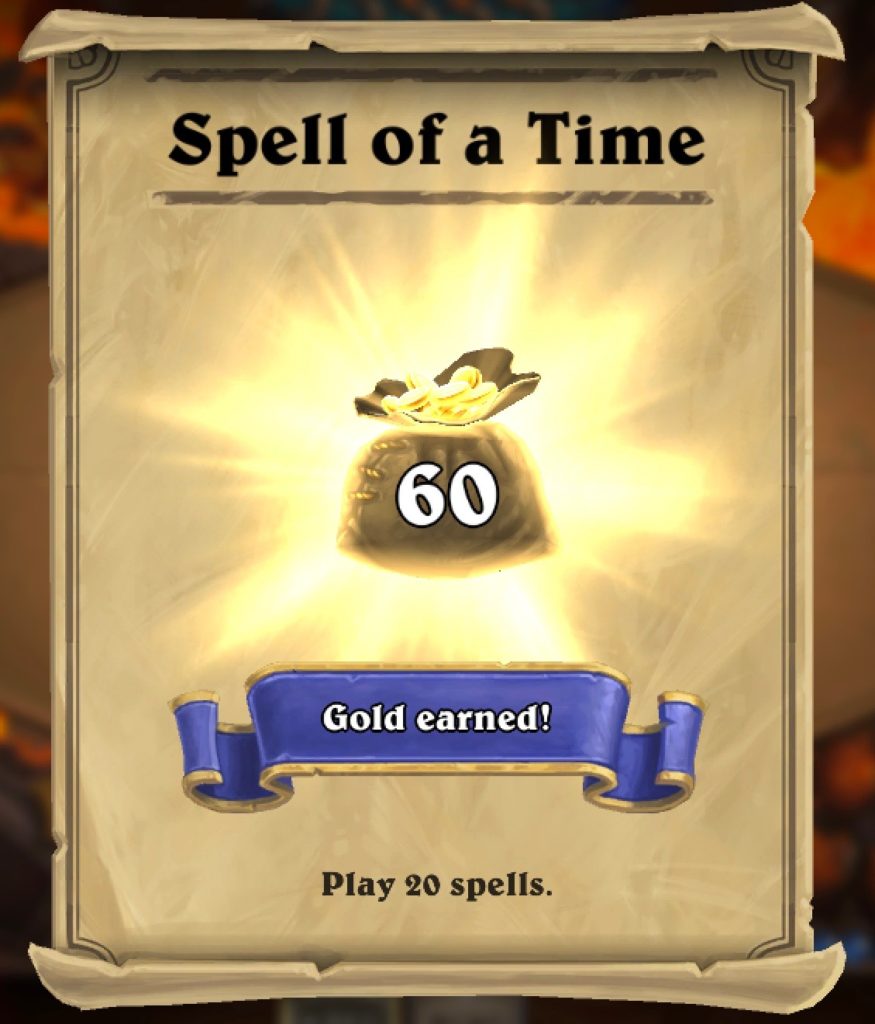 Spell of a Time was one of my Daily Quests.  I earned 60 Arcane Dust and 60 gold.
I thought maybe the problem with my Warrior Deck was the way the deck had shuffled, so I gave it another try. My second attempt with the Warrior Deck also ended in a loss.  Based on this, I decided that the Warrior Deck was not the answer, and switched to a Priest Deck.
Congratulations!: CONGRATULATIONS! ENJOY LEVEL TWO FIREWORKS, INSECT!
The screenshot above was taken while I was playing my Priest Deck. My strategy was to pack the deck with cards that could heal me up. I got matched with a player who was using the Lunara Hero, so the match was a lot closer than I was expecting it to be.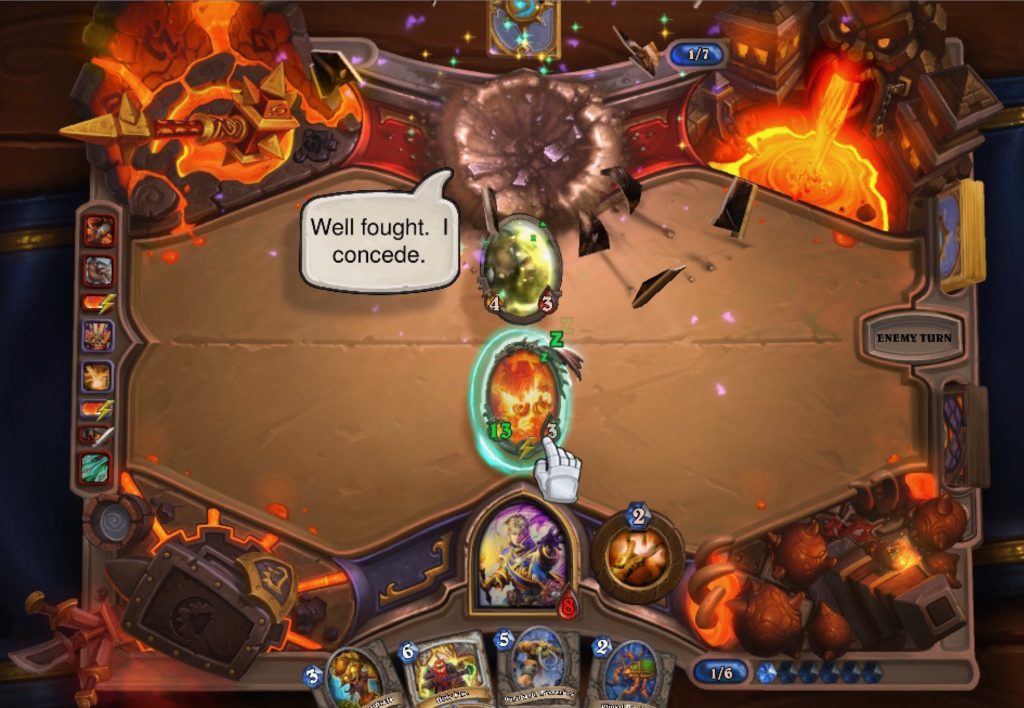 I won this match when my opponent conceded.
As you can see, it was my Priest Deck that enabled me to win a match in this Tavern Brawl. I officially have 1 win now. That is all a player needs in order to win a free Classic Card Pack. Overall, this was a fun "puzzle" for me to sort out.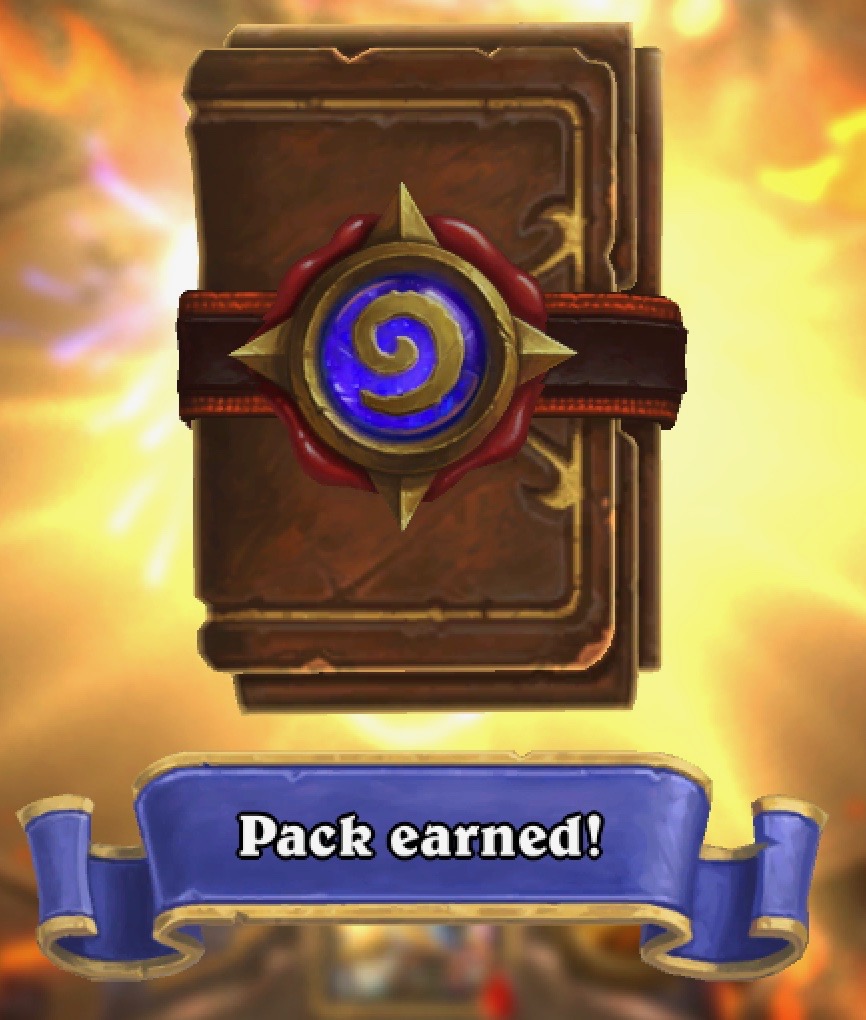 There was one thing left to complete.  I had yet to feed Mini-Rag the required 60 minions. So, I played another match – and lost.
Congratulations!: THE FINAL FIREWORKS HAS BEEN GRANTED! ENJOY THE FIRE FESTIVAL!
I'm not sure what I'm supposed to do with the Final Fireworks, or how to use them. Do they disappear at the end of the Fire Festival? When I was playing the Tavern Brawl, it looked like little fireworks appeared around the emote that either player used during the match.
I recorded my experience in Ragnaros' Fire Festival Tavern Brawl on Twitch. I've embedded the video here for those who want to watch it.
Hearthstone: Ragnaros' Fire Festival Tavern Brawl is a post written by Jen Thorpe on Book of Jen and is not allowed to be copied to other sites.
If you enjoyed this blog post please consider supporting me on Ko-fi. Thank you!