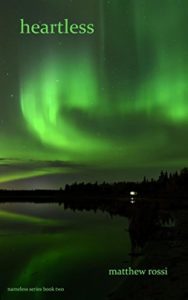 Heartless is the second book in the Nameless series. You should read Nameless before you jump into Heartless.
Nameless ended in a way that made it clear that the "big bad" is no longer a threat. That doesn't mean all the damage is done, however. In many ways, this is a story of redemption and forgiveness. It is about building trust with family after bad things have happened. This was touched on at the end of Nameless, and builds in Heartless.
The wonderful, individualistic, magic that was established in the first book continues to be part of the story. I love how imaginative the characters are in how they express their magical abilities. Rossi's character's are so vivid, and feel so real, that I find them fascinating even when they aren't doing magic.
There is a new "big bad" in this story, and he is terrifying! A ghost, driven by rage, is taking control of people's bodies in an effort to destroy an ancient vampire who killed his family. He is being aided by a woman from Thomas's past who is adept at a dark and disturbing form of magic. They are seeking the rebis – a being that is both male and female – to use as a power source during the battle against the vampire.
The magical family of cousins are collectively trying to raise Bry, the youngest of them. Bry is a twelve-year-old transgender girl who is starting to show signs that her magical abilities will become very powerful. Her family loves her dearly, but they are young-adults, and some of them haven't quite figured themselves out yet.
Without giving away any spoilers, I will say that the effort made by Thomas and Thea to teach Bry about how to control some magic that she's already doing (but wasn't aware she was doing) is absolutely beautiful. In an instant, they make it crystal clear that they fully accept who she is – in a way that goes beyond words and could only happen with magic.
An unexpected side effect of this magic is that Thomas and Thea discover that they might be a bit gender fluid.
I think this was the tipping point that helped Bry to bond more strongly with her cousin Thomas. Bry can't entirely remember what happened to her when she was younger, but knows it hurt Thomas in some way. The magic done to her was horrific, so it makes sense for her to have blocked it out. She's beginning to remember little pieces, but not the whole story.
This leads to an incredibly emotional conversation in which Thomas, Thea, Seri (who has become Bry's "mom"), and Morgan (Bry's brother who has become her "dad"), carefully and honestly tell Bry what happened. They answer all her questions, and many tears are shed. This brings all of them closer together, as intense situations tend to do.
Both Seri and Morgan have a lot going on. They are learning how to trust each other – and feel compelled to work on that for Bry's benefit. Morgan has started learning how to use magic. Seri remains mostly uncomfortable with it.
Morgan is dating Mercy, who is a vampire. She's got her own complicated "family" issues to deal with. The two are at the stage in a relationship where things are going well and they are trying to figure out what comes next. Their future together might, or might not, include Morgan becoming a vampire.
Seri has fallen for someone she did not expect to be attracted to. The two of them become an adorable couple. They are sweet and gentle with each other – which provides an interesting contrast to the intensity of Thomas and Thea's relationship.
The story also includes some shapeshifters that are NOT werewolves (well, most of them aren't). They are something else, and I've never read a story that included them before. There is an epic battle that includes zombies, mythical creatures, and something that is not a moon.
And when all is said and done, those who believed themselves to be irredeemable find redemption. Some are forgiven for the terrible things they had done. Others work on redeeming themselves by actively choosing to stop harming people. One of the messages I took from Heartless is this: You are not defined by the bad things that people did to you.  It is a message that offers hope, in a world where heartless people keep doing bad things to those who are vulnerable.
This book review of Heartless – by Matthew Rossi is a post written by Jen Thorpe on Book of Jen and is not allowed to be copied to other sites.
If you enjoyed this blog post please consider supporting me on Ko-fi. Thank you!