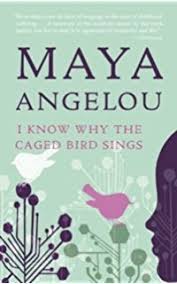 I Know Why the Caged Bird Sings, by Maya Angelou, is a book that has been banned from schools and/or libraries. This is unfortunate, because the book is a story that brings a message of hope. No matter how bad life gets, there is always hope that things will get better. I believe that this is something everyone needs to hear, especially young people.
The book is a memoir. These events actually happened to Maya Angelou. Her story starts when she is about three years old, and on a train with her brother on their way to their grandmother's house. That is where they will grow up.
I found this book to be really sad. Tragedy after tragedy happens, starting when she is still a child, and continuing until she reaches early adulthood. It's about racism, and classism, and abuse of power. But it's also about family, and love, and faith, and persevering.
Maya gets molested and then raped by a stepfather when she is still too young of a child to realize exactly what is going on. The book describes what happened from her point of view. It's clear to the reader, even if it was unclear to Maya, exactly what happened.
There is a court case that follows, and that again brings up details of the rape, and also Maya's mixed emotions and confusion about it. It's not an easy read. If you are an abuse or rape survivor, parts of this book might be a "trigger" for you.
Later on in the book, there are descriptions of some teenage characters having sex. It's not very graphic, but it is still clear what the two teens who are underneath a makeshift tent in the woods are doing. People who want to ban this book, particularly if they want to ban it from a high school, use the label "mature content" or say the book is "too graphic" for teens to read and then discuss in a classroom setting.
Despite the things that go wrong in Angelou's life (and there are many heartbreaking things that happened) there is still hope. To me, that was the point. No matter how bad life gets, there is still hope. You can't simply give up and die when things look bleak. You just need to find the one sliver of good in a situation, and hold on tight to that.
Belief in God helps, at least, for Angelou. In today's world of instant gratification and unhealthy ways of trying to escape from pain, this is a message people may benefit from hearing.
If your life right now is not going so well, you can read what Angelou went through, and maybe decide that things aren't so bad for you after all in comparison. You can learn a new way to cope with your problems. If your life is going great, then you can read this book of tragedies, and count your blessings.
Those who want to ban this book because of the negative content, are taking away the chance that it will reach someone who really needs to hear the positive, hopeful, message that Maya Angelou expresses. It helped her cope with tragedies, and it might be exactly what a struggling person needs to hear.
This book review of I Know Why the Caged Bird Sings – by Maya Angelou is a post written by Jen Thorpe on Book of Jen and is not allowed to be copied to other sites.
If you enjoyed this blog post please consider supporting me on Ko-fi. Thank you!