Liberty Grove is one of the "extra" towns in Kitchen Scramble. It appears sometime in July, and seems to have taken its aesthetic from Fourth of July celebrations. The "extra" towns only last for a limited amount of time.
All of the recipes in Liberty Grove are new to the player. Each one is a "grab-and-go" food that I could see a food truck serving at a park while people wait for the fireworks to begin.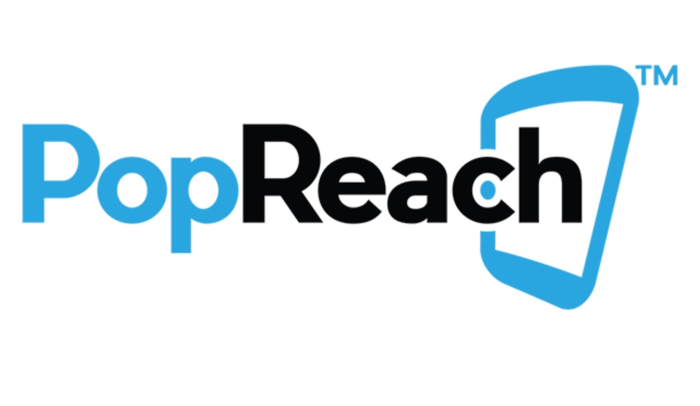 To my surprise, Kitchen Scramble had been sold to a different company. The game was originally created by Playdom, which shut Kitchen Scramble down in 2014. The game transitioned to a RockYou later in 2014. Now, in 2019, it is owned by PopReach.
When RockYou took over Kitchen Scramble, they added things like Daily Quests and a chance to open a box of useful items if you start a new town and play through to a specific level fast enough. I haven't noticed any new additions from PopReach yet.
Before starting Liberty Grove, I purchased the Premium Deep Fryer. It cost 39 Kitchen Cash. Players can earn some Kitchen Cash just by playing the game, or by watching ads. It can also be purchased with real-world money.
I should have upgraded this appliance long ago, but it wasn't a priority. There are many appliances that are used in (nearly) every town, but the Deep Fryer is not one of them.
Towns like Liberty Grove, that only last a short time, start with a tutorial.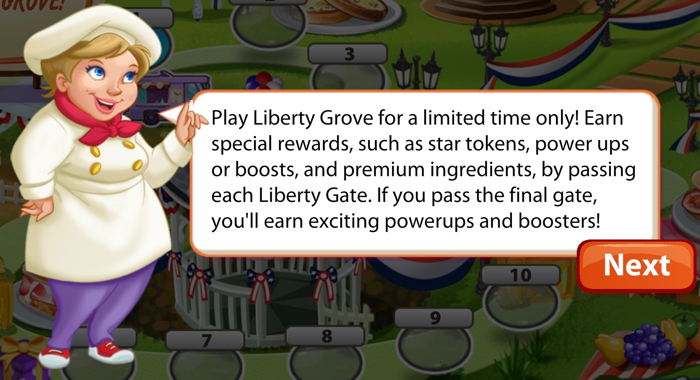 Chef Crisp: Play Liberty Grove for a limited time only! Earn special rewards, such as star tokens, power ups, or boosts, and premium ingredients, by passing each Liberty Gate. If you pass the final gate, you'll earn exciting powerups and boosters!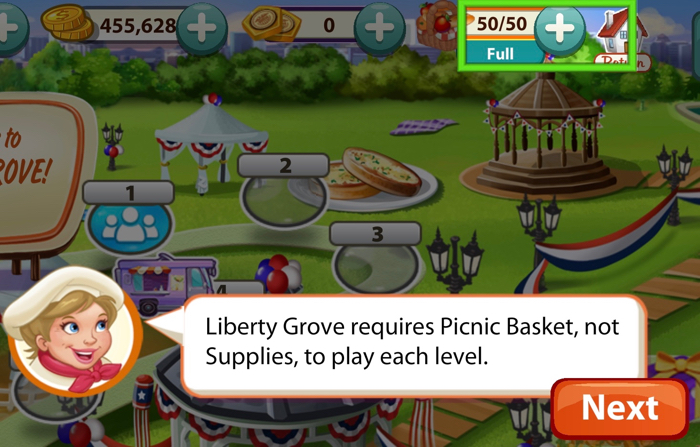 Chef Crisp: Liberty Grove requires Picnic Basket, not Supplies, to play each level.
Chef Crisp: Friends can give you Picnic Basket as a gift, or you can purchase Picnic Basket from the store. Your Picnic Basket supply will also replenish itself, but not as quickly as your Supplies do.
Kitchen Scramble started with a system that allowed players to send item to other players. The same system could be used by players to request specific items. It didn't require a friends list. Any player could send or receive from any other.
Something changed before Liberty Grove appeared this year. The mechanism that allowed players to send items to each other had been disabled. Usually, players could request three or four items per day. Try to get more than that, and the game would say you had hit your limit.
I tried to request items from other players in Liberty Grove, but it was blocked. The first item I requested was rejected, and the game told me I had reached my limit. I think PopReach ended this in an effort to convince players to spend real-world money.
Chef Crisp: Once Liberty Grove expires, your Picnic Basket will be gone, so try to use it all up.
It bothers me that the item is called "Picnic Basket", and the game doesn't pluralize it to "Picnic Baskets" when it should.

Chef Crisp: Time is running out……..Once Liberty Grove expires, you can no longer earn the rewards.
For some reason, whoever wrote the script for Kitchen Scramble really likes to add extra, unnecessary, punctuation.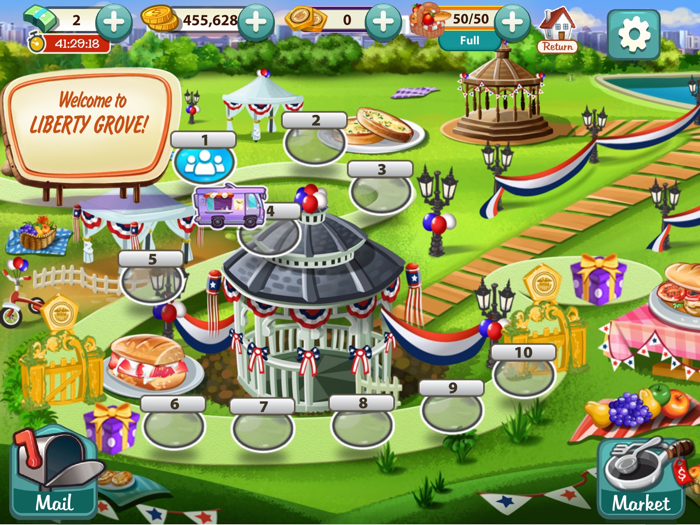 Here is what Liberty Grove looked like when I started it.
The new recipes for Level 1 of Liberty Grove are: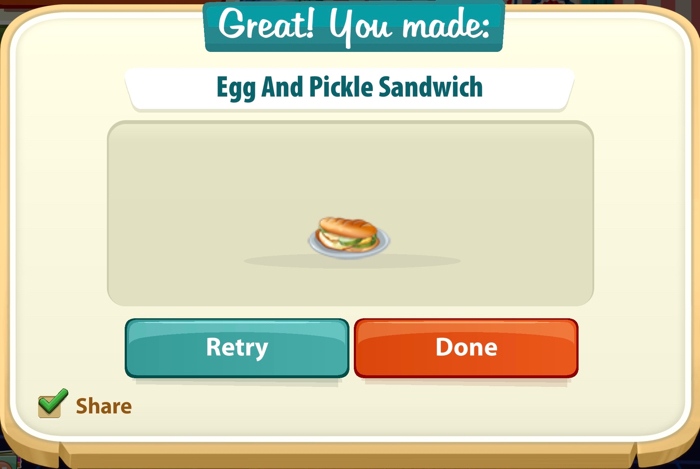 Egg And Pickle Sandwich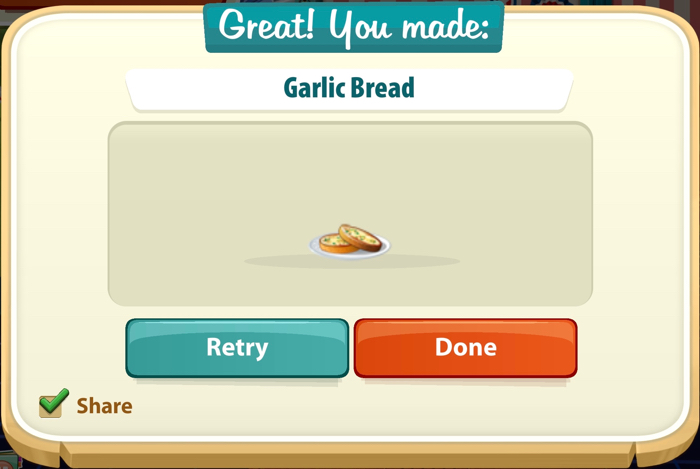 Garlic Bread
Bacon
Relish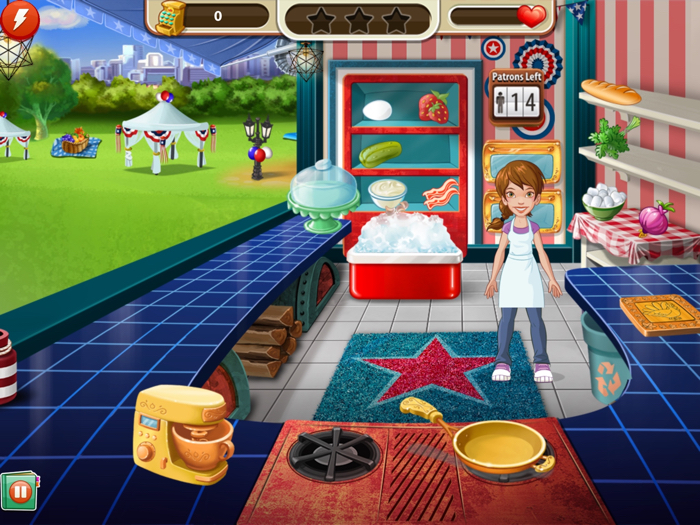 This is what the inside of the Food Truck looked like in Liberty Grove.
I got one star on Level 1. This level limits the number of customers that a player can serve, and that makes it harder to gain additional stars.
The new recipes for Level 2 of Liberty Grove are:
Strawberry Smores
Bacon Wrapped Pickle
Cheesy Baked Potato
I got three stars on Level 2.
I'm pretty sure these are the new recipes for Level 3: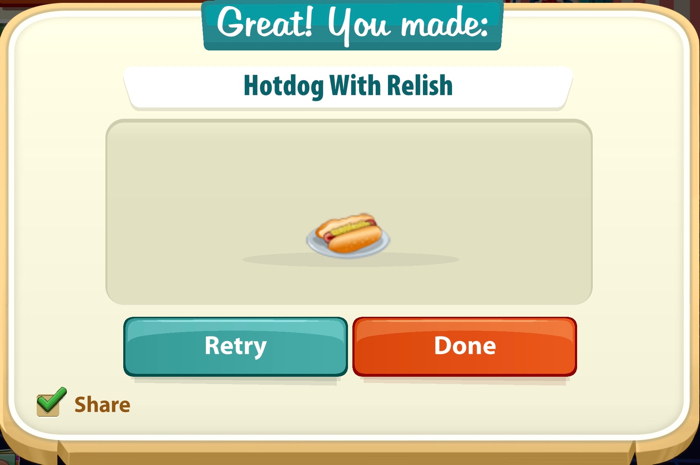 Hotdog With Relish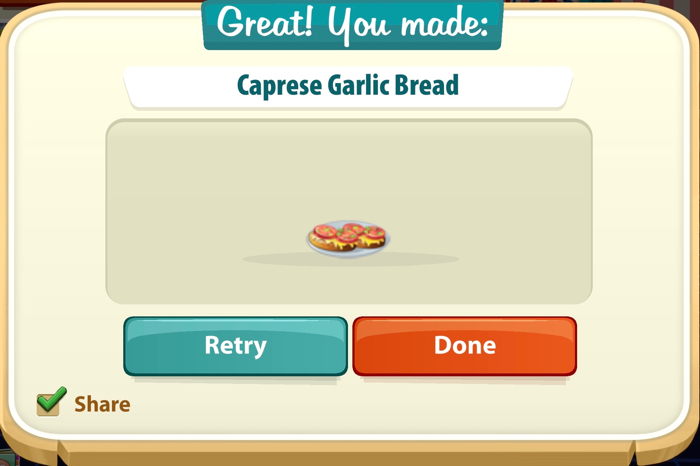 Caprese Garlic Bread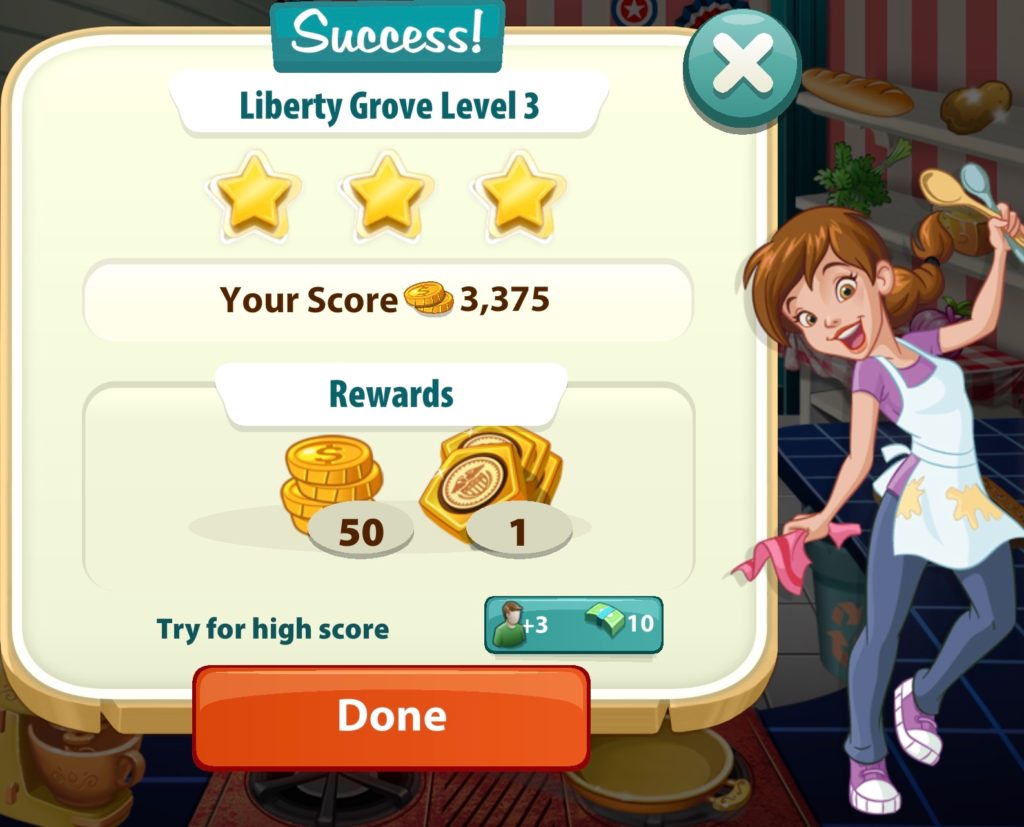 I got three stars on Level 3.
These are the new recipes for Level 4:
Bacon Relish Sandwich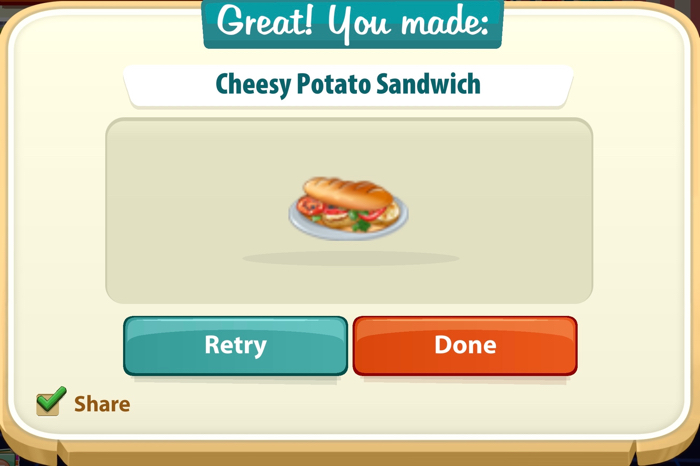 Cheesy Potato Sandwich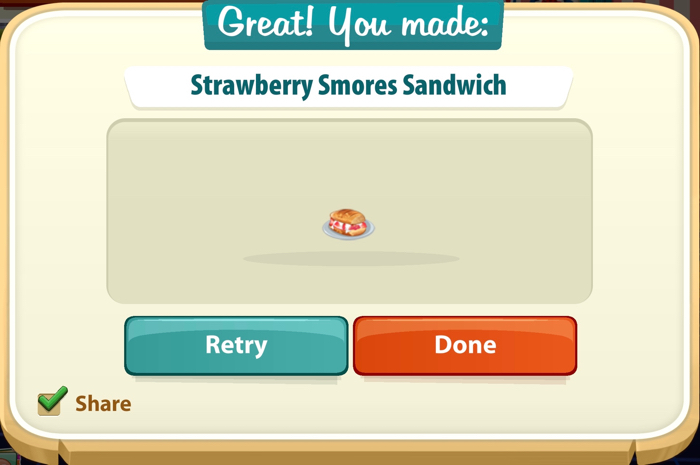 Strawberry Smores Sandwich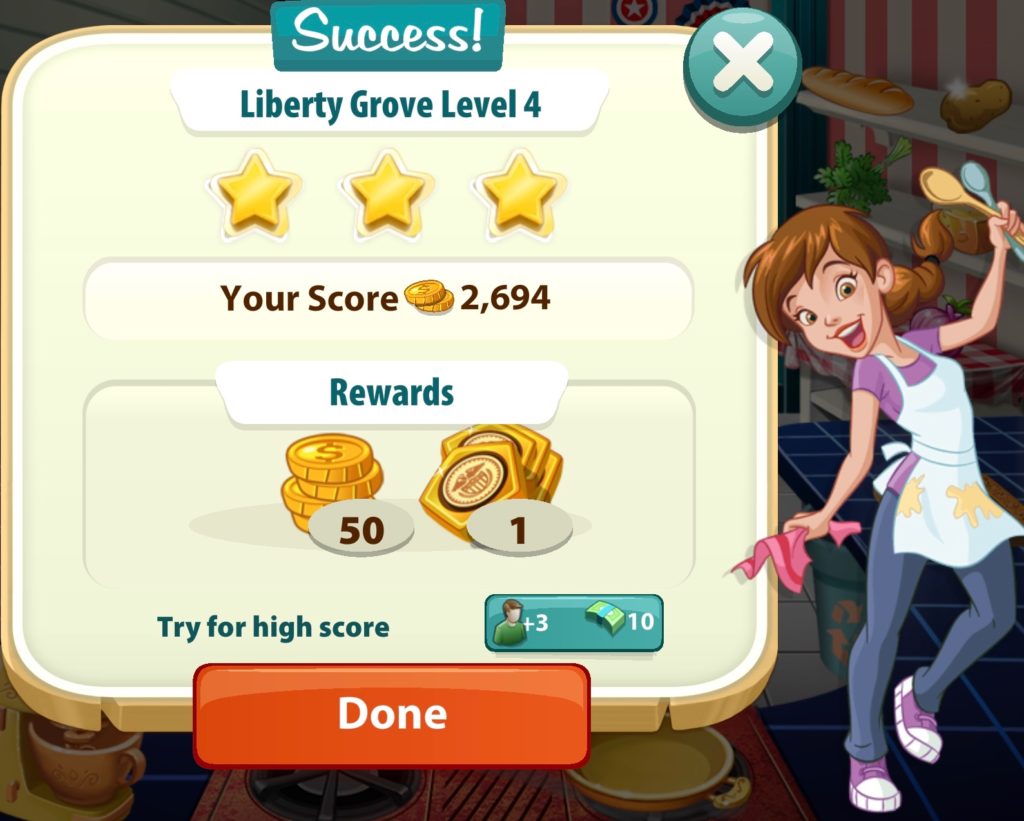 I got four stars on Level 4.
I may have gotten the order that the recipes are introduced wrong. What I know for certain is that by the time the player reaches Level 5, they will have become very familiar with how to make each recipe.
There will not be any new ones to learn in Liberty Grove. The game makes some of the upcoming levels a bit harder by having some customers request two things (instead of just one).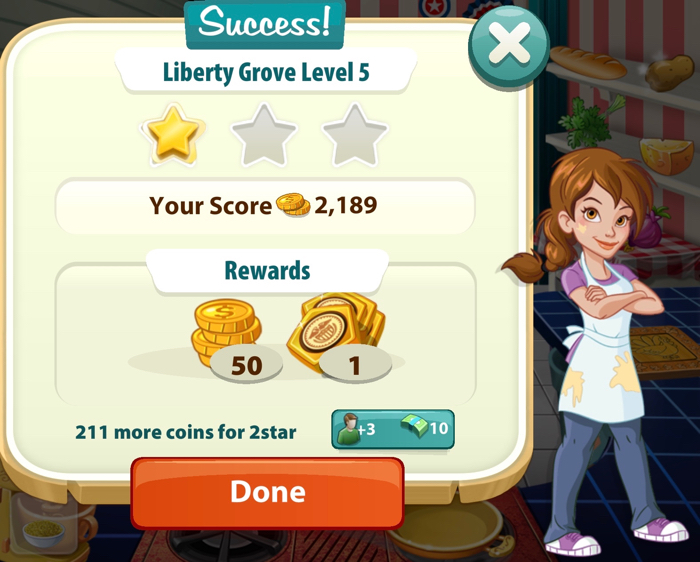 I only got 1 star in Level 5. It is one of the levels where the game limits the amount of customers.
The first Token Gate in Liberty Grove is after Level 5. It requires 10 special Tokens (that are unique to this town). Players can earn one special token for each star, and must collect 10 Tokens before they can pass the Token Gate.
The number of stars I earned at the time I took this screenshot doesn't match the number of stars I finished Liberty Grove with. That is because, after completing the town, I went back and tried to earn more stars just for fun.
Here are the Token Gate Rewards for passing the first Token Gate.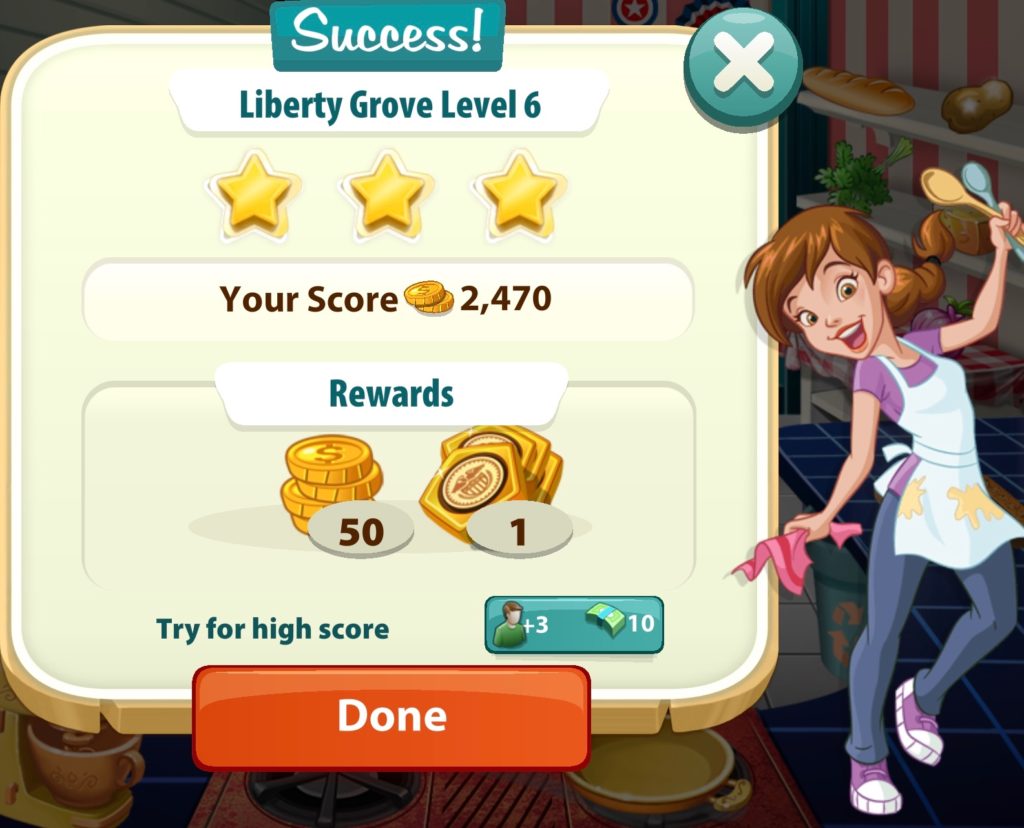 I got three stars in Level 6.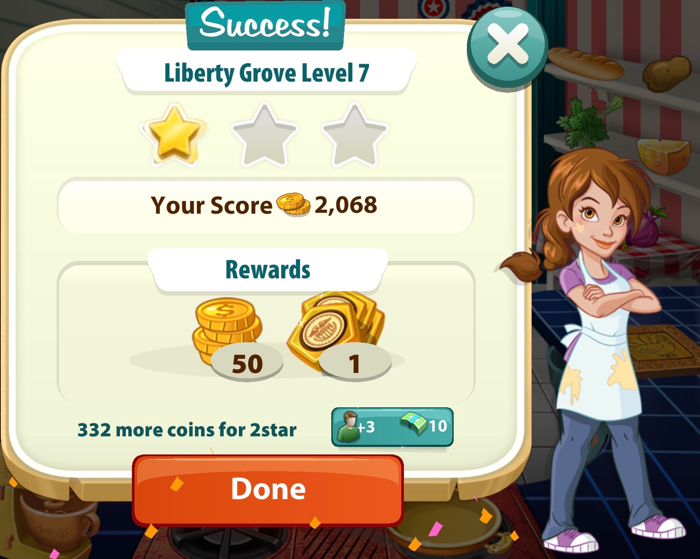 Level 7 is another level where the game limits the amount of customers who come to the Food Truck. So, I got one start on Level 7.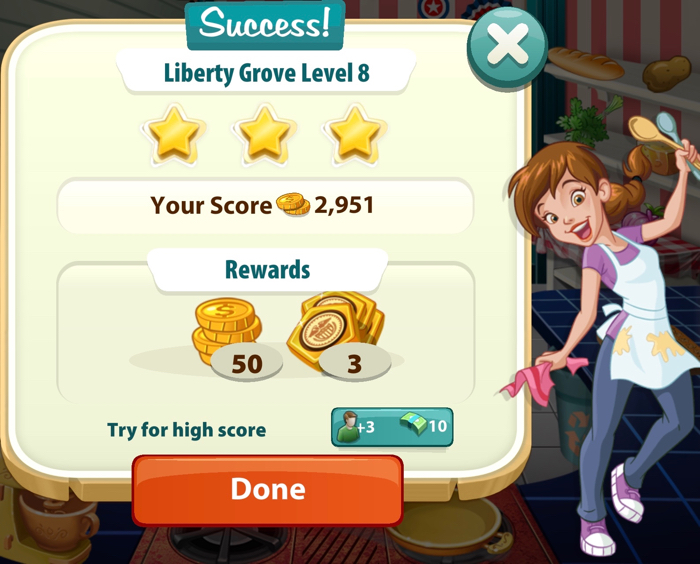 I got three stars on Level 8.
I got three stars on Level 9.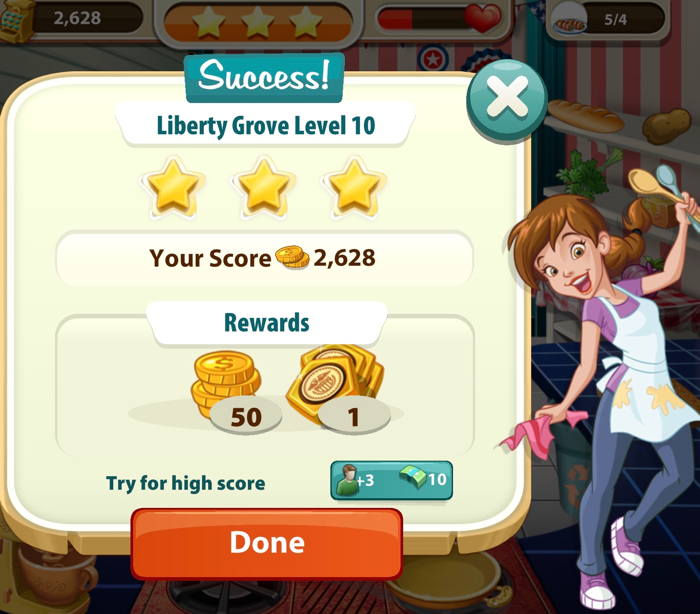 I got three stars on Level 10. It required players to sell at least four Bacon Wrapped Pickles to customers. The challenge is that the game doesn't always want to give the player enough customers who want to order Bacon Wrapped Pickles, and the player cannot give any customer something they did not order.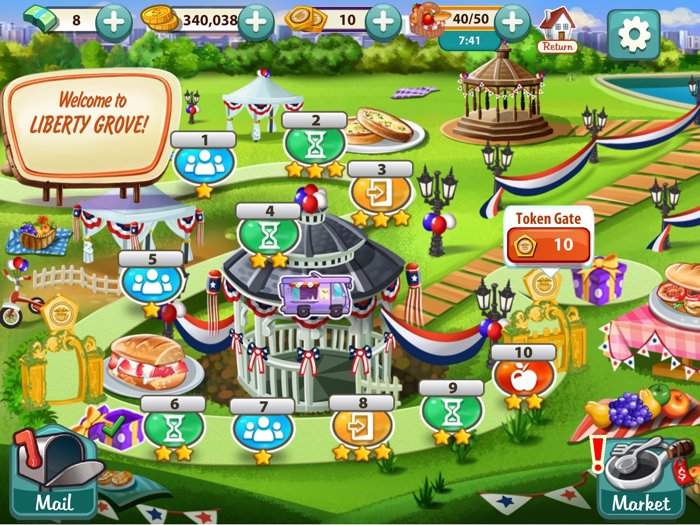 Players must have 10 special Tokens in order to pass the second Token Gate in Liberty Grove. Players already used up 10 Tokens to get through the first Token Gate. To pass the second one, player need to either get 10 stars, total, in Levels 6 through 10, or try and get additional stars in the previous levels.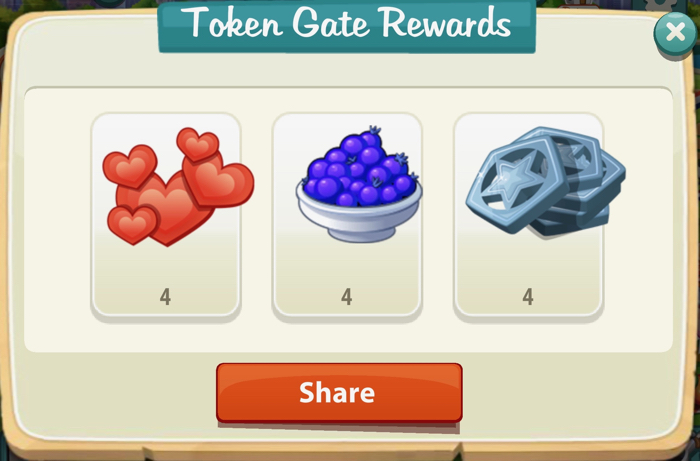 Here are the rewards for passing the second Token Gate in Liberty Grove.
This is what Liberty Grove looked like when I finished it.
#Blaugust2019
Kitchen Scramble App: Liberty Grove is a post written by Jen Thorpe on Book of Jen and is not allowed to be copied to other sites.
If you enjoyed this blog post please consider supporting me on Ko-fi. Thank you!