Kitchen Scramble is a time-management app game where you make food and serve it to customers. It was originally created by Playdom, and has since been purchased by RockYou (who made it into an app).
Pittsburger is the first town in Kitchen Scramble. It starts with a tutorial that teaches you how to play the game. By the time you get to the second half of Pittsburger, the tutorial is mostly finished.
In order to move from the first half of Pittsburger to the second half, players must use up some Tokens at a Token gate.
This Token Gate costs 10 Tokens. I had 27 Tokens. If you reach this point and do not have enough Tokens, you can earn more by getting more stars in the previous Levels, or by completing Location Goals.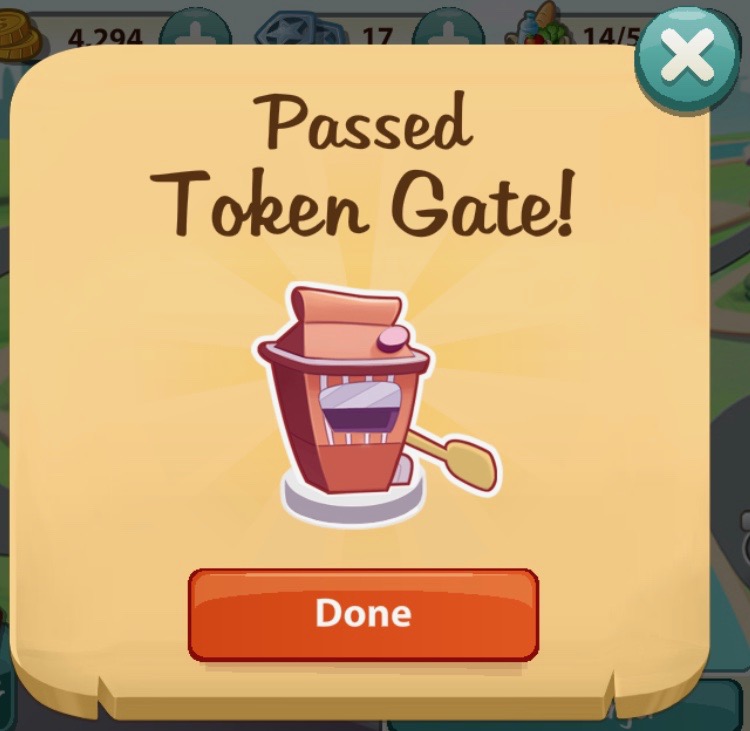 I have passed the first Token Gate and am ready to continue playing!
A pop-up appears to inform me that I have unlocked the Premium Double Oven. It is immediately obvious that having two ovens in the Food Truck would be extremely helpful. It would be faster to cook two things at a time than having to wait for the food in the oven to finish before I can start making the next order.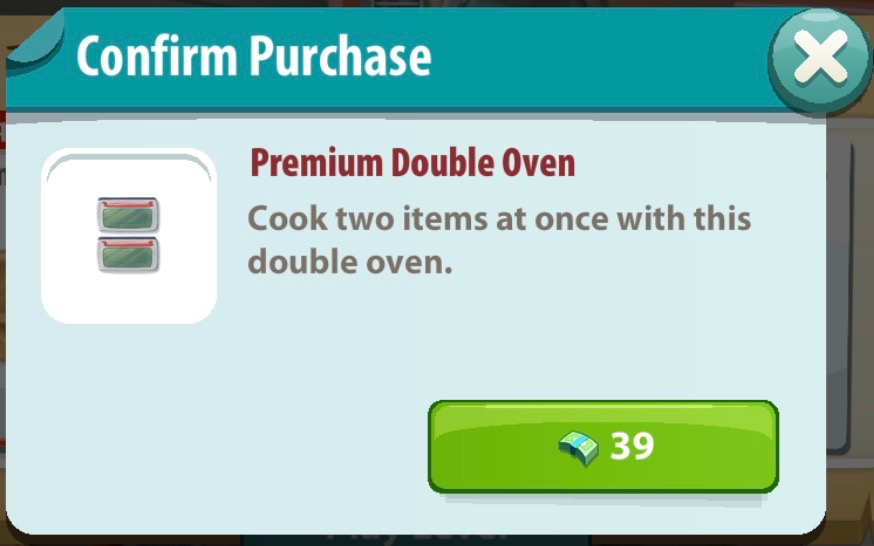 Premium items cost Kitchen Cash. I didn't have anywhere near enough, so I didn't by the Double Oven.
I did, however, have enough Coins to buy the Mixing Bowl. Players are required to buy it before they start the next Level.
Mixing Bowl: Your basic, run-of-the-mill bowl. Can also be useful for haircuts.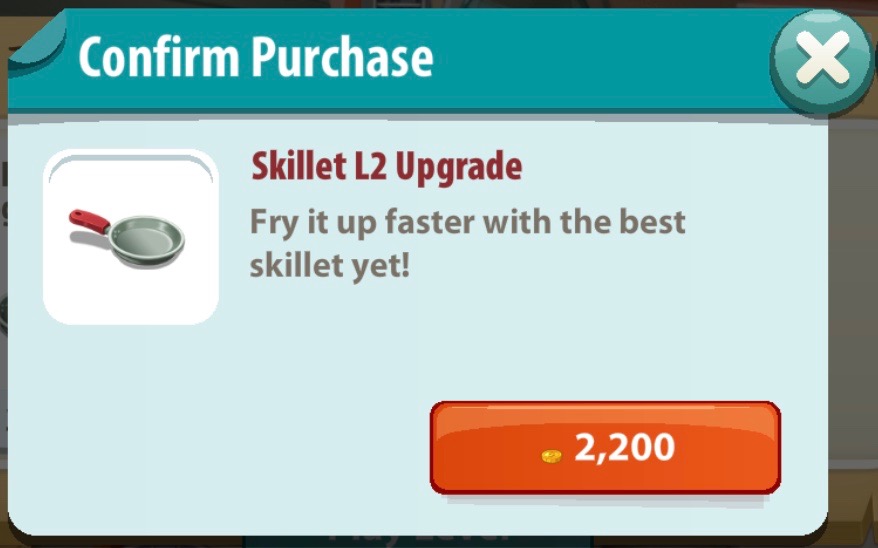 I chose to spend more coins on an upgrade for my Skillet.
Skillet L2 Upgrade: Fry it up faster with the best skillet yet!
I got 3 stars on Pittsburger Level 9. It took more than one try. I earned 3 Tokens (one for each star).
I also got 3 stars on Pittsburger Level 10, but forgot to take a screenshot of that.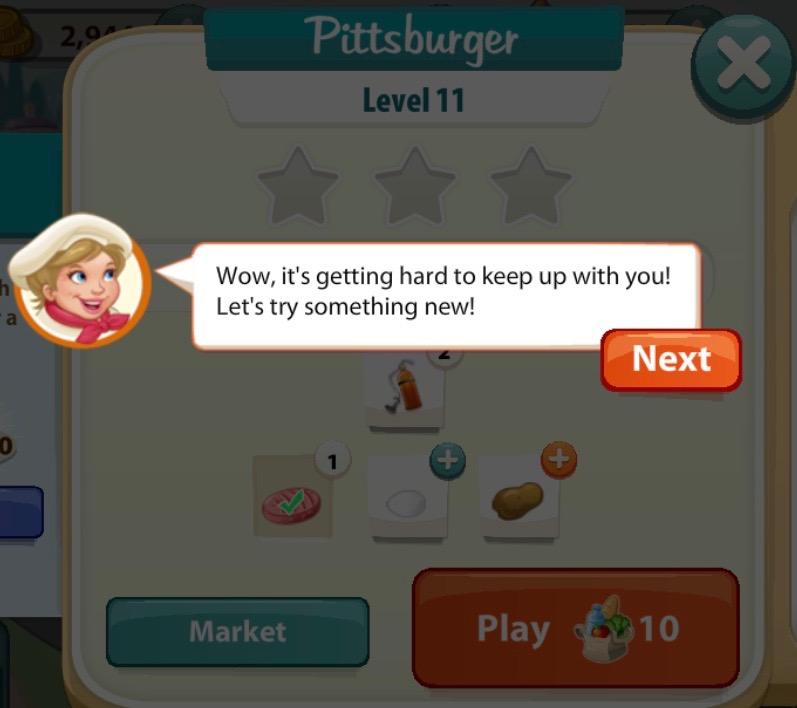 The tutorial continues in between when a player finishes Level 10 and before the player can try Level 11.
Chef Crisp: Wow, it's getting hard to keep up with you!  Let's try something new!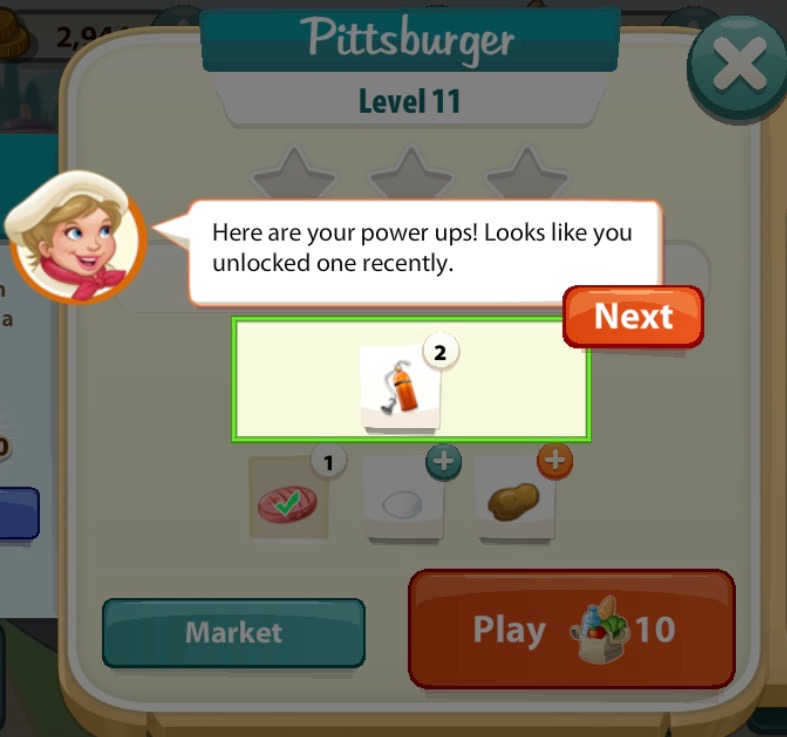 Chef Crisp: Here are your power ups!  Looks like you unlocked one recently.
Chef Crisp: Try this on the next shift!  It'll prevent any cooked food from burning.
Chef Crisp: Let's get cookin'!
Chef Crisp: You won't have to worry about burning anything this shift!  Serve your customers with confidence!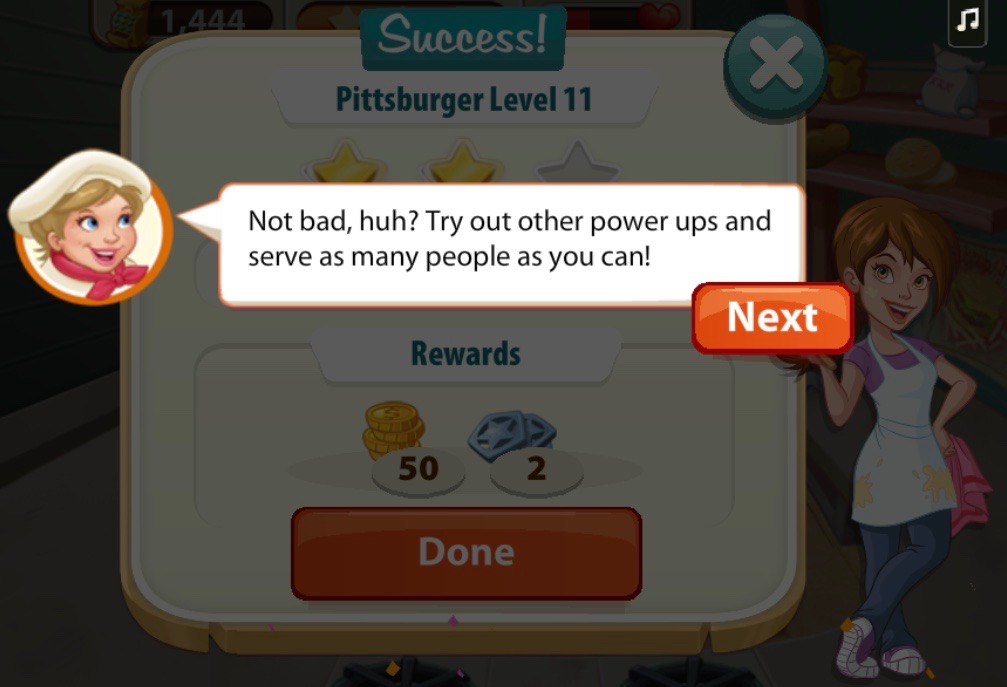 Chef Crisp: Not bad, huh?  Try out other power ups and serve as many people as you can!
I got 2 stars on my first attempt at Level 11. There was room for improvement.
Players who complete Level 11 unlock an upgrade. Players can purchase the Chop Board L2 in the Kitchen Scramble Market.
I eventually was able to earn 3 stars on Pittsburger Level 11.
I earned 3 stars on Level 12 – Pittsburger Meatloaf Mania!
Most Levels have several recipes that customers might ask for. Level 12 only has meatloaf.
I got 3 stars in Pittsburger Level 13.
Mechanic: I saw that Capers Cuisine Truck on the highway heading toward Waffleton.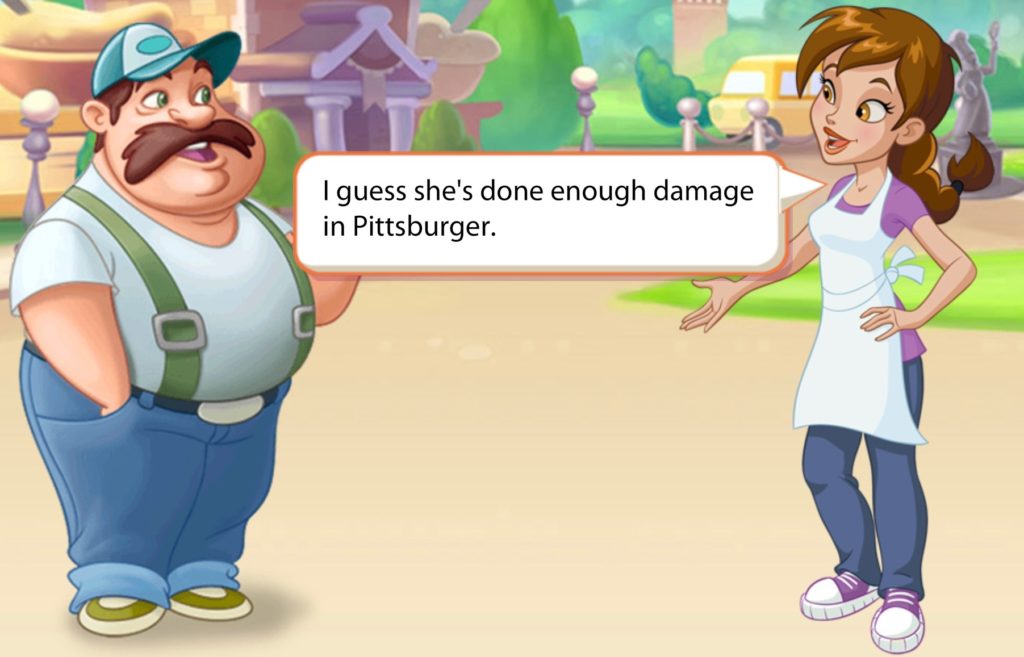 Pepper: I guess she's done enough damage in Pittsburger.
I got 3 stars in Pittsburger Level 14.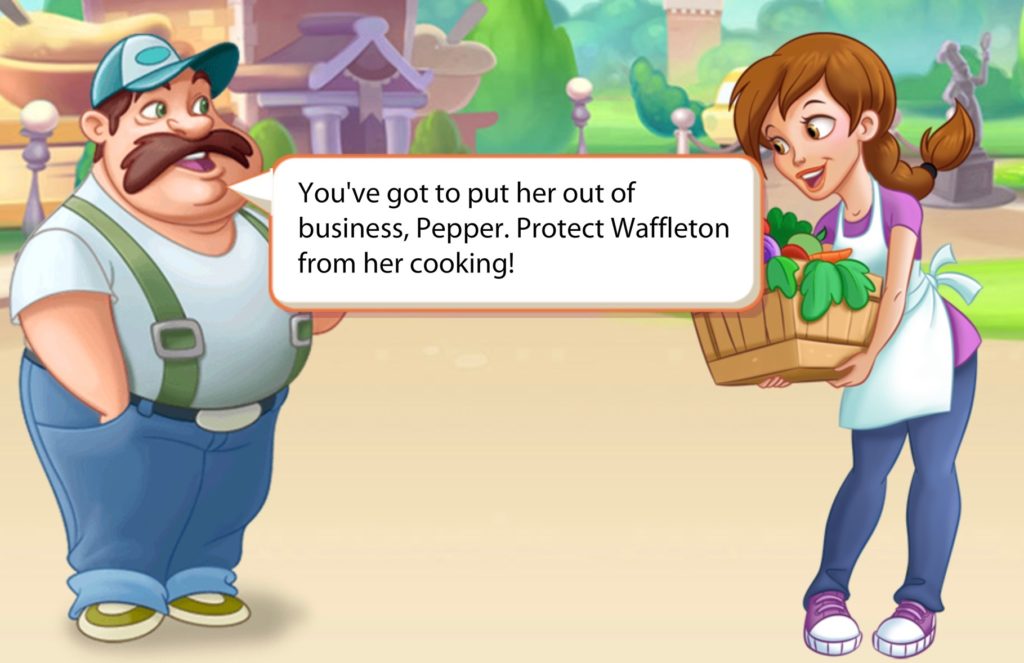 Mechanic: You've got to put her out of business, Pepper. Protect Waffleton from her cooking!
Pepper: I hate to leave Pittsburger, but you're right.  I'm off to Waffleton, where it's breakfast time all the time.
Players cannot immediately go to Waffleton. They have to wait for the Truck Maintenance timer to count down.
I had time to complete the Pittsburger Location goals. Serve 35 Baked Potatoes. Earn 15,000 in Coins. Serve 145 Customers.
I earned 3 stars in every Level in the second part of Pittsburger.
Kitchen Scramble App: Pittsburger (Part 2) is a post written by Jen Thorpe on Book of Jen and is not allowed to be copied to other sites.
If you enjoyed this blog post please consider supporting me on Ko-fi. Thank you!