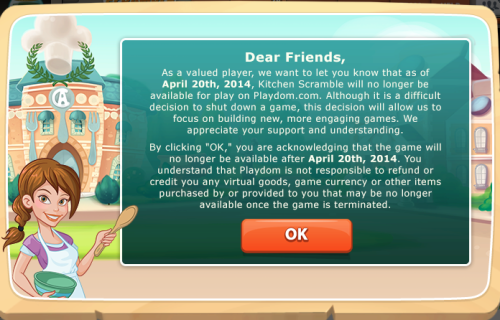 Tonight, when I went to play Kitchen Scramble, I was presented with a new pop-up. As of April 20, 2014, Kitchen Scramble will no longer be available for play on Playdom.com. The game is officially shutting down. That's disappointing! It was a fun little game to play for a few minutes in between working on writing.
Here is what the pop-up said:
Dear Friends,

As a valued player, we want to let you know that as of April 20, 2014, Kitchen Scramble will no longer be available for play on Playdom.com. Although it is a difficult decision to shut down a game, this decision will allow us to focus on building new, more engaging games. We appreciate your support and understanding.

By clicking "OK" you are acknowledging that the game will no longer be available after April 30, 2014. You understand that Playdom is not responsible to refund or credit any virtual goods, game currency, or other items purchased by or provided to you that may be no longer available once the game is terminated.
I've no idea if the game will be available outside of Playdom.com. The wording only says that it will be removed from Playdom.com soon.
I suppose if it is currently available on Facebook, there is a chance it will continue to be playable there? Or, I guess this could be a clue that Playdom.com sold the game to some other company.
Maybe it will appear somewhere else and be playable. Of course, that leads to a bigger question. Will the game force players to spend real world money on in-game micro-transactions in order to make progress?
Originally, my goal with Kitchen Scramble was to get all three stars in every level, and to complete all the location goals. I doubt I will have time to complete the entire game before it disappears from Playdom.com. Whatever progress I make will be blogged about here.
Kitchen Scramble: Shutting Down is a post written by Jen Thorpe on Book of Jen and is not allowed to be copied to other sites.
If you enjoyed this blog post please consider supporting me on Patreon or at PayPal.me. Thank you!