Bengal Jack is a rare Neko Atsume cat that is dressed like a pirate. He likes the Luxury Treasure Box, and will attempt to use it even if another cat happens to be inside it.
This is what the Luxury Treasure Box looks like when no cats are using it. The flavor text on this item says: A crimson box with a mysterious aura. Perfect for storing your most treasured belongings.
The Luxury Treasure Box can be purchased on the Neko Atsume Store for 20 gold fish. Many cats will use this item.
Bengal Jack will only appear if you put out some Ritzy Bits food (pictured above). One serving costs 3 gold fish. The flavor text on the Ritzy Bits says: A sumptuous canned combo of fresh tuna, bonito, and sardines. Sure to boost your powers of cat attraction.
Sooty
Pepper
Smokey
Sooty
Caramel
Shadow
Bandit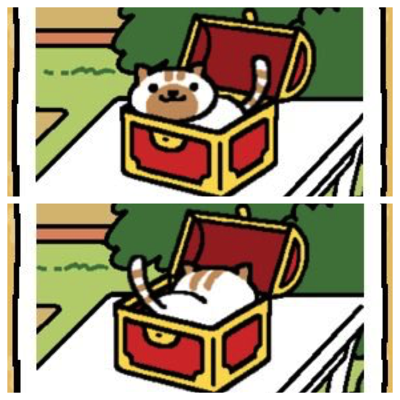 Macchiato
Socks
Sunny
Quicksilver
Neko Atsume: Bengal Jack is a post written by Jen Thorpe on Book of Jen and is not allowed to be copied to other sites.
If you enjoyed this blog post please consider supporting me on Ko-fi. Thank you!