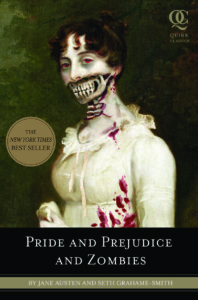 Did you read Pride and Prejudice, by Jane Austen, and think: "That was good, but, it just needs something,"? If so, then you are in luck! Now, you can read Pride and Prejudice, the classic by Austen, with extra added zombies! What could be better than that?
Seth Grahame-Smith has taken the very same classic you know and love, and imagined what it would be like if the story was set in a "universe" where zombies existed. All the characters you know from Austen's book are there, in the same relationships you would expect.
Jane falls for Mr. Bingley, who falls just as hard for her. Lizzy hates, then loves, then hates, then loves Darcy, who has equally mixed emotions for Lizzy. Some of the other Bennet sisters are just as frivolous and silly as usual, and the last one, Mary, is just as severe. Readers get all the wit and social commentary that no one other than Austen can write, and it still takes place in England around 1811 or so.
The differences, that Grahame-Smith adds, are delightful… if you like books involving zombies. The Bennet sisters are now trained warriors, experts at dispatching "the unmentionables". People are wary of "the strange plague".
They have learned how to fight and kill the zombies, what to do with the corpses, and how to determine if their friends and neighbors might be turning into an undead. The soldiers are in town not because of a war, but in an effort to protect people from the swarms of zombies that seem to be everywhere. It's an "alternative universe" version of Austen's famous book.
The first sentence reads: "It is a truth universally acknowledged that a zombie in possession of brains must be in want of more brains."
Grahame-Smith didn't hold back on the horror aspects that every good zombie story should have. There are epic battles, and some truly disgusting and disquieting scenes interposed with the parts of the story that Austen wrote.
Lizzy has a few moments where she seriously considers the pros and cons of killing off her annoying younger sisters, and her embarrassing mother, rather than suffer their incessant prattling on one minute more. Obviously, that wasn't something Jane Austin wrote. Even so, the thought is a strangely fitting one for Elizabeth Bennet, who often seemed frustrated by most of her family.
Included in several places in this book are wonderful drawings, that resemble wood block prints. Each drawing shows a scene from the book where somebody is fighting zombies, about to fight zombies, or fighting each other.
This book review of Pride and Prejudice and Zombies – by Seth Grahame-Smith is a post written by Jen Thorpe on Book of Jen and is not allowed to be copied to other sites.
If you enjoyed this blog post please consider supporting me on Ko-fi. Thank you!