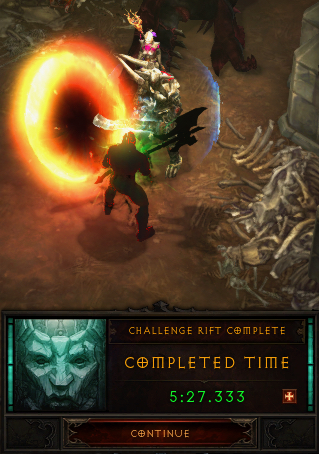 It is always a good idea to do the Challenge Rift that is available at the start of a new Season. This time, it was a Barbarian Challenge Rift, the class that I'm the most familiar with.
Challenge Rift 178 included a Barbarian wearing the Wrath of the Wastes set and using the Bul-Kathos Oath weapons. He was also wearing the Krem's Buff Bulwark set. (The bracer prevents knockback).
This Barbarian had the Enchantress as a Follower. In the Challenge Rift, she used Hex to turn some enemies into chickens.
To complete this Challenge Rift, a player had to finish it in less time than the "original runner's time" of 6:54:816. It was a Greater Rift 42.
I hit a pylon while running through this rift, and it spawned a Shadow Clone that fought monsters with me (for a limited time). This was my first experience with a Shadow Clone. (I was never able to get into the PTR, despite several attempts.)
Towards the end of the Challenge Rift, I got a Conduit Pylon – which also spawned a Shadow Clone. The Conduit Pylons give you lightning (for a limited time).
I finished this Challenge Rift at 5:27:333. It was the most fun I've ever had with a Challenge Rift, and a great way to start off Season 22!
#NaPodPoMo 2020
If you enjoyed this video, please consider supporting me on Ko-fi. Thank you!
Podcast: Play in new window | Download
Subscribe: RSS