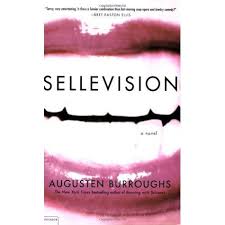 Sellevision is the one and only book written by Augusten Burroughs that is completely fictional. Burroughs describes Sellevision as "my cheese popcorn book". It's yummy, and light, and probably not good for you at all, but it's so much fun you just can't put it down. Cheese popcorn is an appropriate description.
Sellevision is the name of a (fictional) home shopping channel, that has employed quite a few eccentric hosts to work for it. Take the movie "Soapdish", mix it with the movie "Anchorman", and add just a dash of the cattiness found in whatever tv show about teenagers in high school is the most popular at the moment, and you have Sellevision.
It starts out with Max, a Sellevision host who is being fired by executive producer Howard. Max accidentally exposed himself on live Sellevision (on a "Toys for Tots" segment) and now is out of a job. Max begins a degrading and difficult search for another job. Hilarity ensues.
Howard, on the other hand, continues working at Sellevision, and having a torrid love affair with Leigh, one of the hosts, (who is not Howard's wife). Leigh, of course, wants Howard to leave his wife, but is starting to question if he ever will.
Peggy Jean Smythe (who reminds me in some ways of Martha Stewart) is one of the most popular hosts, who one day receives a disturbing email from a viewer. This begins Peggy's decline into madness as she tries to figure out who is behind the email, and why, and if the nasty things said about her in the emails are true.
She suspects Trish, the younger, newer, blonder host, is behind the emails, but there is no proof. I found it to be a lot of fun to watch a character so perfect, with the perfect husband and three perfect children, go crazy and develop drug habits.
What is really going on with the "perfect" husband and three "perfect" children is a whole other story. Trish, on the other hand, is, in fact, trying to climb the Sellevision ladder, and become the most popular host. So, could it be Trish behind the emails after all?
And then there is Bebe, the most popular host, who has been with Sellevision the longest. She shops from Sellevision (and everywhere else) enough to make the reader wonder why she keeps buying so much crap she doesn't need. The viewers love her, and the little stories about her dog which she tells while selling products. Bebe meets a wonderful man, who might be the worst possible choice she could ever make in a lover. Read and find out why.
Much of this story gives the reader a behind the scenes look at what it might be like to work for one of those home shopping networks as a host. Long hours, (sometimes in the middle of the night) spent selling products you know little or nothing about. Phone calls from random viewers, who give too much information about themselves, which you have to deal with live, "on the air".
Plus, all the stress of the social world this takes place in. It's like high school, sped up, and recorded in little clips for the world to watch. If you are looking for a fun beach read, check out this "cheese popcorn" book, and laugh as much as I did.
This book review of Sellevision – by Augusten Burroughs is a post written by Jen Thorpe on Book of Jen and is not allowed to be copied to other sites.
If you enjoyed this blog post please consider supporting me on on Ko-fi. Thank you!