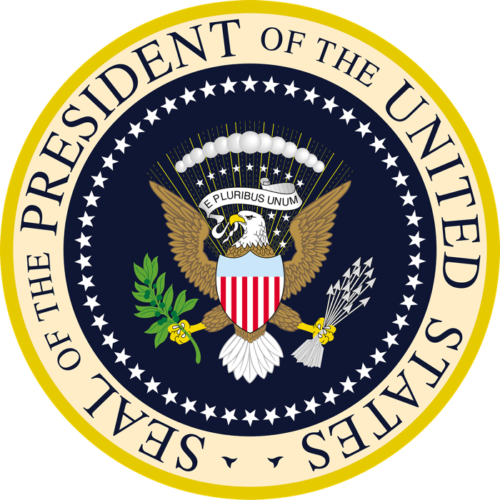 What happens if a President of the United States becomes incapacitated, dies, resigns, or is removed from office? The next eligible person in the Presidential Order of Succession becomes President. Here is a list of the positions that are part of the Biden-Harris Presidential Order of Succession, and the name of the person currently holding those positions.
The Presidential Order of Succession
President of the United States: Joseph Robinette Biden, Jr.
Joe Biden was the 47th Vice-President of the United States during the Obama-Biden administration. Key accomplishments include the Recovery Act (economic recovery plan with a focus on clean energy) and the Affordable Care Act (ACA or "Obamacare), which reduced the number of uninsured Americans by 20 million by the end of the Obama-Biden administration.
The 2020 election was contentious in part because (then) President Trump refused to concede after losing the election. Instead, Trump made false claims about voter fraud, ballot-box stuffing, signature matching requirements being ignored, rejected ballots, non-resident voters filling in ballots in states they don't live in, "record numbers" of dead people voting, and "missing votes" in certain battleground states. All of those claims have been debunked.
The National Archives reported that Joseph R. Biden (D) got 309 Electoral College votes, and that Donald J. Trump got 232 Electoral College votes.
Joseph Robinette Biden Jr. was sworn in as the 46th president of the United States on January 20, 2021.
Vice-President of the United States: Kamala D. Harris
Kamala D. Harris was sworn in on January 20, 2021. She is officially the first woman, the first Black American, and the first South Asian American to serve in the role. Harris is the daughter of an Indian mother and a Jamaican father. Previously, she was 32nd Attorney General of California, and was the first African American woman and South Asian American woman in California to hold that office. Harris was sworn in as the first African American to represent the United States Senate on January 3, 2017.
Speaker of the House: Nancy Pelosi
Nancy Pelosi is the 52nd Speaker of the House of Representatives, having made history in 2007 when she was elected the first woman to serve as Speaker of the House. Now in her third term as Speaker, Pelosi made history again in January 2019 when she regained her position second-in-line to the presidency, the first person to do so in more than 60 years. For 31 years, Speaker Pelosi has represented San Francisco, California's 12th District, in Congress.
President pro tempore of the Senate: Patrick J. Leahy
Patrick J. Leahy (Democrat) succeeded prior president pro tempore Chuck Grassley (Republican) when the Democratic Party gained a majority in the Senate in January 2021. Patrick J. Leahy represents Vermont in the United States Senate.
On February 9, 2021, Reuters reported that when former President Donald Trump's second impeachment trial opened on February 10, 2021, Democratic Senator (and pro tempore of the Senate) Patrick J.Leahy will be the one who will oversee it. Patrick J. Leahy noted that the president pro tempore had historically presided over Senate impeachment of non-presidents. Trump left the White House after his November 3, 2020 election defeat.
Secretary of State: Antony J. Blinken
Antony J. Blinken was sworn in as the 71st U.S. Secretary of State on January 26, 2021. The Senate voted to confirm Antony J. Blinken as Secretary of State by a vote of 78 yeas to 22 nays with all no votes coming from Republicans.
Previously, Antony J. Blinken served in the past two Democratic administrations, including as a deputy national security advisor from 2013-2105 and as deputy secretary of state from 2015-2017. Mr. Biden first began working with Blinken more than 15 years ago when he led the Senate Foreign Relations Committee and Blinken served as Democratic staff director.
Secretary of Treasury: Janet L. Yellen
The U.S. Senate confirmed Janet L. Yellen to be Secretary of the Treasury on January 25, 2021, by a vote of 84 to 15. This made her the first woman to hold the top job at Treasury in its 232-year history. Prevously. Janet L. Yellen was a labor economist and a former Federal Reserve Chair.
In addition to negotiating with lawmakers, Ms. Yellen will have the responsibility of being the United States' most senior economic diplomat at a time of frayed global tensions. It will be her job to try and repair America's economic relationships around the world which became strained under (former) President Donald Trump.
Secretary of Defense: Lloyd Austin
On January 22, 2021, The U.S. Senate confirmed Lloyd Austin as the 28th Secretary of Defense. The vote was a near-unanimous 93-2. Lloyd Austin is the first Black Secretary of Defense in United States history. He is also a retired four-star Army general.
Lloyd Austin's nomination was approved despite concerns on both sides of the aisle that he hadn't been out of uniform for the legally mandated seven-year period. The National Security Act of 1974 created the rule to ensure civilian control over the military is maintained, but it also permits a waiver if lawmakers in both the House and the Senate approve. That vote also passed in bipartisan fashion.
Lloyd Austin has served for more than 40 years in the Army, and headed U.S. Central Command, the Pentagon's key post leading military operations in Afghanistan, Iraq, Syria, and Yemen. He served as commander of the theater from 2013 to 2016, making him the first Black general to hold that post.
Attorney General: Merrick Garland
The U.S. Senate voted 70-30 on March 10, 2021, to confirm Merrick Garland as Attorney General of the United States. Merrick Garland takes over as the head of the Department of Justice as the agency continues to investigate the Jan. 6 riot at the U.S. Capitol, one of the largest probes in its history. The Justice Department will also be crucial in enacting Biden's sweeping plans for civil rights enforcement and criminal justice reform.
On March 16, 2016, (then) President Obama announced that he was nominating federal appeals court judge Merrick Garland to the Supreme Court of the United States. At the time, Merrick Garland had nearly two decades on the bench, and as a federal prosecutor, oversaw the Oklahoma City bombing and "Unibomber" terror cases. When Obama chose Garland as his nominee, Republicans vowed to block the nomination on the basis that it was too close to the 2016 presidential election approximately eight months later.
Secretary of the Interior: Deb Haaland
The U.S. Senate voted on March 15, 2021, to confirm Deb Halland as President Joe Biden's Secretary of the Interior, a historic move that will make her the first Native American Cabinet secretary. The vote was 51 to 40, with most Republicans voting against her after several called her views on public land use and fossil fuels extreme.
Her nomination to lead the Interior Department was a victory for an alliance of progressives and Indigenous leaders who campaigned to elevate one of their own to a powerful federal seat that oversees natural resources, public lands and Indian affairs. Deb Haaland will be part of Biden's plan to tackle the climate crisis and reduce carbon emissions.
Deb Halland is the first Native American to serve as a cabinet secretary. She is a member of the Pueblo of Laguna and a 35th generation New Mexican. After running for New Mexico Lieutenant Governor in 2014, Deb Halland became the first Native American woman to be elected to lead a State Party. She is also one of the first Native American women to serve in Congress.
Secretary of Agriculture: Tom Vilsack
The U.S. Senate confirmed Tom Vilsack as President Joe Biden's agriculture secretary on February 23, 2021, sending the former Iowa Governor to the same Cabinet position he served for the entirety of the Obama administration. The vote was 92-7. Vermont Senator Bernie Sanders joined six Republicans in voting against the nomination.
Previously, in 1988, Tom Vilsack became the first Democrat elected governor of Iowa in more than 30 years. He served as governor from 1999-2007 and chaired the Democratic Governors Association for a year. In 2009, the Senate unanimously confirmed Vilsack to be agriculture secretary.
Secretary of Labor: Marty Walsh
On March 22, 2021, the U.S. Senate confirmed Marty Walsh to serve as the nation's secretary of labor, cementing the Boston mayor, former union leader, and the Dorchester son of Irish immigrants as a top advisor to President Joe Biden. Marty Walsh was nominated by Joe Biden for the post in January, and was confirmed in a 68-29 vote – the final of Biden's nominees for the 15 secretary positions to be screened and approved by federal lawmakers.
Secretary of Health and Human Services: Xavier Becerra
The Senate voted 50-49 on March 19, 2021, to confirm Xavier Becerra as Secretary of Health and Human Services. Sen. Susan Collins of Maine was the only Republican to support his confirmation. Xavier Becerra is the son of Mexican immigrants, and will be the first Hispanic to oversee the Health and Human Services agency. Xavier Becerra will take charge as the Biden administration works to lead the nation out of the coronavirus pandemic.
Previously, Xavier Becerra was the first Latino to serve on the U.S. House of Representatives Ways and Means Committee and the second Hispanic American to chair the House Democratic Caucus. In 2017, Xavier Becerra resigned from the House to accept the job as Attorney General of California.
Secretary of Housing and Urban Development: Marcia Fudge
On March 10, 2021, the U.S. Senate confirmed Marcia Fudge to serve as the 18th Secretary of Housing and Urban Development by a bipartisan vote of 66-34. Fudge resigned as the U.S. Representative for Ohio's 11th Congressional district – a position she had held since 2008 – and was virtually sworn in by Vice President Kamala Harris later that day.
As the head of the U.S. Department of Housing and Urban Development (HUD), Secretary Fudge will be responsible for several federal programs including the Community Development Block Grant (CDBG) and the HOME Investment Partnership.
Secretary of Transportation: Pete Buttigieg
In January of 2021, The U.S. Senate confirmed Pete Buttigieg as Secretary of Transportation with a 86 to 13 vote. Pete Buttigieg is the first openly gay person ever confirmed to a Cabinet post. He will be tasked with advancing President Biden's wide-ranging agenda of rebuilding the nation's infrastructure and fighting climate change. Pete Buttigeig is the 19th U.S. Secretary of Transportation.
Previously, Pete Buttigeig was the Mayor of South Bend, Indiana, for two terms. It was his hometown. He is a graduate of Harvard University and a Rhodes Scholar at Oxford. Pete Buttigeig also served for seven years as an officer in the U.S. navy Reserve, taking a leave of absence from the Mayor's office for a deployment to Afghanistan in 2014.
Secretary of Energy: Jennifer M. Granholm
The U.S. Senate confirmed Jennifer M. Granholm on February 25, 2021, to lead the Energy Department. She was confirmed in a 64-35 vote, with 14 Republicans joining all 50 Senate Democrats in supporting her nomination. She was sworn in on February 25, 2021, and became the second woman to lead the U.S. Department of Energy.
Previously, she served as Governor of Michigan from 2003-2011. Jennifer M. Granholm will be tasked with helping President Biden transition the U.S. toward clean energy as part of his goal to put the country on a paty toward carbon neutrality by 2025.
Secretary of Education: Miguel Cardona
Miguel Cardona was confirmed by the U.S. Senate on March 1, 2021, with a vote of 65-33 as the Secretary of Education. He faces the task of helping guide school districts to safely provide in-person instruction as teachers' unions in some places across the country are fighting reopening plans. Miguel Cardona was sworn in as the 12th Secretary of Education on March 2, 2021.
Previously, Miguel Cardona served as the Commissioner of Education in Connecticut. He also has two decades of experience as a public school educator from the City of Meridian.
Secretary of Veterans Affairs: Denis McDonough
On February 8, 2021, the U.S. Senate confirmed Denis McDonough as President Joe Biden's Secretary of Veterans Affairs. The vote took place just before the second impeachment trial of former President Donald Trump. The Senate confirmed Denis McDonough in an 87-7 vote. The "no" votes came from GOP Sens. Josh Hawley (Mo.), Tom Cotton (Ark.), Joni Ernst (Iowa), Roger Marshall (Kansas), Rick Scott (Fla.), Bill Hagerty (Tenn.) and Ted Cruz (Texas).
McDonough is the second non-veteran to be voted into the post, which oversees health care for some 9 million veterans, provides pensions and life insurance, helps with housing assistance and education, and oversees national cemeteries.
Previously, Denis McDonough served in the Obama Administration as the 26th White House Chief of Staff from February 2013 to January 2017. Prior to that, Denis McDonough was Principal Deputy National Secretary Advisor from October 2010 to January 2013.
Secretary of Homeland Security: Alejandro Mayorkas
On February 2, 2021, the U.S. Senate confirmed Alejandro Mayorkas to lead the Department of Homeland Security. He is the first Latino and first foreign-born person to run the department. He has Cuban heritage.
The Senate voted 56 to 43 to confirm Alejandro Mayorkas. His confirmation was stalled when some Republicans argued that Biden's nominee was not properly vetted on pressing immigration issues. On Thursday, Mayorkas' nomination advanced a procedural hurdle after the Senate voted to break a GOP filibuster.
Previously, Alejandro Mayorkas served as deputy secretary at the Department of Homeland Security under former President Barack Obama. FactCheck.org reported that people who are in the Presidential Order of Succession must be a natural born citizen. Alejandro Mayorkas is not eligible to become President of the United States.
The Biden-Harris Presidential Order of Succession is a post written by Jen Thorpe on Book of Jen and is not allowed to be copied to other sites.
If you enjoyed this blog post please consider supporting me on Ko-fi. Thank you!