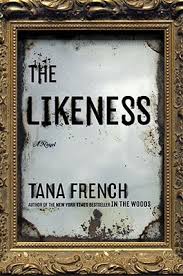 The Likeness is the second book by Tana French.  It follows In the Woods, the first book in the "Dublin Murder Squad" series. You don't absolutely have to read In the Woods before you pick up The Likeness, but, readers who skip the first one will miss out on some background information.
The main character in this book is Cassie Maddox, who was one of the detectives in the last book, working on Operation Vestal, with her partner, Ryan. Now, it's six months later, and Cassie has left the Murder Squad, to work in a department that mostly handles domestic disturbances.
She and Sam (who also worked on Operation Vestal) are very clearly a couple, and all seems to be going well. Except, of course, that Maddox is rather bored working with domestic disturbances, and her head is still full of thoughts about what happened in the last book.
Out of the blue, a murder happens, and Cassie is called to view the body, despite the fact that she isn't working murder cases any longer. A young woman (who might be anywhere from twenty-three, to twenty-six or so) has been found in an abandoned home, in the middle of nowhere. It's clear the woman has been stabbed, and it is also obvious that someone moved the body, took the time to lay her out, and completely disturbed the crime scene in the process.
There are two remarkable things about this dead woman. One, she is the "spitting image" of Cassie. It's freaky how much they look alike, despite the fact that this woman is not a relative of Cassie. The other bizarre coincidence is that the ID the woman was carrying identifies her as "Alexandra Madison", the same name Cassie used back when she was working undercover. The name Cassie was using when she, herself, got stabbed.
Much debate goes on from here. Cassie's boss, Frank (who got her into working undercover in the first place) wants Cassie to go back undercover, as "Lexie", to find who the killer is. What could be more perfect, than to have the double of the murder victim return to the crime? And Cassie and "Lexie" are darn near identical.
Sam, of course, is terrified that Cassie will get hurt, or even, killed, and is set against her going undercover again. Cassie takes a lot of time, weighing the odds, fighting with both Frank and Sam about her options. But, as a reader, it's no surprise that she eventually gives in to her own curiosity, and becomes "Lexie".
There are few suspects in this case. The best suspects are the four college students who Lexie lived with. Daniel is calm, controlled, and the one who inherited the house they all live in. Abby is cute, and brilliant. Justin is sweet, and nervous, and gentle. And Rafe is the life of the party, and stunningly handsome. The five of them (including Lexie) are tighter than most friendships ever become.
They are intimate in ways that even most families are not. They all spend nearly every waking moment together, in shared activities. They all lean their heads on each other's shoulders, and prop their feet in each other's laps. They even share drinking glasses.
There is no television in the house, and they all read books together, or play cards, or fix up the house. They seem incredibly content, and mostly ignore the rest of the college (and the town it resides in) who strongly dislike the odd quintet.
French has made each member of this little family absolutely fascinating. I found myself thinking about this group when I was at work, or driving, or otherwise not able to read the rest of the book. What would they be doing, right now, if they were real? How much do they really know about Lexie's death? What would make them do that, when they seem so happy together?
I wondered what it would be like to be a part of that idyllic, self-created, family unit. It seemed peaceful. I wanted to go explore the huge house with them, and see what treasures could be uncovered. One of the marks of a truly great book, in my opinion, is if I find myself thinking about "the world" inside the book long after I stop reading. This book captured more of my attention than most books do, and, with how much I read, that is no easy feat to accomplish.
Cassie starts off her undercover work simply hoping that no one finds out that she isn't really "Lexie". Slowly, and without her even realizing it, Cassie finds herself actually becoming Lexie. She craves the serenity, the security, and the stability the small group brings to each other.
She also starts wondering about just who "Lexie" really was, and what she would want Cassie to do. Was Lexie trying to tell her something? Could she give Lexie some peace, if she finds out what she wants? Before she knows it, Cassie has lost her objectivity on this case, which Frank is more than happy to point out. But, Cassie doesn't think so, and continues on.
Things become more complex from here, both within the case, and outside it. Lines are crossed, motives are muddied. The books builds up to a superbly intense ending, that leaves the reader wondering, right up until the last second, what will happen next. By the end, most questions are answered, and the reader gets a little of the "what happened next?" that I know I was wondering about.
This book review of The Likeness – by Tana French is a post written by Jen Thorpe on Book of Jen and is not allowed to be copied to other sites.
If you enjoyed this blog post please consider supporting me on Ko-fi. Thank you!