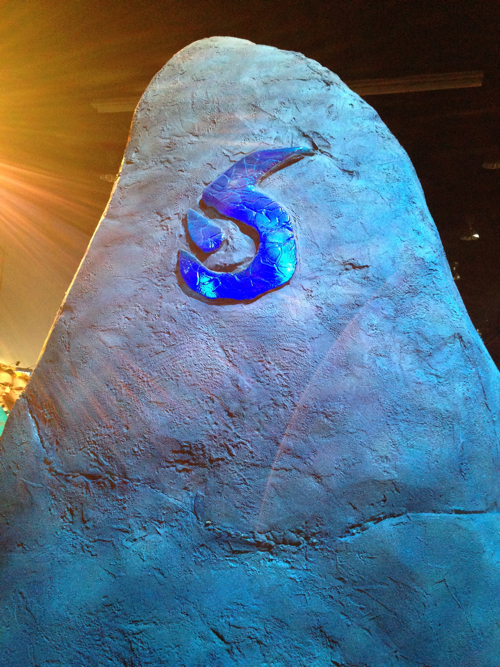 This blog is the final part of the series I am writing because I wanted to participate in the 10 Years: 10 Questions project.  I was able to answer seven of the ten questions before the deadline.  For me, that is really good! I decided that I wanted to complete the entire series anyway, just for fun.
The reason I'm glad I gave this a try is because it forced me to write about my thoughts and experiences in (or related to) World of Warcraft (WoW). I've dabbled in writing about WoW a little bit, but always felt as though my efforts were inadequate. This project gave me an excuse to give it another try.  The more you write about something, the better your writing about that topic becomes.
Question 10: What effect has Warcraft had on your life outside gaming?
Where to begin? WoW has effected my life outside of gaming in ways that I did not expect. When I first started, it was because I wanted to play a video game with my brother (who lived far away from me). When he quit the game, I figured I would keep playing until I got bored with it.
I didn't know that it is entirely possible to make friends through WoW. There are several people whom I consider a friend that I would not have met if it wasn't for World of Warcraft. Those that play WoW instantly have something to talk about with strangers in social media that also play WoW. Every friendship has to start somewhere, after all.
I had the opportunity to meet some of these friends, in person, at Blizzcon 2013. It was wonderful! I'd never been to Blizzcon before. It was the first "Con" I've ever attended. This was a very big deal for me because I hate traveling. My immune system sucks and I end up getting really sick, for weeks, after being in a crowd. But, it was worth the risk to hang out with my friends in person. I'll be doing the same this year for Blizzcon 2014.
I started podcasting years before I'd even heard of World of Warcraft. Never in my life would I have guessed that I'd end up doing a "mini-podcast" about World of Warcraft. But, I did!
For a while, I was writing, recording, editing, and producing a segment that was exclusive to the All Things Azeroth podcast. My segment was called "Back to Basics". Some of you reading this might recall that it started out with 30 seconds of AC/DC's "Back in Black". The entire focus was to teach people about some of the basic things in World of Warcraft. It was stuff that a new player would need to know, and I tried to make the mini-podcast entertaining enough for those who were super serious players to enjoy, too.
I suspect that my "Back to Basics" segment is what eventually got me into the Shattered Soulstone podcast that I do today. True, it isn't about Wow, it's about Diablo III. There was a time when the idea of having a Diablo podcast on the Dawnforge Network was being talked about. I had people /pst me in WoW to ask if I was going to be on "the Diablo show" (which hadn't been given an official name yet). Before that, it never occurred to me that I could be on a podcast dedicated to a video game or that people would want to hear what I had to say about it.
World of Warcraft has also affected my life in ways that are quite bizarre. One quick example relates to the noises that I hear outside my window. I live in a mobile home park, with loud neighbors, that often make strange noises. One time, I was hearing a metallic "dink… dink…. dink" outside. My first thought was "Someone's working on their mining skill."
When my home needed to be repainted I inadvertently selected "Alliance Blue" as one of the colors it would have. I honestly had no idea what I'd done, at first. That particular shade of blue just seemed right. After the painting was done, I was in-game, walking through Stormwind… and then it hit me. So that's why that shade of blue spoke to me!
The most bizarre way that World of Warcraft has effected my life outside of the game has to do with plastic cups. A while ago, Blizzard released WoW themed cups for slurpees that would only be available at one particular convenience store. I have forgotten which store it was.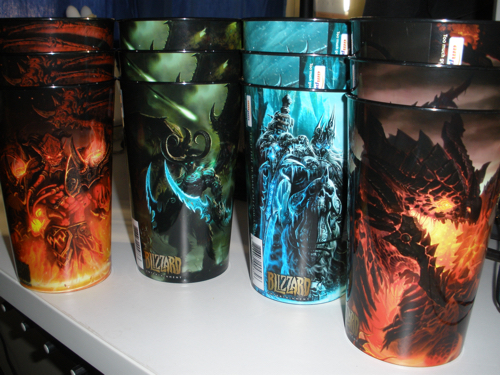 My husband and I took the time to locate one of those stores (having never had reason to visit one before). We bought a full set of four cups for ourselves. There were four different designs, each having to do with WoW expansions (or "Vanilla"). We also bought a set of four cups for a friend who lived far away, and another four for a friend who lived …well, closer than the first friend but who didn't have any of those types of convenience stores in the state that the friend lived in.
So, there we were, heading up to the register with 12 cups for slurpees. We were giddy, because we weren't sure we would be able to get three full sets of the cups. But, this store had them! Sure, we had to ask someone to go into the back room to get an additional cup of one of the four designs, but that was ok. The cashier was dead amazed that we didn't want to fill any of the cups with a slurpee. All the workers looked at us like we had lost our minds!