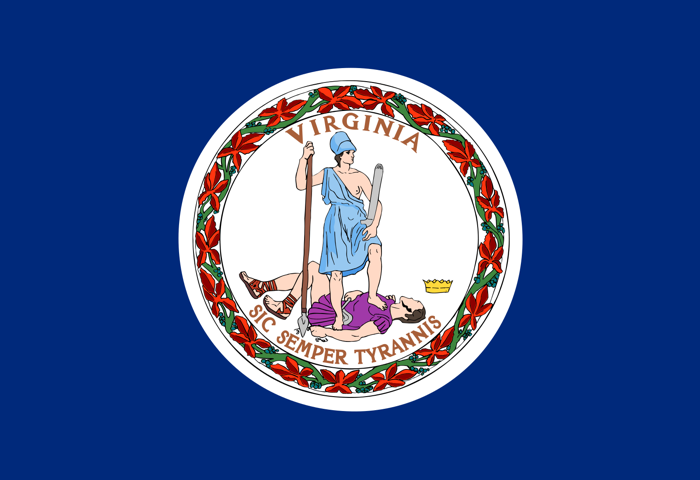 Virginia takes part in "Super Tuesday", a day when several other states are voting. Virginia voters do not have to register by party. The Virginia Department of Elections explains why:
No, Virginia residents do not register by party. Because of that, and the fact that the Democrats are the only party holding a presidential primary (Virginia Republicans will choose their delegates to the Republican National Convention at a state convention), any registered Virginia voter can vote in the March 3, 2020, Democratic Presidential Primary.
Election Information
Ballotpedia reported that the Virginia Democratic Party will have an estimated 124 delegates comprised of 99 pledged delegates and 25 superdelegates. Delegate count is proportional.
On September 19, 2019, Frontloading HQ posted an article titled: "Virginia Republicans Will Hold 2020 Presidential Preference Vote at State Convention". From the article:
Much ink has been spilled of late about the number of Republican state parties considering or deciding to forgo primaries or caucuses during the 2020 presidential nomination cycle. There was a rash of these decisions during the first weekend of September when Republican parties in Arizona, Kansas, Nevada, and South Carolina opted out of their respective delegate selection events for next year.

But those states were not alone, nor were they the first to opt for a more closed system of selecting and allocating delegates to the 2020 Republican National Convention in Charlotte.

In fact, during their late June state central committee meeting, Virginia Republicans entertained a motion to hold a presidential preference vote at the party's state convention and the Republican Senate nomination vote in a (June) primary. That motion was split into two questions and dealt with separately. While the state central committees voted in a narrow 40-35 roll call to conduct a Senate primary in June 2020, the party opted via an uncontroversial voice vote to skip the presidential primary in favor of a presidential preference vote at the party's state convention next year…
According to Ballotpedia, the Virginia Republican Party will select its presidential nominee at the 2020 Republican National Convention in Charlotte, North Carolina. The Convention is being held from August 24-27, 2020. The Virginia Republican Party will have an estimated 49 delegates. Delegate allocation is proportional.
---
The Virginia Department of Elections allows absentee voting – if an eligible voter meets one of a list of reasons for requesting an absentee ballot. These voters can apply for it by mail, fax, email, or in person at the office of the local registrar. Absentee ballots are paper.
Some of the acceptable reasons include:
Student attending college or university outside of locality of residence in Virginia.
Spouse of student attending college or university outside locality of residence in Virginia
Business outside County/City of residence on Election Day
I am working and commuting to/from home for 11 or more hours between 6:00 AM and 7:00 PM on Election Day
I am a first responder
I am primarily and personally responsible for the care of a disabled/ill family member confined at home
My pregnancy
Confined, awaiting trial
Confined, convicted of a misdemeanor
I have a religious reason
Active Duty Merchant Marine or Armed Forces
Granted a protective order issued by or under the authority of a court of competent jurisdiction
On January 10, 2020, The Virginia Department of Elections announced that absentee voting would start next week.
On January 27, 2020, the Virginia Department of Elections announced that they were now offering website resources that assist with language accessibility for voters, including voter information in Spanish, Vietnamese, and Korean.
On February 27, 2020, the Virginia Department of Elections highlighted security initiatives to ensure election integrity. From the press release:
…Virginians should feel confident that their votes will be counted accurately. The Department of Elections (ELECT) has worked to remove unsecure voting systems from service at the local level and promoted the transition to modern voting systems using voter verified paper-based balloting. Furthermore, the equipment voters use to cast their ballots in Virginia are not connected to the internet…

…ELECT has worked with voting equipment vendors to ensure all voting systems meet new standards prior to the 2020 General Election. System vulnerability tests are constantly in process to ensure that the Department's infrastructure is sound…
---
Virginia Endorsements
Joe Biden
On January 30, 2020, Richmond.com posted an article titled: "Richmond mayor Stoney endorses Biden in Democratic primary". It was written by Justin Mattingly. From the article:
Richmond Mayor Levar Stoney endorsed former Vice President Joe Biden for the Democratic nomination for president Thursday.

The announcement comes less than a week before the Iowa caucuses, where Biden is in a close race with Sen. Bernie Sanders, I-Vt., polls show, for the top spot in the first nominating contest for the 2020 election…

…"We need a president that will prioritize giving working families the shot at the American dream that they deserve," Stoney said in a statement. "That's why I'm endorsing Joe Biden for President. He has dedicated his life to public service and to giving a voice to those who don't have one. He has always stood up for what was right and will continue to as president."…
On February 20, 2020, Daily Press posted an article titled: "Biden picks up series of endorsements from Hampton leaders". It was written by Matt Jones. From the article:
Joe Biden's campaign announced Thursday that it had picked up 32 new endorsements in Virginia, according to a news release from the campaign, including three of the seven members of the Hampton City Council….

…Seven of Biden's endorsements are from current and former Hampton politicians. Commissioner of the Revenue Ross Mulger, Vice Mayor Jimmy Gray, Councilwoman Chris Snead, Councilman Steve Brown, School Board Chairwoman Ann Cherry and School Board member Regina Woodhouse all announced their endorsements Thursday.

Former Hampton City Councilman Will Moffett also endorsed Biden.

Also included were Del. Joseph Lindsey, D-Norfolk, and state Sen. Lynwwod Lewis, D-Accomack, who also represents part of Norfolk, Matthews, and Virginia Beach. Newport News School Board member John Eley and Norfolk Treasurer Daun Hester endorsed Biden too, according to the news release sent by the campaign…
On February 28, 2020, CBS 19 News posted an article titled: "Kaine endorses Biden for president". It was written by Michael Caldwell. From the article:
Senator Tim Kaine, D-Va., endorsed Democratic presidential candidate and former Vice President of the United States Joe Biden on Friday, according to a news release from Kaine's staff.

Kaine released a statement ahead of Virginia's Democratic Presidential Primary on Super Tuesday:

"America is afflicted by a President who delights in division, cruelty, lies, chaos, and self-congratulation. We are better than that, and Americans deserve better in the Oval Office.

Democrats have many good public servants and admirable people running for President. I will vote in the Virginia presidential primary for Joe Biden. Barack Obama wisely chose Joe as his partner in the White House, and for eight years, Vice President Biden worked hand-in-hand with President Obama to rescue the American economy from catastrophe, expand health care to millions people, revive creative diplomacy to keep Americans safe, tackle global challenges like climate change, and appoint high-quality people across the executive and judicial branches of government. As a Senator, I saw first-hand Joe's role in these accomplishments.

It is sad to have a President who no one holds up as a role model for America's kids. By contrast, Joe Biden has exemplary heart, character, and experience. He reminds me of Harry S. Truman, an outwardly ordinary man whose work ethic, faith in the goodness of everyday Americans, and love of country made him a great President. I am proud to vote for Joe Biden."
On February 29, 2020, CNN posted an article titled: "Former Virginia Gov. Terry McAuliffe endorses Joe Biden for president". It was written by Kate Sullivan and Dan Merica. From the article:
Former Virginia Gov. Terry McAuliffe on Saturday endorsed former Vice President Joe Biden, days before Virginia voters head to the polls for the state's Democratic primary on Super Tuesday.

"I'm going to endorse Joe Biden," McAuliffee told CNN's Anderson Cooper.

"I've thought long and hard about this. For me, it's about beating (President) Donald Trump, and to me it's an electability issue — who has the best shot of beating Donald Trump," said McAuliffee, who is a former commentator for the network.

The former governor's announcement came shortly after CNN projected Biden would win the South Carolina primary.

In a statement sent out by the Biden campaign, McAuliffee said, "I've always said that our best leader is one who can build a broad coalition, including African American voters who are the heart of the Democratic Party. After South Carolina, it is clear Joe Biden is that leader."…
On March 1, 2020, Virginia State Congresswoman Jennifer Wexler tweeted: "We need a leader who will bring us together, unite us as one country, and restore the promise of America. I know that @JoeBiden is that leader. He has the vision and experience to deliver results on the issues that matter most to Virginians. This Tuesday, I'm voting for Joe."
---
Bernie Sanders
On March 2, 2020, Democratic National Committeewoman Yasmine Taeb tweeted: "All eyes are on Virginia tomorrow. As someone who fled war and grew up undocumented, there is only one candidate I trust to fight for a Green New Deal, end endless wars, and guarantee healthcare as a human right. That's why I'm proud to endorse @BernieSanders for President."
The tweet included a photo of Committeewoman Yasmine Taeb, with the words "Yasmine Taeb endorses Bernie".
She followed up that tweet with a second tweet: "Read my full statement below:" The tweet included a screenshot of her statement:
"As someone who fled war-torn Iran and grew up undocumented, I want a leader that I can trust to fight for the most marginalized in our communities. There is only one candidate I trust to champion a Green New Deal, guarantee healthcare as a human right, defend our civil liberties, and end endless wars. Only one candidate is waging a political revolution that will dismantle a corrupt system of pay-to-play politics that is robbing Virginia's working families. Senator Sanders has consistently fought for our progressive values his entire career and is the best-positioned candidate to defeat Donald Trump. That's why I'm proud to endorse Bernie Sanders for President of the United States."
On March 3, 2020, Virginia House Delegate Ibraheem Samirah tweeted: "Virginia: today is our day. I urge you to cast your vote for @BernieSanders. We have the energy. We have the excitement. We are building a coalition and platform that represents America's best days ahead, not a return to the past. That's how you beat Donald Trump. #NotMeUs".
The tweet included a photo of Ibraheem Samirah and a quote:
"As a doctor, I know Sen. Bernie Sanders deeply understands the fundamental problem with profiteering in the health care industry. As the youngest legislator in Virginia, I see why Bernie is connecting with young people like myself across the nation. From Medicare for All, to the Green New Deal, to legalizing marijuana, to wiping student debt clean, to immigration reform, to Palestinian, Arab, and Muslim rights, this campaign is the one rejecting the unworkable status quo, entirely. Bernie is building the multiracial working class coalition that will win in November because he has the consistency, integrity, and a commitment to lifting up the marginalized. I'm proud to be part of this historic campaign and look forward to helping Virginians take Trump out of the White House."
---
Mike Bloomberg
On February 14, 2020, The Virginian-Pilot posted an article titled: "Norfolk Mayor Kenny Alexander endorses Bloomberg for president despite his controversial record on race", It was written by Ryan Murphy. From the article:
Norfolk's mayor has backed a different mayor – Michael Bloomberg, former three-term chief executive of New York City – as the race for the Democratic nomination for president continues to heat up.

Kenny Alexander said he met privately with the billionaire candidate last week when Bloomberg was in Norfolk to campaign. Alexander said he's impressed by the former mayor and likes his policies and his past experience in government and business.

However, much of the focus on Bloomberg in recent days has been over the policies he championed as mayor of New York, like the stop-and-frisk policing tactic that disproportionately targeted minorities.

Bloomberg has apologized for the program, and his platform now includes extensive criminal justice reform, but his previous defense of stop and frisk, along with other comments, have drawn scrutiny…
On February 20, 2020, Daily Press posted an article titled: "Biden picks up series of endorsements from Hampton leaders". It was written by Matt Jones. From the article:
…Norfolk Mayor Kenny Alexander endorsed former New York City Mayor Michael Bloomberg on Feb. 14, along with Councilwoman Angelia Graves. Another Norfolk council woman supported former South Bend, Indiana, Mayor Pete Buttigieg…
On March 3, 2020, Herald-Dispatch.com posted an article titled: "Mayor explains endorsement of Bloomberg". It as written by Travis Crum. From the article:
Huntington Mayor Steve Williams has defended his endorsement of Michael Bloomberg for president against accusations from Bloomberg's rivals that the billionaire former mayor of New York City is trying to buy influence in the race for the White House.

In his desire to become the Democratic nominee for president, Bloomberg has shied away from the traditional campaign model and is instead relying partly on a network of local city leaders to act as surrogates on his behalf.

Many of those leaders have received grants, training and other support totaling millions from Bloomberg's foundation, creating a network of potential allies long before Bloomberg announced his candidacy in November 2019.

Williams' endorsement comes after the Bloomberg Foundation donated $1 million in October 2018 to launch a wellness program for the city's first responders dealing with the opioid epidemic. The foundation also has given more than $25,000 in grants to help fund improvement projects in the city's West End neighborhood. In addition to financial support, the foundation has accepted Williams into a training program that Bloomberg sponsors at Harvard University.

Williams said he believes Bloomberg would be the best choice for the people of Huntington because he has already shown an interest in helping the city, which could blossom into even greater opportunities should the billionaire become inaugurated…
---
Controversies
On February 14, 2020, WAVY.com posted an article titled: "State: Group behind controversial Virginia Beach election signs broke the law". It was written by Brett Hall. From the article:
The Virginia Department of Elections has fined the newly created Virginia Beach Teachers Association for violating election law.

On Wednesday, Chris Piper, the commissioner for the department, sent Virginia Beach Commonwealths' Attorney Colin Stolle a letter detailing that because VBTA did not file a Statement of Organization within the proper time limit, they will have to pay $500 to the state by the end of March…

…Stolle had written to Piper back in January with concerns that the VBTA may have violated the law by not alerting the state of its intent to become a Political Action Committee. Doing so requires financial disclosures so voters can know who is paying for ads.

On election day, a Virginia State Corporation Commission filing was the only trace of the VBTA that 10 on Your Side could find online. It stated that the association was established in August 2019 by Virginia Beach School Board member Laura Hughes.

At the time school board candidate Robert Dean stated Hughes founded the VBTA as a "lobbying group… established to represent teachers."

However, the statement of organization wasn't filed with the state until January 12, more than two months after the election…
---
On February 26, 2020, the Princeton Gerrymandering Project sent a letter to Virginia Speaker of the House Eileen Filler-Corn. From the letter:
…We are a coalition of nonpartisan advocacy groups that have worked for years to ensure that redistricting reform is successful nationwide. In particular, we have worked to support reform efforts in the Commonwealth. We are writing to implore you to bring the constitutional amendment, SJ18, to the House floor for a vote. The nation's eyes are on Virginia, and it is too close to the finish line to give up now.

With Delegate Price's HB1256 potentially being reworked by the Senate to operate alongside SJ18, introducing the amendment to the House floor now represents the clearest path toward redistricting reform in the Commonwealth. Not bringing it to the floor when it is likely to pass may end any chance of reform before 2021. In 2018, a number of states joined the movement to end gerrymandering by reforming their redistricting processes. In 2020, Virginia has the opportunity to make historic progress on this front as the first state without an initiative process to pass meaningful redistricting reform.

The constitutional amendment and enabling legislation will create good reform. The amendment places Voting Rights Act language into the Virginia constitution for years to come. The enabling legislation expands protection for racial and language groups by requiring that the commission protect communities of interest, ensure that the voting power of racial and language groups are not weakened, and provide for robust public input into the final map. The enabling legislation also responds to other concerns about the Supreme Court of Virginia by requiring both major parties to appoint qualified special masters to draw the maps if the commission fails. The constitutional amendment and enabling legislation have broad support in the House of Delegates, and they have already been passed in the Senate.

We respectfully request that SJ18 be brought up for a vote so that Virginians have a chance to make their voices heard on the issue in November. Just as voters should be able to choose their representatives in fair districts, so should they be able to have a say in the process by which those districts are drawn. The outcome only occurs if you bring SJ18 to the House floor. Virginia can, and should, act as a leader in redistricting reform by relinquishing some of its line-drawing power, adding to the Commonwealth's collection of good democracy reforms passed this session…
On March 3, 2020, Quartz posted an article titled: "A vote on gerrymandering in Virginia could be more important than its Democratic primary". It was written by Annalisa Merelli. From the article:
Virginia, together with 13 other states and the territory of American Samoa, is an important battleground on perhaps the most important day of the Democratic primaries: Super Tuesday.

But while everyone will be waiting to see whether former vice president Joe Biden or Vermont senator Bernie Sanders – or maybe there will be a surprise showing from Massachusetts senator Elizabeth Warren – will win the day, another potentially more important vote will be held in Virginia's state assembly.

State representatives will decide whether to pass a constitutional amendment that would enable redistricting and give the power to draw district lines to a commission under the state supreme court. The amendment, which already passed the senate with an ample majority, would allow districts to be redesigned in the state on the basis of the 2020 census result, with the aim of preventing the practice of gerrymandering. If approved by state lawmakers, residents would vote on the amendment in November…

…During last year's congressional elections in Virginia, voters got a look at the impact fair districting can have. Democrats won by a sizable majority a district that was re-drawn after a court order. Thanks to that seat, the Democratic Party gained the majority in both chambers of Virginia's general assembly for the first time since 1993.

Some democrats, however, worry that the proposed amendment would give the power of re-drawing districts to the state supreme court, which is now controlled by conservatives, should the commission deadlock. Some members of the state's black caucus, meanwhile, worry the language of Virginia's amendment is not strong enough in its protection of minorities. Overall, the concern is that the constitution is being amended in a rush, and without enough care…
On March 3, 2020, Courthouse News Service posted an article titled: "Virginia's Fight Against Gerrymandering Advances". It was written by Brad Kutner. From the article:
Virginia's hope for nonpartisanship in time for next year's constitutionally mandated redistricting survived a state House committee vote Monday evening.

In a 13-8 vote across party lines, the Democrat-controlled Privileges and Elections Committee expressed doubt during the public hearing before voting in support of the measure. The bill goes to the full House, where advocates say they have the votes to get it over the finish line.

If so, it will appear as a referendum on the ballot in November.

Delegate Israel O'Quinn, R-Bristol, and every other Republican on the committee supported the bill. He called its passage a now-or-never moment…

…But Democrats were concerned about the language of the amendment.

Del. Mark Levine, D-Alexandria, who voted for the amendment last year, became its loudest critic once his party took control of the House and Senate for the first time in two decades.

"There's no barring gerrymandering in the constitutional amendment and no way to appeal to those maps," said Levine, who took issue with the conservative Virginia Supreme Court's role in drawing the map if the nonpartisan effort fails to coalesce around one.

"Gerrymandering is allowed if the state supreme court draws it," Levine said.

Redistricting in Virginia has a tumultuous history. The U.S. Supreme Court found the lines drawn in 2011 by a Republican majority were racially gerrymandered. Those maps favored Republicans.

The ruling forced a redraw in time for 2019 elections. Democrats had already started to overcome the gerrymander, thanks to changing demographics and anti-Trump sentiment, and the 2019 House and Senate races ended with Democratic majorities…
---
On March 3, 2020, Virginia House Delegate Danica Roem tweeted: "Hey @vaELECT: Either there's a reporting error in Kilby precinct in Prince William County or Julián Castro and Michael Bennet just ran the greatest stealth single-precinct campaigns in Virginia history:"
The tweet included a screenshot of the votes (and percentages) in Kilby. Julián Castro had 229 votes – 39.62%, and Michael Bennet had 252 votes – 43.60%. As a comparison, the same screenshot shows that Bernie Sanders had 29 votes – 5.02%, Joe Biden had 3 votes – 0.52%, Elizabeth Warren had 1 vote – 0.17%, and Michael Bloomberg had 1 vote – 0.17%
---
On March 3, 2020, Former FBI Director James Comey tweeted: "Voted in first Dem primary to support party dedicated to restoring values in WH. I agree with @amyklobuchar: We need candidate who cares about all Americans and will restore decency, dignity to the office. There is a reason why Trump fears @joebiden and roots for Bernie. #Biden2020."
In response to James Comey's tweet, Director of Rapid Response for Joe Biden, Andrew Bates, tweeted: "Yes, customer service? I just recieved a package that I very much did not order. How can I return it, free of charge?"
Andrew Bates followed up that tweet with another tweet: "I forgot the #1 rule of politics, which is that if you talk about anyone or anything related to 2016, common sense goes out the window. It was meant to be a lighthearted joke – not a rejection. We appreciate the vote of anyone repelled by Donald Trump."
---
Results
The Associated Press tweeted: "Joe Biden wins Virginia primary as polls begin to close in Super Tuesday contests that will help determine who will take on President Trump. Follow AP for results."
NBC News tweeted: "BREAKING: Joe Biden wins Virginia Democratic Primary, NBC News projects." The tweet included link to their website, showing the Virginia presidential primary results. The tweet included a photo of Joe Biden with the word Virginia above the photo and a check mark next to the photo.
The NBC News website that shows the Virginia results has an interesting paragraph at the top of the page. "Virginia Democrats will make their presidential preferences known – awarding 99 delegates in the process – while Republicans will stay home because the GOP canceled its primary last year."
The Guardian posted the results of the 2020 Virginia Democratic Primary. Their source is the Associated Press. Here are the results with 100% of precincts reporting:
Joe Biden: 705,834 votes – 53.30%
Bernie Sanders: 305,922 votes – 23.10%
Elizabeth Warren: 142,568 votes – 10.77%
Michael Bloomberg: 127,980 votes – 9.67%
Tulsi Gabbard: 11,311 votes – 0.85%
Pete Buttigieg: 11,188 votes – 0.84%
Amy Klobuchar: 8,459 votes – 0.64%
Andrew Yang: 3,365 votes – 0.25%
Cory Booker: 1,957 votes – 0.15%
Michael Bennet: 1,731 votes – 0.12%
Tom Steyer: 1,585 votes – 0.07%
Julian Castro: 936 votes – 0.07%
Marianne Williamson: 930 votes – 0.07%
Deval Patrick: 382 votes- 0.03%
Ballotpedia reported the number of pledged delegates that each Democratic candidate received in the Virginia 2020 presidential preference primary.
Joe Biden: 60
Bernie Sanders: 19
Everyone else: 0
What Happened in the 2020 Virginia Primary is a post written by Jen Thorpe on Book of Jen and is not allowed to be copied to other sites.
If you enjoyed this blog post please consider supporting me on Ko-fi. Thank you!