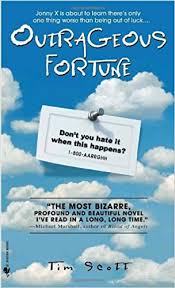 Outrageous Fortune begins with Jonny X67's house having been stolen while he was at work designing dreams. Not robbed, not broken into, the entire house has been taken away.
All that is left is a business card, dropped by the thieves, that says "Don't you hate it when this happens?" and a phone number.
From out of the sky drops a relentless encyclopedia saleswoman, who has jumped from an helicopter. Seems she knew he would be vulnerable at that moment, and is going for a big sale. Things get more bizarre from there.