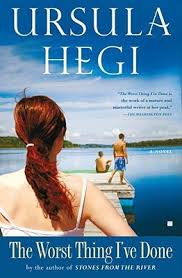 The Worst Thing I've Ever Done is a book of layers. Annie, Jake, and Mason are closer than best friends, and have been since they first met when they were very young. These are some extremely complex friendships.

From early on, it's clear that Mason feels the need to be loved "the most" by both Annie and Jake. He is the most daring of the three, and his dares and threats direct the action of the group more often than not.
A game, of sorts, he plays with Annie starts with a question: "What's the worst thing you've done today?" It's playful with an undertone of danger, which describes Mason's personality rather accurately.
Continue Reading "The Worst Thing I've Ever Done – by Ursula Hegi"