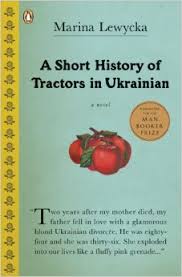 A Short History of Tractors in Ukrainian has a rather confusing title. At first glance, you might think this book is some sort of agricultural textbook that you would need an English-Ukrainian dictionary to help you decipher.
At least, that's what I thought. Instead, I was happy to find a book about a family (written in English) that was funny, and heartbreaking, and compelling.
Nadezhda and Vera are two sisters, (now both adults), who do not get along with each other. Nadezhda, the youngest daughter, grew up in England during a time of peace. Vera, ten years Nadezhda's senior, grew up in Ukraine while the war was going on.
Continue Reading "A Short History of Tractors in Ukrainian – by Marina Lewycka"