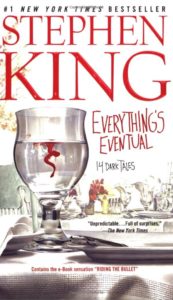 Everything's Eventual: 14 Dark Tales, by Stephen King, is a collection of his short stories.  If you are a fan of King's work, you will likely enjoy at least some, if not all, of the stories it contains.  A few of the stories reminded me of his Dark Tower series.
The cover of the book instantly sets the mood. It is a pencil drawing of a table at a restaurant.  The water glass has a red drop of liquid slowly falling down to the bottom of it.  Everything else on the cover looks normal, except for that red drop.  Could it be blood?
The artwork on the front cover extends to the back. (Or, it did on the hardcover copy that I read.)  The style is the same – a pencil drawing – and it shows a little more of the restaurant.  There is now no doubt at all; the red drop in the water glass is definitely blood.
Continue Reading "Everything's Eventual: 14 Dark Tales – by Stephen King"