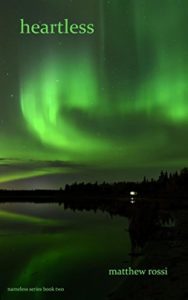 Heartless is the second book in the Nameless series. You should read Nameless before you jump into Heartless.
Nameless ended in a way that made it clear that the "big bad" is no longer a threat. That doesn't mean all the damage is done, however. In many ways, this is a story of redemption and forgiveness. It is about building trust with family after bad things have happened. This was touched on at the end of Nameless, and builds in Heartless.
The wonderful, individualistic, magic that was established in the first book continues to be part of the story. I love how imaginative the characters are in how they express their magical abilities. Rossi's character's are so vivid, and feel so real, that I find them fascinating even when they aren't doing magic.