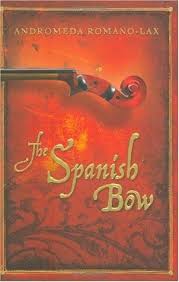 The Spanish Bow is a sensuous book, from beginning to end. The physical book itself is a treat all on it's own. Rich, deep red cover. Slightly raised gold title, in flowing script that looks painted on, and still wet. Gold border tracing it's way around the front cover. The only object pictured is the end of a bow for a cello, curving across the cover.
The pages inside are thin, and smooth to the touch, much more so than the paper used in most hard cover books today. Treat yourself to a hardcover copy of this book, don't wait for the paperback version.
The story is just as rich and sumptuous. Not a work of historical fiction, because the main characters are not supposed to be specific actual people. Instead, the author modeled them from a few actual people, and modified things to fit the story.
Continue Reading "The Spanish Bow – by Andromeda Romano-Lax"