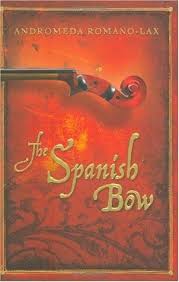 The Spanish Bow is a sensuous book, from beginning to end. The physical book itself is a treat all on it's own. Rich, deep red cover. Slightly raised gold title, in flowing script that looks painted on, and still wet. Gold border tracing it's way around the front cover. The only object pictured is the end of a bow for a cello, curving across the cover.
The pages inside are thin, and smooth to the touch, much more so than the paper used in most hard cover books today. Treat yourself to a hardcover copy of this book, don't wait for the paperback version.
The story is just as rich and sumptuous. Not a work of historical fiction, because the main characters are not supposed to be specific actual people. Instead, the author modeled them from a few actual people, and modified things to fit the story.
She included "cameos" of actual historical people, including Pablo Picasso, to my delight. Some of the book takes place during actual times of war, which the author includes in the story. The result of all this is that this book feels like a work of historical fiction anyway. Just as detailed, just as developed.
The main character is Feliu Delgado, who was "almost born happy". After a nearly disastrous birth, he is presumed to be born dead.
His mom wanted him to be named "Feliz" with means "Happy" in Spanish. She had his brother, who was still a young child, write the name on a paper for the man who writes the birth and death certificates. The man could not read the writing, and instead wrote "Feliu", the name of a saint. Almost born happy. Poor Feliu spends large parts of his life being "almost happy".
His father dies when he is a small child, leaving behind a package of gifts for his family. His mother lets Feliu choose his gift first, and he selects a Spanish bow for a cello. From that moment on, music is a huge part of his life.
It gives him meaning, brings him hope, helps him survive the rough times. Feliu doesn't just hear the music. He experiences each note as having a separate color, and a separate flavor, and the author describes that beautifully. It's all about the music.
This story is told entirely from Feliu's vantage point, because he is telling his life story to a reporter. (Wait until you find out who that person really is!) He has some exciting times, all as a result of being a cello player.
Feliu learns to play on the street with other musicians when he is young. He becomes part of the Spanish king's court when he is older, making friends with Queen Ena, who was from England, and being instructed by a wonderful cello teacher. Feliu has an intense relationship with this teacher's daughter, who has her own ideas of how to learn to play a duet.
As a young boy, Feliu meets a famous piano player who was then going by the name "El Nino". When Feliu is older, the two meet again, and spend years traveling together and performing shows, first becoming friends, and later, they might as well be brothers.
The two team up with a woman who plays the violin, who has a very mysterious and secret past, which she slowly reveals to Feliu. The three are inseparable, until, once World War II begins, they do separate before finding each other again. The intensity of the relationships between the three never fades.
The Spanish Bow is a passionate, intense, sensual book. You need not be a fan of the cello, or even of historical fiction to get into this story and really enjoy it. It's beautiful, and sad, and filled with a sense of longing that makes the reader ache in sympathy with the suffering characters.
Fans of the movie Amadeus (which was about Mozart) will fall especially hard for this book. I was impressed by how much I enjoyed it, considering that I usually avoid books that include so many details about politics, and considering that while I enjoy music, I am no musician. The book is like dark, rich, chocolate. You will be surprised by how much you enjoy this treat.
This book review of The Spanish Bow – by Andromeda Romano-Lax is a post written by Jen Thorpe on Book of Jen and is not allowed to be copied to other sites.