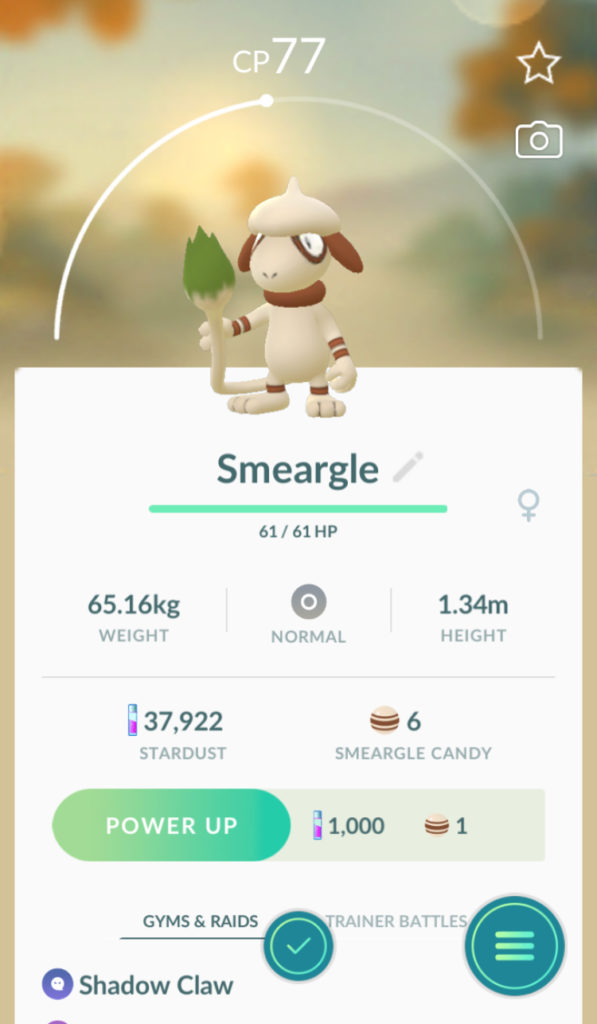 The majority of the Pokémon that players can obtain in Pokémon GO are those that they encounter and throw Pokéballs at. Something different happened with Smeargle.
The screenshots in this blog are from October 31, 2019, during the Pokémon GO Halloween 2019 event. If I remember correctly, the quest that led me to Smeargle was not actually part of the event itself.
The art that was created for the Pokémon GO Halloween 2019 event was absolutely adorable! They put it at the top of their blog post about the event. Happy little Pokémon are out trick-or-treating.
I was able to catch a Pikachu that was wearing a Mimikyu costume.
The quest that led me to Smeargle was one I got from a PokéStop. It required me to take 5 snapshots of Ghost-type Pokémon. It didn't matter which ones. This worked out well, because the Halloween event included plenty of Ghost-type Pokémon.
The only thing that bothered me about this quest was that it required the use of the AR camera in the game. When I first started playing Pokémon GO, I took a lot of photos of Pokémon "in the wild" with my phone's camera. Now, I had to learn how to use the AR one.
I learned that it was possible to go to my Pokémon collection, select one of the Ghost-type Pokémon that I'd caught that day, and then open the AR Camera. Trying to do this while riding the bus home was difficult.
After arriving home, I was able to make it work. I used my desk for background, and set out to make some artsy-looking AR photos.
Gengar, Ghastly, Haunter, and Duskull are all Ghost-type Pokémon that I caught the day I took the AR photos. One more to go, and I would complete the quest.
I had caught more than one Haunter that day, so I picked a different one and got ready to take the AR photo of it. Something unexpected happened.
A Pokémon I had never seen before had photo-bombed the AR photo!
When I was done taking AR photos of Pokémon, I found that the unknown Pokémon was now standing right behind me. Fortunately, he wasn't incredibly difficult to catch.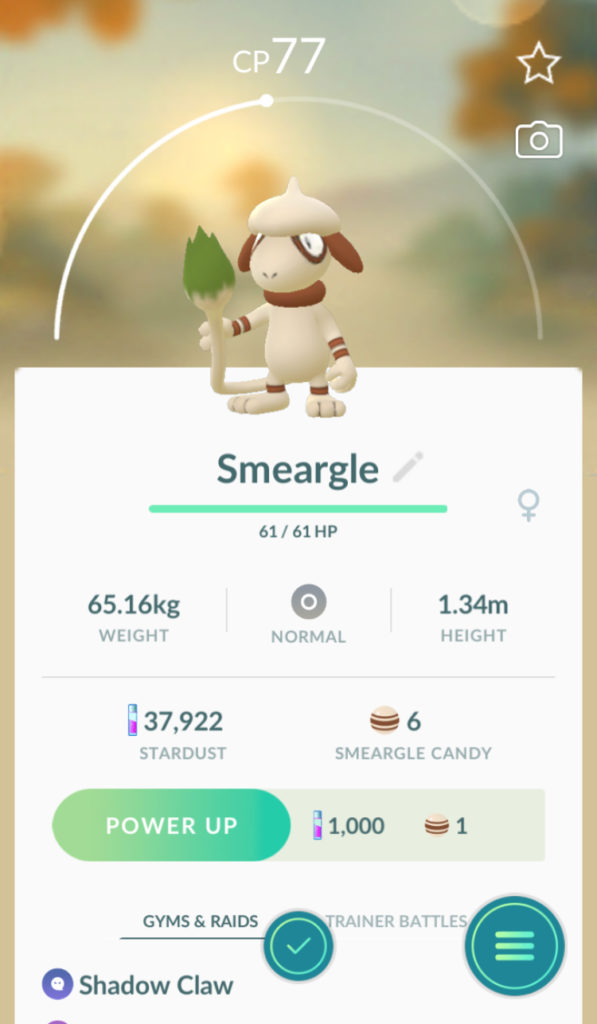 And that's how I caught a Smeargle.
The Pokémon GO Halloween 2019 event was, at the time I was putting together this blog post, long since over. I figure that other people had this unexpected photo-bombing Pokémon appear in their AR photos, too.
Since the middle of March of 2020, the state of California issued a "Stay at Home" order in an effort to slow the spread of COVID-19. Combine that with a really rough Spring pollen season, and I haven't been outside in what feels like a very long time.
I miss walking to the corner to spin a PokéStop and maybe catch a few new Pokémon along the way. Making this blog post reminded me of how fun the game was to play, in back in the days before COVID-19.
#Blapril2020
Pokémon GO: Smeargle is a post written by Jen Thorpe on Book of Jen and is not allowed to be copied to other sites.
If you enjoyed this blog post please consider supporting me on Ko-fi. Thank you!