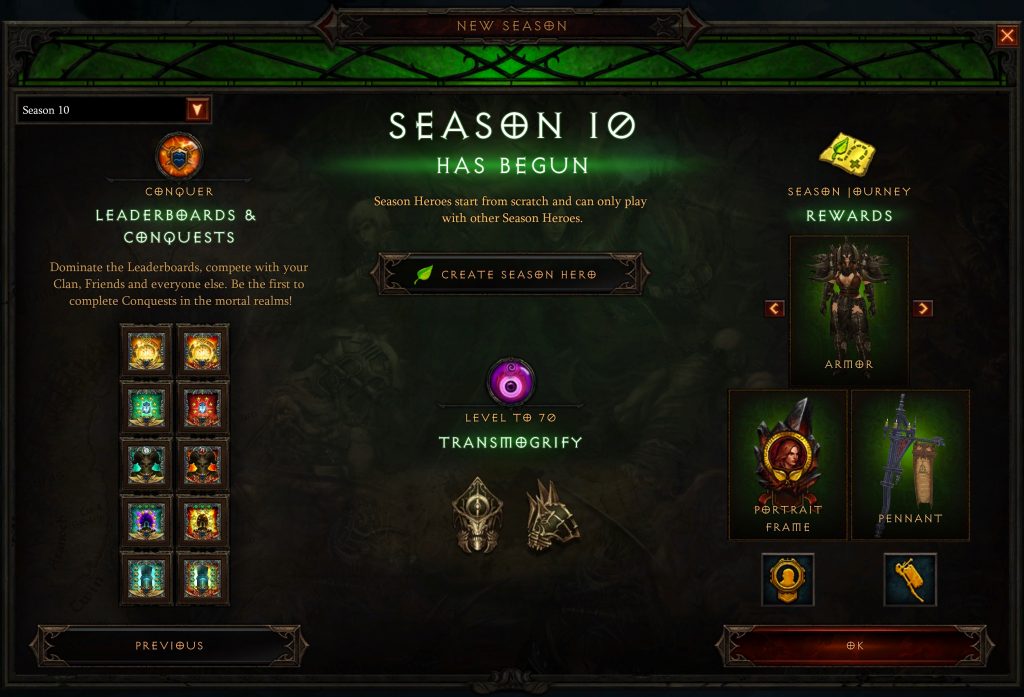 Season 10 of Diablo III took place at the same time that the Necromancer beta did. I ended up deciding to split my time between the two of them, rather than put all of my video game playing time into one (and missing out on the other). Despite this, I ended up making about as much progress as I hoped to in Season 10.
If the Necromancer beta had happened before Season 10 started, or after it was over, I might have gotten farther in Season 10.  Overall, I'm happy with where I ended up by the end of it.  Season 10 started off with several new changes that, in my opinion, improved the game.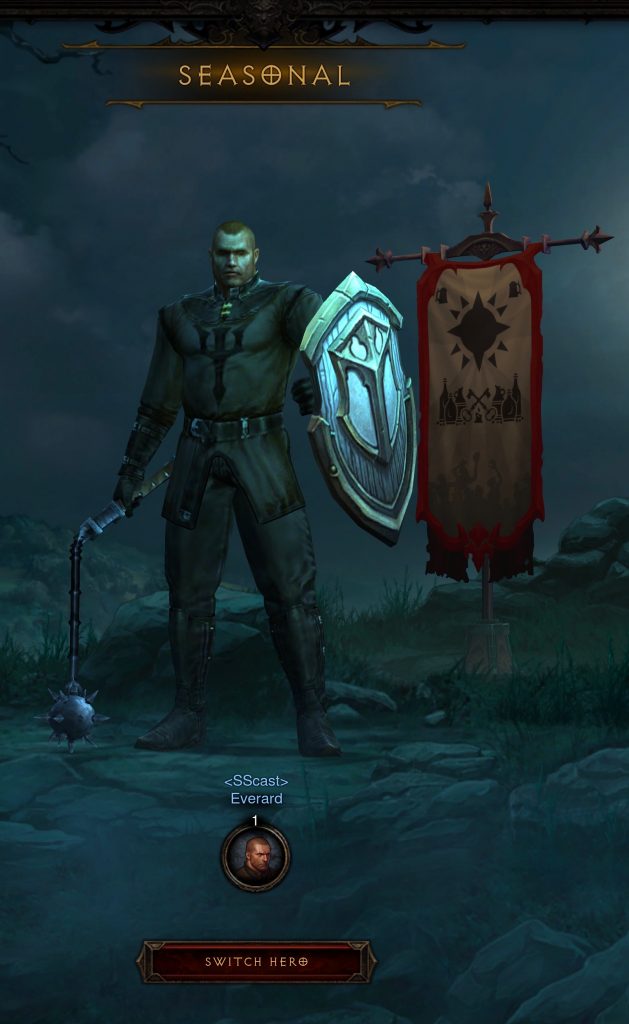 For Season 10, I decided to play a Crusader. I already have a female Crusader (and played a female Crusader back in the Reaper of Souls beta.) Now seemed like a good time to create a male Crusader and listen to a different voice actor for a while.
Everard the Crusader got his name from a list of medieval names that I saw online somewhere, while I was researching something for work. I think it is a derivation of the name Edward (and I may have spelled it differently than how appeared on that list). Everard is a soft core Crusader. I just didn't have the energy to play hard core this time around.
The Armory was something new that appeared in Season 10. It was designed to be a useful way to store your character's armor when you want to use a different set than the one he or she was currently wearing. Doing so makes it quick and easy to switch from one set to another.
I haven't made much use of the Armory yet. By the end of Season 10, Everard only had one complete set. There was no need to switch to anything else. That being said, my soft core stash is filled with set pieces that I'm going to try and put into the Armory.
The first time you open the Armory, it gives you a "hint" about how to use it. "Save Armory Set: The Armory can be used to remember your currently equipped items, skills, and Kanai's Cube Powers." The "hint" points to the "Save" button.  Each character can put up to four Armory Sets into the Armory.  You can give each set a name.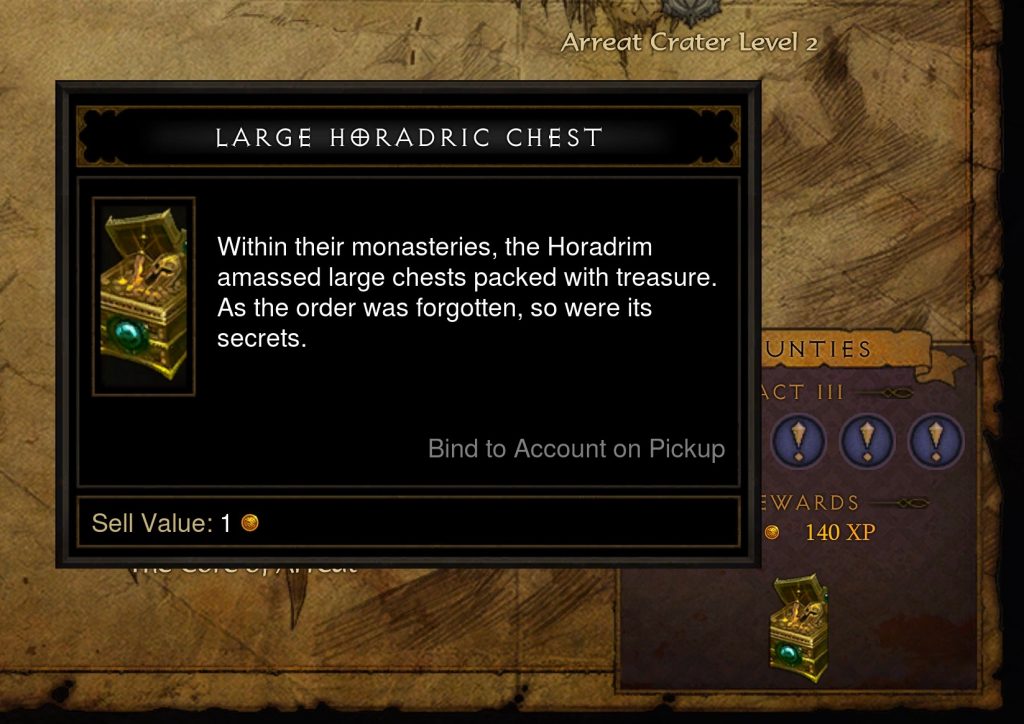 The Large Horadric Chest was something else that was newly added to the game in Season 10. It replaces the rewards that players previously got from completing a set of 5 Bounties.
Before, if I wanted to do Bounties, I would check the map to see which Act's Bounties offered a "Bonus" (meaning, two caches instead of one). The Horadric Chest is the equivalent of two caches. The change meant that players could choose any Act's Bounties. None was more advantageous than the others.
This change solved a problem I was having. Sometimes, I needed to do a certain Act's Bounties in order to collect things that are used to put stuff into the Horadric Cube. But…. the Act I needed didn't have the extra Bonus at that moment. So, I would do a different Act (that had the Bonus) and hope the Act that I needed might have the Bonus appear after I'd finished. Players don't have to do that anymore.
My favorite new change that appeared in Season 10 is, without a doubt, the new way crafting materials are stored.  Previously, players would collect crafting materials that would take up space in their bag. They would transfer those crafting materials into their stash, where they would stack – and take up space.
The new change automatically puts crafting materials into the new "extra" space that has been added to the player character sheet. Things like Resuable Parts automatically go right into that new spot. Crafting materials don't take up space in your bag anymore – and you will never have to take the time to put them into your stash ever again!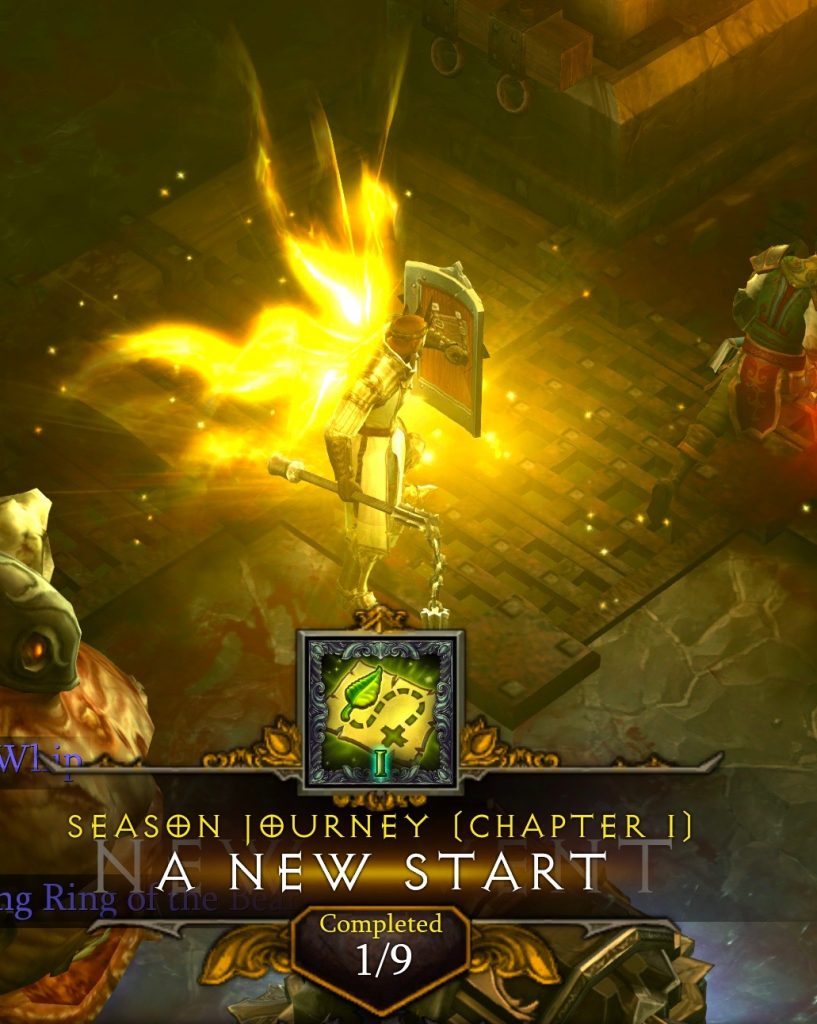 A New Start: Complete 5 Bounties. Open up the Waypoint Map in Adventure Mode to see what Bounties are available.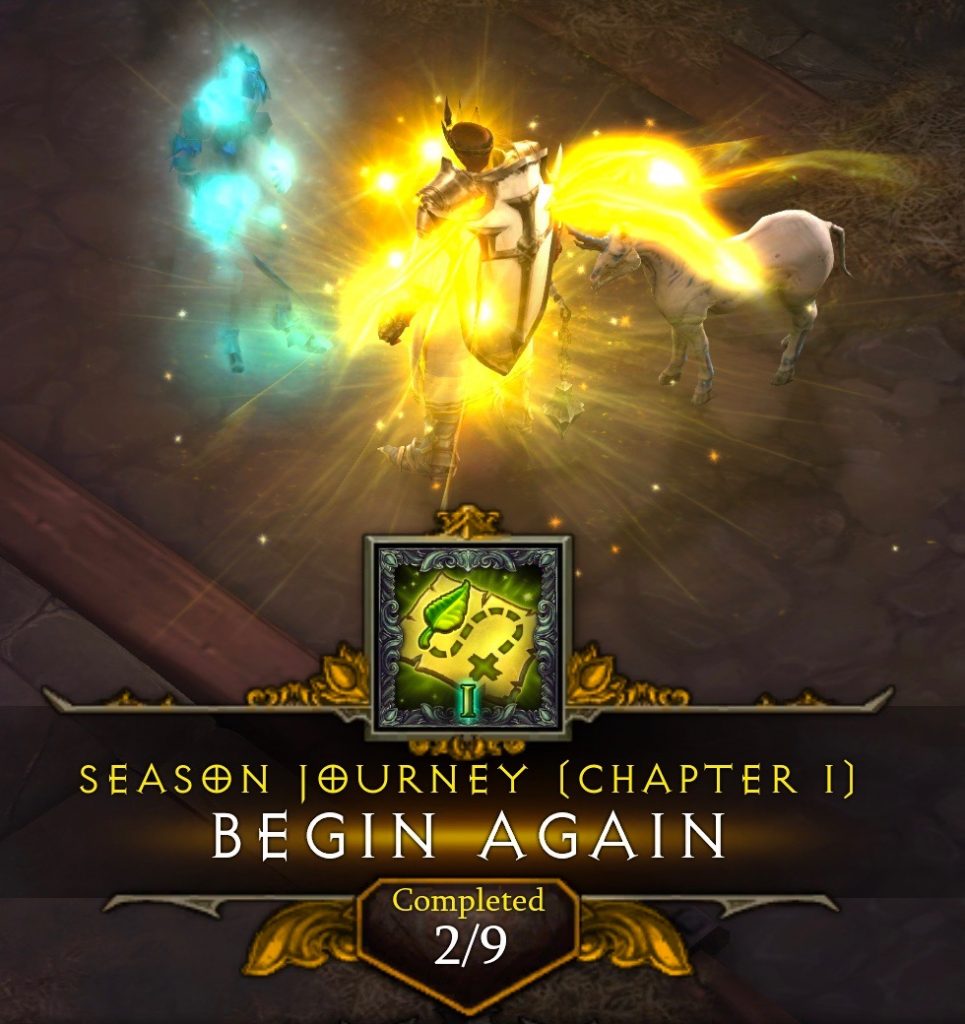 Begin Again: Complete a Nephalem Rift.  Click the Nephalem Obelisk in town while in Adventure Mode to start a Nephalem Rift.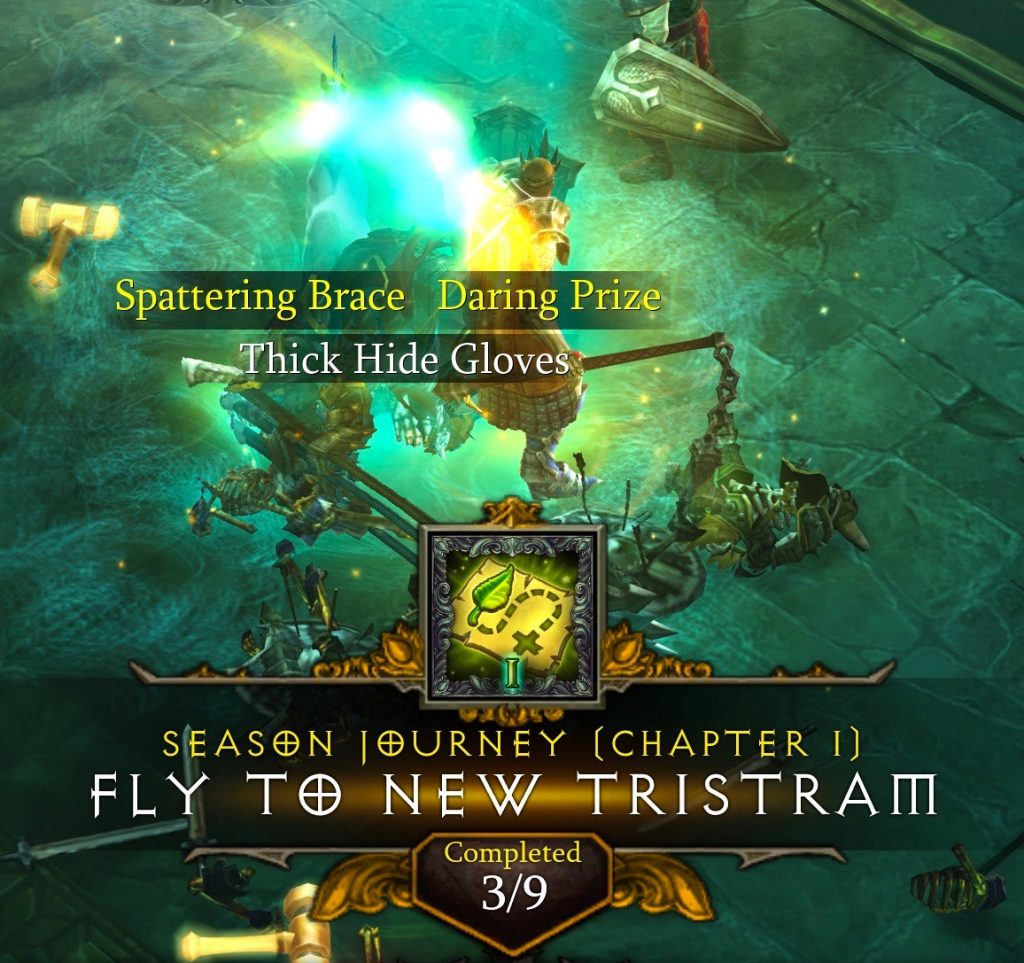 Fly to New Tristram: Kill the Skeleton King.
A Life With Meaning: Raise the Blacksmith to level 10. Leveling up the Blacksmith unlocks access to higher level weapon and armor recipes.
Just a Hobby: Raise the Jeweler to level 10. Leveling up the Jeweler unlocks access to higher level gem recipes.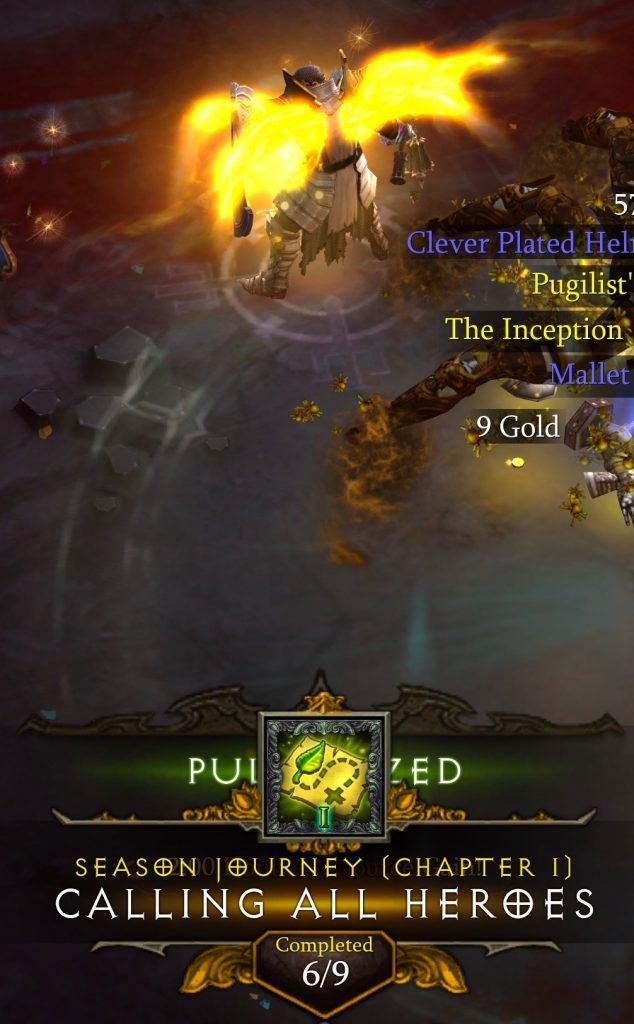 Calling All Heroes: Kill Cydaea.

 Seasonal Socketing: Socket 5 gems into your gear.
Watch Yourself: Raise the Mystic to level 10.  Leveling up the Mystic enables her to enchant more item types and unlocks new Transmogrify looks.

Forged In Fire: Reach Level 50.
SEASON JOURNEY (CHAPTER I) COMPLETE!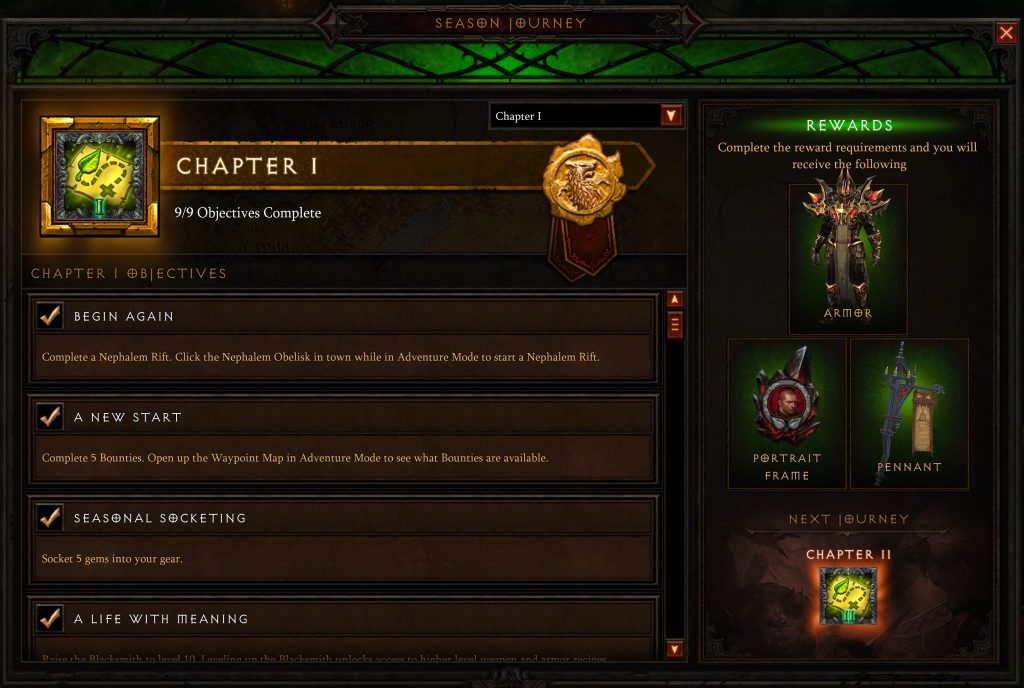 Season Journey Chapter I (Season 10) is a post written by Jen Thorpe on Book of Jen and is not allowed to be copied to other sites.
If you enjoyed this blog post please consider supporting me on Ko-fi. Thank you!