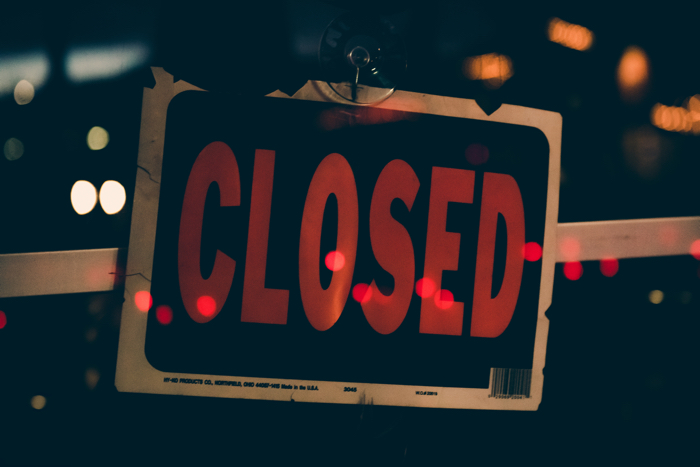 Photo by Tim Mossholder from Pexels
The 2018–2019 partial government shutdown began on December 22, 2018.
You may want to read my blog post about Week One of the partial government shutdown before reading this one.
December 29, 2018: Day 8 of the Partial Shutdown
The Hill reported that President Trump issued an executive order freezing federal workers' pay following through on a pledge earlier this year to nix an across-the-board pay increase.
Trump had announced in August that he would cancel the 2.1 percent pay increase which was slated to take effect in January.
The order also cancels the "locality pay increase," which adjusts paychecks based on the region of the country where workers are posted.
The order does not, however, impact a 2.6 percent pay raise for the military for next year that was part of a defense spending bill Trump signed in August.
December 31, 2018: Day 10 of the Partial Shutdown
The following EPA activities are excepted (which means they will continue during the shutdown): Some or all of the 800 sites associated with the superfund program; the EPA's 29 program and regional laboratories located across the United States; Emergency Response Readiness Operations (to prevent, limit, or mitigate or contain chemical, oil, radiological, biological, and hazardous materials during and in the aftermath of an accident, natural or man-made; the EPA's Water Security Division response team (if needed); law enforcement personnel involved in activities designed to protect human life and property from imminent threat be excepted for the minimal time necessary to carry out such activities.
Arches National Park tweeted: "NOTICE: The park is receiving heavy snowfall and it has become necessary to close the park road at the visitor center due to unsafe conditions. Because of the lapse of funding the National Park Service is unable to provide services, including plowing of the roads."
CBS KPIX 5 posted an article titled: "Overflowing Trash Overwhelms National Parks During Shutdown". From the article:
Overflowing trash bins and other litter forced National Park officials to close several areas in Sequoia and Kings Canyon National Parks Monday because of health and safety concerns.
Elsewhere, human feces, overflowing garbage, illegal off-roading and other damaging behavior in fragile areas were beginning to overwhelm some of the West's iconic national parks as a partial government shutdown left the areas open to visitors but with little staff on duty…
…The 10th day of the partial federal government shutdown, which has forced furloughs of hundreds of thousands of federal government employees, has left many parks without most of the rangers and others who staff campgrounds and otherwise keep parks running…
…Under the park service's shutdown plan, authorities have to close any area where garbage or other problems become threats to health and safety or to wildlife, spokesman Jeremy Barnum said in an email Monday.
The Hill posted an article titled: "Federal workers union sues Trump admin over government shutdown". From the article:
…The American Federation of Government Employees (AFGE) union released a statement on Monday announcing its lawsuit as the shutdown stretches past a week.
The lawsuit, filed in the U.S. Court of Federal Claims, alleges that the federal government is in violation of the law by requiring some federal workers, many of which are represented by the union, to work without pay during the shutdown….
…Many federal employees work during the partial shutdown and receive backpay once the government is funded again, but the lawsuit alleges that practice is unlawful…
January 1, 2019: Day 11 of the Partial Shutdown
President Trump tweeted: "The Democrats, much as I suspected, have allocated no money for a new Wall. So imaginative! The problem is, without a Wall there can be no real Border Security — and our Country must finally have a Strong and Secure Southern Border!"
President Trump tweeted (about five hours later): "Border Security and the Wall "thing: and Shutdown is not where Nancy Pelosi wanted to start her tenure as Speaker! Let's make a deal?"
Politico reported that nine federal departments haven't received a cent in federal funding for almost two weeks.
In recent days, new problems emerged. The Federal Communications Commission ran out of money Thursday and will no longer be able to respond to consumer complaints. An anti-opioid campaign slowed with key staff on furlough. National parks saw trash pile up and bathrooms go uncleaned. Companies that had expected to enter the stock market for the first time this month couldn't launch initial public offerings.
All the while, federal workers are left wondering whether they will get their next check on Jan. 11. While paychecks for federal employees went out last week after a pay period ended on Dec. 22, the pay period for that next check ends Saturday, and pay processing time varies from agency to agency.
In the same article, Politico reported that the Office of Management and Budget said no federal employee, including those still working without pay, can be compensated for the pay period spanning December 23, 2018, through January 5, 2019, until the shutdown ends.
January 2, 2019: Day 12 of the Partial Shutdown
Donald Trump and top congressional leaders failed to resolve a partial government shutdown that has stretched well into a second week as the president refused to back off from his demands for billions of dollars for a long-promised wall along the southern US border with Mexico.
At a cabinet meeting prior to the briefing, Trump warned that parts of the government would remain closed for "a long time" without a deal.
Both Democratic and Republican leaders from both the Senate and the House were invited to the White House's Situation Room for a classified meeting for a "border security briefing".
Democrats intend to introduce a pair of funding bills on January 3, 2019, that would end the partial shutdown. The bills do not include funding for a border wall. Instead, the bills include $1.3 billion for border security measures that can be used to repair and replace fencing and existing portions of the wall.
In the event of a continued partial lapse in federal government funding, the Commission will suspend most operations in the middle of the day on Thursday, January 3, 2019.
During a lapse in funding, the Network Outage Reporting System (NORS), the Disaster Information Reporting System (DIRS), the Public Safety Support Center (PSSC), the Licensing Management System (LMS), the Consolidated Database System (CDBS), the Electronic Comment Filing System (ECFS), the Universal Licensing System (ULS), the Electronic Document Management System (EDOCS), the Auctions Public Reporting System (PRS), the Auction Application System, the Auction Bidding System, the Daily Digest, and the Commission Online Registration System (CORES) will remain available. All other Commission electronic filing and database systems will be unavailable to the public until normal operations resume.
Smithsonian tweeted: "Due to the #GovernmentShutdown, Smithsonian museums and the National Zoo are closed. We will update our operating status as soon as the situation is resolved. We do not plan to update social media other than to inform you of our operating status."
There are a total of 19 Smithsonian museums. The National Zoo is also part of the Smithsonian.
National Zoo tweeted: "Due to the #GovernmentShutdown, Smithsonian museums and the National Zoo are closed. We will update our operating status as soon as the situation is resolved. We do not plan to update social media other than to inform you of our operating status."
What happens to the animals during a government shutdown? All the animals at the Zoo at the Smithsonian Conservation Biology Institute in Front Royal, Virginia, will continue to be cared for. A shutdown will not effect our commitment to the safety of our staff and standard of excellence in animal care.
Why is the Panda Cam turned off during a government shutdown? None of the Zoo's live animal cams will broadcast if the Zoo closes for a government shutdown. The cams require federal resources, primarily staff, to run and broadcast. They are deemed non-essential.
Will cars have access to the road through the Zoo if it closes do to a governmental shutdown? No, all gates into the Zoo (vehicle, pedestrian, and bicycle) will be closed and locked. Only excepted staff will be permitted to enter the Zoo (this includes animal keepers).
Smithsonian NMAAHC tweeted: "Due to the #GovernmentShutdown, the Museum is closed. Please continue to check Twitter and our website for updates on the Museum's operating status, as well as the release of timed entry passes. Our social media will only post operating status messages during the closure."
Smithsonian NMAAHC is the Smithsonian National Museum of African American History & Culture.
The Marriage Bureau of the District of Columbia Courts posted on its website: "The Marriage Bureau is closed during the government shutdown."
Bustle posted an article titled: "Can You Get Married During A Government Shutdown? Couples In Washington, DC Are Out Of Luck". From the article:
Unlike most courts, the District of Columbia's local courts are funded by the federal government. Like all federal funds, this money has to be approved by Congress — but Congress hasn't passed a spending bill, hence the partial government shutdown.
As a result, D.C. courts have implemented a shutdown plan in which its operations are "limited to those functions necessary and essential to continue the resolution of cases without interruption." Departments and services deemed non-essential have been shut down until the funding resolves itself, and according to the D.C. court's website, that includes the Marriage Bureau.
Yosemite National Park: Wawona Campground, Hodgdon Meadow Campground, Mariposa Grove of Giant Sequoias, Hetch Hetchy
Sequoia and Kings Canyon National Parks: Azalea Campground, Big Stump Picnic Area, Generals Highway at Hospital Rock, the road to General Grant Tree
Big Bend National Park: Chisos Basin, Rio Grande Village, Cottonwood campgrounds, Santa Elena Canyon Trailhead and trail
Pinnacles National Park: Eastern entrance has been closed to most public access due to waste and increased vehicle congestion.
The Hill posted an article titled: "Old Post Office tower on Trump property to remain open during shutdown". From the article:
The Old Post Office tower, which shares facilities with the Trump International Hotel in Washington, D.C., will remain open during the partial government shutdown.
The General Services Administration (GSA), an independent government agency that owns the facility, is providing the funding to keep the tower open.
"The referenced facility remains open as the funds needed to operate the Old Post Office tower are not associated with the current fiscal year's (FY 2019) appropriations bill. The overall operation of the tower was a part of the government's lease signed in August 2013 in response to the 'Old Post Office Building Redevelopment Act of 2008," a GSA spokesperson said in a statement to The Hill on Thursday.
The statement came in response to a request for comment on a report from E&E News that said the tower would be reopening and left it unclear how the funding to reopen the tower was procured…
The National Air and Space Museum tweeted: "Due to the #GovernmentShutdown, both National Air and Space Museum locations are closed. We will update our operating status as soon as the situation is resolved. We do not plan to update social media other than to inform you of our operating status."
The Air Line Pilots Association International sent a letter to President Trump, Speaker of the House Nancy Pelosi, Senate Majority Leader Mitch McConnell, Senate Minority Leader Charles Schumer, and House Minority Leader Kevin McCarthy. From the letter:
On behalf of the 61,000 pilots of the Air Line Pilots Association, International (ALPA), I am writing to urge you to take the necessary steps to immediately end the shutdown of government agencies that is adversely affecting the safety, security and efficiency of our national airspace system.
…at the Federal Aviation Administration (FAA) there are fewer safety inspectors than are needed in order to ensure the air traffic control infrastructure is performing at its peak levels of performance. There are also airline and aircraft manufacturing oversight activities that either stop or are significantly reduced. These safety and oversight inspections will potentially allow for the introduction of safety issues that put passengers and airline crews at risk. Although the 2018 holiday season is now behind us, the number of recreational drones, or unmanned aircraft systems (UAS), has likely grown significantly in the past several weeks. The shutdown is a significant stumbling block in the FAA's efforts to ensure the safety of the airspace from those drone operators who may be operating in an unsafe manner….
…at both the FAA and the Transportation Security Administration (TSA), the air traffic controllers, airspace system maintenance personnel, and the airline passenger security workforce are being asked to work unpaind. They are dutifully providing safety of life services while facing increasingly difficult financial pressures to provide for those dependent on their paycheck. The pressure these civil servants are facing at home should not be ignored. At some point, these dedicated federal employees will encounter personal financial damages that will take a long time from which to recover, if at all…
The letter was signed by Captian Joe DePete, President of Air Line Pilots Association, International
January 3, 2019: Day 13 of the Partial Shutdown
CNN reported that Nancy Pelosi (Democrat) was officially elected the new Speaker of the House of Representatives.
This happened on the first day of the 116th Congress. The Democrats now have the majority in the U.S. House of Representatives. CNN also reported that Kevin McCarthy (Republican) became the House Minority Leader.
The Hill posted an article titled: "House passes legislation to re-open government despite opposition from Trump". From the article:
The House passed legislation to end the partial government shutdown on Thursday, hours after Democrats took control of the chamber and elected Nancy Pelosi as Speaker.
The House measures appear to be dead on arrival in the Senate and have been rejected by President Trump, who is demanding that $5 billion in funding for his wall on the Mexican border. Democrats have rejected providing money for Trump's wall.
But the measures could shift the debate as Democrats seek to raise pressure on the White House and Senate Majority Leader Mitch McConnell (R-Ky.) to end a standoff centered on the fight over the wall.
Trump had been dealing with a GOP House and Senate, but now must work with a divided Washington where Pelosi wields increased power…
Vox posted an article titled: "The New Democratic House just approved two bills to reopen the government". From the article:
…The first of these measures is a package of six bills that fund parts of the government that are not particularly controversial, including the departments of Treasury, State, and Justice. This measure would keep these agencies funded through the 2019 fiscal year, which ends in September.
The second bill would provide short-term funding for the more contentious Department of Homeland Security through February 8, separating the conflict over the border wall from the other outstanding government funding bills and kicking this fight a bit further down the road. The stopgap bill would maintain funding for DHS at current levels, which includes $1.3 billion for border security — though not, notably, a wall.
Senate Majority Leader Mitch McConnell said earlier this week that the upper chamber would not be considering either of these bills, since the President has signaled that he wouldn't sign them…
ABC KGUN 9 posted an article titled: "Grand Canyon still open, running smoothly during shutdown compared to other parks". From the article:
…In Arizona, the view of the Grand Canyon is still spectacular and clean…
…That's because Governor Doug Ducey issued an executive order last year allowing trash pick up and restroom maintenance to continue during a shutdown. The governor's office tells ABC15 those services are provided by National Park Service employees, paid by funds contributed by the state.
NBC News posted an article titled: "Government shutdown closes Indian Health Service but CDC is still watching flu". From the article:
…There seems to be no end in sight for the current partial government shutdown, the third since the beginning of the Trump administration.
For the vast majority of the federal government's public health efforts, though, it's business as usual…
…Health services for Native Americans are on hold, however.
Because Congress has yet to approve funding for the Indian Health Service, which is run by HHS but gets its money through the Department of the Interior, HHS feels the full weight of the shutdown. The only services that can continue are those that meet "immediate needs of the patients, medical staff, and medical facilities," according to the shutdown contingency plan.
That includes IHS-run clinics, which provide direct health care to tribes around the country. These facilities are open, and may staffers are reporting to work because they are deemed "excepted", said Jennifer Buschik, an agency spokeswoman. But they will not be paid until Congress and the administration reach a deal.
Other IHS programs are taking a more direct hit. For example, the agency has suspended grants that support tribal health programs, as well as preventative health clinics run by the Office of Urban Indian Health Programs…
The National Gallery of Art tweeted: "Due to the partial federal government shutdown, the National Gallery of Art is closed to the public. We will update our operating status as soon as we can, here and on nga.gov"
The tweet included an image of "View of Constitution Avenue Enterance to the National Gallery"
The National Gallery of Art also posted information on its website:
During the partial federal government shutdown, the offices and all premises of the National Gallery of Art and its Sculpture Garden are closed to the public, and all programs are canceled. The Gallery website, including the calendar of events, is not currently being updated. No online transactions, including email inquiries, Gallery Shops purchases, or newsletter distribution, will be processed.
NBC News posted an article titled: "'Women's lives in danger': Government shutdown holds up funds for sexual violence survivors". From the article:
Women who are survivors of domestic assault, stalking, rape, or other forms of sexual violence are among the people who could be affected if the partial shutdown of the federal government stretches on.
Amid the budget impasse between President Donald Trump and Congress over his demand for border wall funding, lawmakers failed to reauthorize the Violence Against Women Act, a landmark 1994 law that allots federal money to organizations that serve women across the country who have been subjected to violence.
As the shutdown drags on, money for these nonprofits, many of them on a shoestring budget, could potentially run dry…
…The act funds a host of programs, including rape crisis centers, emergency and transitional shelters, counseling services and legal aid. Julie Goldscheid, a professor of law at CUNY School of Law and a former litigator who argued in support of the constitutionality of an aspect of the 1994 legislation before the Supreme Court, said its passage provided unprecedented legal support for survivors of violence that empowered them against their abusers…
…The law also provides funding for police precincts to improve law enforcement's responses to domestic violence and sexual assault, with the aim of breaking the cycle of violence…
January 4, 2019: Day 14 of the Partial Shutdown
USA Today posted an article titled: "IRS to take taxpayer's money in a shutdown but not issue refunds, plan says". From the article:
As a partial government shutdown approaches its two-week point, concerns are growing that a heavily impacted Internal Revenue Service will delay issuing taxpayers' refunds.
The agency has categorized issuing tax refunds as a "non-excepted" activity — meaning those tasked with processing refunds would be furloughed during a shutdown. Meanwhile, several types of tax return processing were deemed "Necessary for the Safety of Human Life or Protection of the Government."
That's according to a plan that lays out the first five business days of the agency's response during a shutdown occurring outside of tax season. While the document notes the plan can be reassessed and furloughed employees can be recalled, The Wall Street Journal reported Wednesday, and CNN reported Thursday, that the IRS generally does not issue refunds during a shutdown…
The Wall Street Journal posted an article titled: "Trump, Democrats Split Over Shutdown Talks Progress". From the article:
…Emerging from the White House after about two hours of talks, House Speaker Nancy Pelosi (D., Calif.) and Sen. Chuck Schumer (D., N.Y.) said they pressed Mr. Trump to fully reopen the government and then return to the debate over funding a border wall. But they said Mr. Trump rejected their proposal and indicated he was prepared to keep many federal agencies closed for a long time.
But Mr. Trump characterized the meeting as "very productive" and that talks "have come a long way." He said, "We're all on the same path on getting the government open," adding staff meetings were set for this weekend to continue the talks.
He continued to call for a border wall, saying: "This is national security we're talking about."
Mr. Trump also said he is considering using executive authority to build a wall, though he prefers to negotiate with Congress. "It's called a national emergency," he said, asserting he had that power. It wasn't clear immediately how such a move would be funded…
USA Today posted an article titled: "Trump tells Democrats shutdown could last for months, years as talks fail to yield deal". From the article:
President Donald Trump told Democrats Friday he is prepared to allow the partial government shutdown to go on months or even years if that's what it takes to get a border wall.
"I will do whatever I have to do," Trump said at a news conference after a budget meeting that he and Democratic lawmakers described as contentious.
Democrats emerged from the meeting say the president had threatened a long shutdown if they continued to reject his demand for a wall along the U.S.- Mexico border.
Trump acknowledged saying that the shutdown could last months or years. "Absolutely I said that," he told reporters. He also said he hoped the matter would be resolved soon after more negotiations over the weekend, although it was not clear whether he had offered Democrats any new proposals.
"I don't think it will" last months, he said of the shutdown, "but I am prepared…"
TIME posted an article titled (in its section called MONEY): "The Government Shutdown Will Cost More Than Trump's $5 Billion Border Wall Funding, According to Experts". From the article:
The economic costs of the government shutdown may already exceed the $5 billion President Donald Trump is demanding for a border well, according to some analysts' estimates…
…Nine out of 15 federal departments, along with dozens of agencies and federal programs, have closed or reduced services. Roughly 800,000 federal employees are affected, either because they have been directed to stay home without pay or because they are working but not receiving paychecks during the shutdown…
…In an analysis published this week, [Gordon] Gray [director of fiscal policy of the center-right advocacy group American Action Forum], wrote that "government shutdowns impose costs through three channels: federal budgetary costs, foregone services, and, last and most amorphous, economic disruption."
The budgetary costs include wages going to federal workers who aren't working and other smaller factors, such as resources spent shutting down offices rather than getting work done…
…In other words, the costs of the partial government shutdown may already exceed the $4 billion to $5 billion in additional funding that Congress and President Trump are negotiating over…
WTOP posted an article titled: "Furloughed feds stage rally to speak out against shutdown". From the article:
With no end in sight to the partial shutdown, a number of federal employees directly impacted by the standoff staged a rally Friday in College Park.
The demonstrators, who work for the National Archives and Records Administration, have been furloughed since the shutdown started.
"This has got to end, and we have got to go back to work," said Ashby Crowder, president of the American Federation of Government Employees Local 2578.
"We're out here not just for us, but in solidarity with all federal employees who are negatively affected by this situation."…
The Guardian posted an article titled: "Trump officials to get raises as federal workers go without pay amid shutdown". From the article:
As hundreds of thousands of federal workers go without pay amid a government shutdown, Donald Trump's political appointees are set to get raises of $10,000 a year.
The pay raises will go into effect for cabinet secretaries, their deputies, agency administrators and other senior officials, the Washington Post reported. The vice-president, Mike Pence, will receive a raise too.
The raises will kick in automatically on 5 January, unless there is legislation to stop them, according to the office of personnel management documents obtained by the Post.
In 2013, Congress voted to impose a pay freeze on federal executives. It has renewed it each year. But when government funding was allowed to expire on 23 December 2018, leading to the partial government shutdown, the pay cap expired as well.
Raises that otherwise would have been due top officials since 2013 will therefore kick in in their next paycheck…
CNN posted an article titled: "First on CNN: Hundreds of TSA screeners, working without pay, calling out sick at major airports". From the article:
Hundreds of Transportation Security Administration officers, who are required to work without paychecks through the partial government shutdown, have called out from work this week from at least four major airports, according to to senior agency officials and three TSA employee officials…
…At New York's John F. Kennedy International Airport, as many as 170 TSA employees have called out each day this week, Thomas tells CNN. Officers from a morning shift were required to work extra hours to cover the gaps.
Call outs have increased 200%-300% at Dallas-Fort Worth International Airport, where typically 25 to 30 TSA employees call out from an average shift according to a local TSA official familiar with the situation.
Union officials stress that the absences are not part of an organized action, but believe the number of people calling out will likely increase…
…North Carolina airports, including Charlotte and Raleigh-Durham, have experienced 10% higher TSA call outs, according to Mac Johnson, the local union president…
…A union official, however, said that while some employees are upset about the pay, officers have said they are calling in sick for more practical reasons. Single parents can no longer afford child care or they are finding cash-paying jobs outside of government work to pay their rent and bills, for example…
NBC News posted an article titled: "Three people have died in national parks since the start of government shutdown". From the article:
Three people have died in national parks around the country, including a 14-year-old girl who fell 700 feet down a canyon, since the start of the government shutdown, during which the Trump administration chose to keep the parks open.
At the Glen Canyon National Park in Arizona, the 14-year-old girl fell from the Horseshoe Bend Overlook on Christmas Eve, the Coconino County Sheriff's Office Confirmed.
An Arizona Department of Public Safety helicopter wasn't able to recover her body until the next morning, on Christmas Day.
Later on Christmas Day in Yosemite National Park in California, a man died after he slipped down a long, granite hill and fell into a river, injuring his head, according to the Associated Press.
Andrew Munoz, a spokesman for the National Park Service, told the AP that the investigation into the man's death is taking longer than usual because of the ongoing shutdown. He added that the shutdown also delayed the park service's announcement of the man's death.
A third person died Thursday of this week, when high winds caused a tree to fall over on top of a woman and her 6-year-old son in Great Smokey Mountains National Park in Tennessee, the AP reported. The woman died and her son broke his leg in the accident…
The San Francisco Chronicle posted an article titled: "Shutdown: Muir Woods National Monument to close Monday". From the article:
The government shutdown claimed its latest casualty Friday when National Park Service officials said Muir Woods National Monument would halt operations beginning Monday.
The part had been one of a handful of sites within the Golden Gate National Recreation Area that remained open after the partial government shutdown began Dec. 22. Anyone with parking or shuttle reservations for the park during the closure would be refined, officials said…
BuzzFeed News posted an article titled: "The Government Shutdown Is "Life And Death" For Low-Wage Subcontractors Who Likely Won't Be Repaid For Lost Time". From the article:
On Day 14 of the partial government shutdown, Donna Kelly, a 63-year-old federally subcontracted security officer for the Smithsonian, is wondering if her high blood pressure medication will last through the end of the month — let alone the entire shutdown.
When the government does reopen, Kelly and an estimated 1,500 workers — according to two unions that represent some of the janitors, security guards, cafeteria workers, and hospitality workers who staff federal facilities — likely won't receive any back pay from the duration of the shutdown.
Government employees usually receive back pay once shutdowns have concluded, but workers who are paid by companies that have contracts with the government don't receive pay for services that can't be billed to the government while facilities are shut down…
NBC News posted an article titled: "How the government shutdown is hurting some of America's poorest families". From the article:
…The Department of Housing and Urban Development is one of the seven agencies most directly affected by the standoff between President Donald Trump, who is demanding $5 billion in border wall funding, and congressional Democrats, who want to reopen the government without it. Since Dec. 22, the vast majority of federal housing employees have been forced to stay home without pay — prohibited from doing any work, including responding to emails.
Most of HUD's routine enforcement activities have been suspended, including mandatory health and safety inspections of housing for low-income families, the elderly and people with disabilities, according to the shutdown contingency plan that HUD posted on its website. Public housing officials say they don't know how long rental assistance payments will keep coming from the government, and a suspension could put millions of tenants at risk if the shutdown drags into February. And if there are any problems providing affordable housing grants to local and state governments, as well as nonprofit groups, there are few people on hand to resolve them, according to one furloughed staffer…
Reuters posted an article titled: "Shutdown risks delays to U.S. drilling, ethanol, wind initiatives". From the article:
The partial government shutdown is increasing the chances of delays in U.S. energy initiatives from the release of President Donald Trump's proposed offshore drilling plan to allowing higher levels of ethanol in gasoline during summer months, energy industry groups said on Friday…
…The Trump administration has made opening up greater areas to offshore drilling, and holding more frequent lease sales, part of its energy dominance agenda to boost fossil fuel output for both domestic use and exports. Industry interest in several lease sales has been tepid, but the administration has said more interest is expected in the future.
The Interior Department is operating at reduced staffing levels due to the partial shutdown, which has stretched for two weeks…
…When asked about the potential for delays, an EPA spokeswoman said the agency will only be responding to queries directly related to the government shutdown or to environmental emergencies.
This week, the Bureau of Ocean Energy Management, an office of the Interior Department, warned that public meetings related to what is slated to be the largest U.S. offshore wind farm will be rescheduled if the shutdown continues into next week…
The House Armed Services Committee posted a press release titled: "Smith Statement On Trump Plan to Misuse An Emergency Authority & Divert Money From Military Readiness To Pay For His Wall". It was written by House Armed Services Committee Chairman Adam Smith (Democrat — Washington). From the press release:
"President Trump is considering a plan to misuse an emergency authority and divert substantial resources from our military to build a wall on the southern border. This is a clear a statement as any that President Trump values the construction of his wall over military readiness and support for our troops and their families. Diverting money from these military construction accounts could have substantial impacts for servicemembers at installations across the country and on defense projects that are important in supporting readiness, training, operations, and quality of life for military personnel and their families.
"Moreover, by abusing this authority, President Trump would be saying that he does not actually believe all the money he requests for our country's defense is needed for legitimate national security purposes. That would raise major questions about his credibility when he requests his next defense budget from Congress.
"I am adamantly opposed to President Trump using an unwise, weak, and irresponsible legal gimmick to circumvent Congress and the American people's opposition to using taxpayer money for the construction of an unnecessary wall."
This blog was originally posted on Medium on January 6, 2019, and was periodically updated through week two of the shutdown. You may want to read my post about week three of the shutdown.