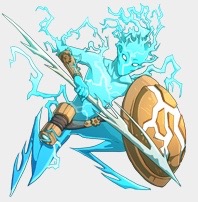 The Lightning Lancer was the holiday Familiar for the 2015 Thundercrack Carnivale. The festival took place during the last week of July, and the first week of August of 2015. This holiday is connected to the Lightning Flight.
The easiest way to collect a holiday Familiar is to gather up enough of the special currency during the week of that holiday. You can do this via Gathering, or by having your dragons battle in the Colosseum. The special currency is a random drop. This year, for the first time, players could also craft the holiday currency at Baldwin's Bubbling Brew.
All of the artwork in this post is copyright of Flight Rising.
The special currency for the Thundercrack Carnivale is called a Charged Sprocket. I had some left over from last year, and I'm really glad that I saved it. That made it easier for me to obtain enough special currency to purchase what I wanted.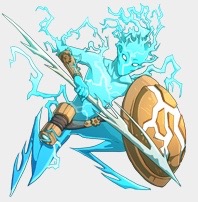 This is what the Lightning Lancer Familiar looks like.  This year, the Familiars are acolytes.  Last year, they were bears.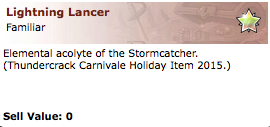 Lightning Lancer: – Familiar – Elemental acolyte of the Stormcatcher.  (Thundercrack Carnivale Holiday Item 2015.) – Sell Value: 0 
Before the Thundercrack Carnivale took place, I'd been neglecting my dragons.  Life got busy, and I wasn't logging in to feed them as often as possible.  My dragons were starving and dropped below the percent a player needs in order to get the maximum amount of Gathering points.  I'm not complaining, because it's my own fault that I let that happen.
In order to try and supplement my lack of Gathering points, I started bringing several teams of my dragons into the Coliseum.  Sometimes, if your dragons win a battle, they earn food as a reward.  It turns out that occasionally the special holiday currency will drop as a Coliseum reward. Good to know.  I also had something drop as a reward for winning a battle in the Coliseum that I'd never seen before.

This is a Dancing Conductor Chest.
Dancing Conductor Chest: – Trinket – This chest hums with potential.  When handled, a small arc of energy crackles, and the chest goes silent.  Sell Value: 0
Three things were inside the Dancing Conductor Chest.  It's always nice to find Treasure and Gems in a chest. The skin was an unexpected surprise!
What I thought was a skin turned out to be an Accent.  It was the Dancing Conductor Accent.  It could only be used on a Skydancer Female.  The rest of the text on this item says: Thundercrack Carnivale 2015.  (3/12) Designed by ChiChibluh.  The drawing shows how the Accent will alter a female Skydancer's appearance.
I just so happened to have a female Skydancer dragon in my Lair.  Here is what she looked like all dressed up.
Gracie is a female Skydancer.
Primary: Steel Basic
Secondary: Blue Basic
Tertiary: Beige Basic
I decided to remove all her Apparel before putting the Accent on her.  I'm not sure if that is required or not.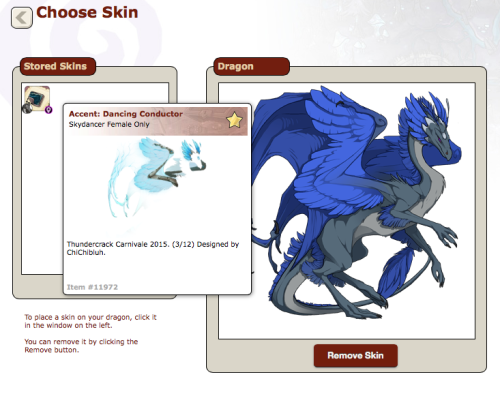 This screenshot shows where the Accent is located. It's under "Skins".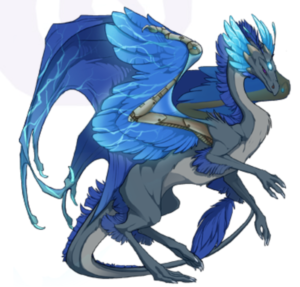 Ta-Da!  Gracie looks even prettier now than she did before.
This year, players can purchase a special Apparel item – a crown – that relates to the Dragon Flight that a holiday is connected to.  They look cool!

This is what the Electrician's Crown looks like.
Electrician's Crown: – Apparel – A glorious crown awarded to dragons who have shown good leadership while visiting the Shifting Expanse.  (Thundercrack Carnivale Holiday Item 2015.)  – Sell Value: 0 
Viktoria is a female Ridgeback dragon, and one of the few dragons in my Lair that came from the Lightning Flight.  I gave her the Electrician's Crown to wear.  She is also leveling up the Lightning Lancer Familiar.