Every week, Flight Rising posts a new theme for players to participate in. You can find the current theme at the top of the Dragon Share Forums. All players who feel that any of their dragons fits the theme are welcome to participate.
It's super easy to join in the fun. All you have to do is reply to the forum post and add links to your dragons. You can add some description or further explanation if you would like to.
The Progenitor Dragons theme became active on March 19, 2015 (and is no longer accepting further posts to it). In this blog, I show off the dragons I posted into that theme. All of the artwork in this post is copyright of Flight Rising.
Your progenitor dragons are the two dragons that you started the game with. One of them is the dragon you had the opportunity to design. The other is the dragon that magically appeared when you got a Dragon Lair (and who instantly became the mate of your first dragon). I like this theme because it is one that all players can participate in. Everyone starts with progenitor dragons.
My progenitor dragons are Shadowsong and Bob. I designed Shadowsong myself, and Bob appeared and wanted to become part of my Dragon Lair. Each of their names came from the Random Name Generator tool that is in Flight Rising.
Shadowspawn is the dragon that I designed myself. I also got to pick her breed.
Shadowspawn is a female Guardian.
Primary: Silver Basic
Secondary: Storm Basic
Tertiary: Green Basic
She is currently wearing a Shady Emblem on her forehead, a Rainbow Flair Scarf, Navy Tail Wrap, Navy Arm Wraps, and Darkened Leg Scar.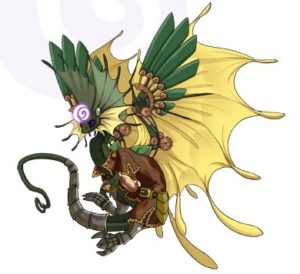 Bob is the dragon that appeared when I started my Dragon Lair.
Bob is a male Fae.
Primary: Forest Basic
Secondary: Banana Basic
Tertiary: Ivory Basic
He is currently wearing a Shady Emblem on his forehead, Dented Iron Tail Cuffs, Burnished Gold Belt, Brown Satin Tunic, Dented Iron Boots and Copper Steampunk Wings.  Both he and Shadowspawn are a lot more dressed up now than when I first got them.  I like that the Dragon Share theme of Progenitor Dragons gave me the opportunity to show off how decorative they got.