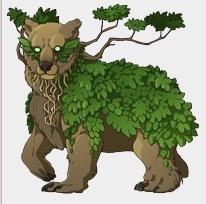 The Timber Tender Familiar was the holiday Familiar for the 2015 Greenskeeper Gathering. It took place during the last week of May of 2015.
This holiday focuses on the Nature Flight. Players who wanted to obtain the Timber Tender needed to gather up some special holiday currency and spend it at the Festive Favors booth while the holiday was going on.
If you were not able to collect the Timber Tender while the 2015 Greenskeeper Gathering was going on, your best bet is to check the Auction House for it. Be prepared to pay high prices. All of the artwork in this post is copyright of Flight Rising.
This year, I was able to collect enough holiday currency to obtain more than one thing from the Festive Favors booth. It helped that I had a bunch of leftover holiday currency that I didn't use up last year.
Timber Tender: – Familiar – Guardian of the Viridian Labyrinth.  (Greenskeeper Gathering 2015.) – Sell Value: 0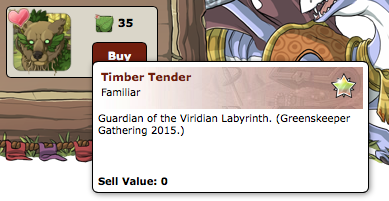 The Timber Tender cost 35 Bladed Flatleaf currency.  So far, every holiday Familiar has cost that amount. The only difference is the type of currency that is required.  I think this is a good idea because it gives players a clear idea of how much special currency they need if they want to buy the new Familiar.
I gave the Timber Tender Familiar to one of my dragons that came from the Nature Flight. Eveningstar is a Nocturne dragon.  This year, I had enough holiday currency to purchase the Druidic Emblem that Eveningstar is wearing on his forehead.
Druidic Emblem: – Apparel – A glowing nature rune; the sign of a true magical adept.  (Greenskeeper Gathering Holiday Item) – Sell Value: 0