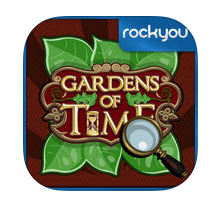 Gardens of Time is a game that combines a well written story line with a hidden picture game. The artwork is very detailed and beautiful. Players can unlock more of the story, and more hidden picture scenes, just by playing the game.
My favorite part is the garden, where players can put different objects, buildings, and decorations – and move them around as they like. I recently started playing Gardens of Time again after a long hiatus. Originally, I was playing the game on my desktop computer (which is a Mac).  Today, I am playing it on my iPad Mini.
Gardens of Time was originally created by a company called Playdom.  Years ago, a person who wanted to play Gardens of Time online could do it at the Playdom website.  I'm fairly certain that the game was also on Facebook.
In 2014, Playdom decided to abruptly shut down Gardens of Time (and some of their other games).  This was announced to players in a pop-up that appeared immediately after they tried to play Gardens of Time.  The information stated that Playdom was shutting down Gardens of Time on April 25, 2014.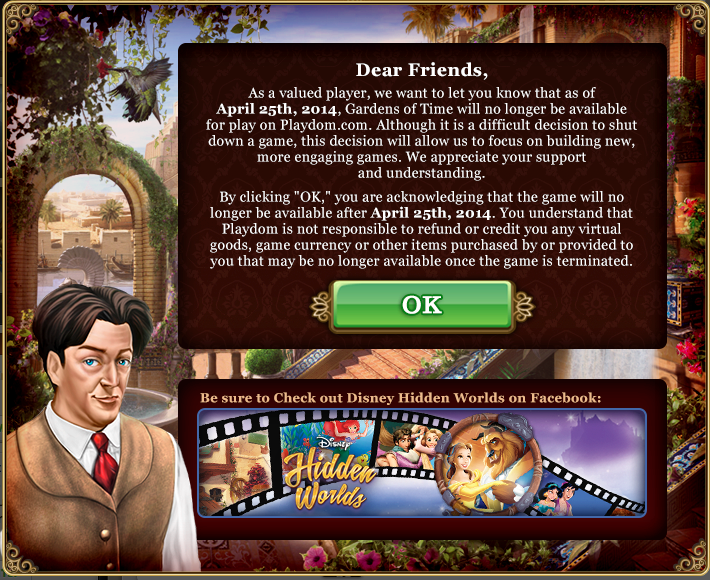 The reason Playdom gave for shutting down what appeared to be a very popular game (with tons of players) was vague.  In their information pop-up, they said: Although it is a difficult decision to shut down a game, this decision will allow us to focus on building new, more engaging games." Playdom was owned by Disney.
In July of 2016, Disney notified players that a data breach had happened that affected the Playdom Forums.  Years after it had become impossible to play games on the Playdom website, people were still using the Playdom Forums.  Disney shut down the Playdom Forums and invalidated all user passwords for affected accounts, after the data breach.
On September 1, 2016, Disney Interactive announced that Marvel: Avengers Alliance (one of Playdom's games) would be closing.  Part of the announcement said: The decision was difficult to make but we feel it's best to focus our energy and resources into making new games and digital experiences for our fans and community.  TouchArcade posted an article about this in which they stated that Disney Interactive was also shutting down Marvel: Avengers Alliance 2.
I remember that Gardens of Time on the Playdom website had a tendency to crash.  I did not find the random crashes troubling enough to quit playing the game, though.  The best part of playing Gardens of Time on the Playdom website was that there were tons of other players.  Some of the more interesting items in Gardens of Time required players to convince their friends to send them specific things – within a short span of time.  I had connected with enough Playdom friends to enable me to build some really cool things for my garden.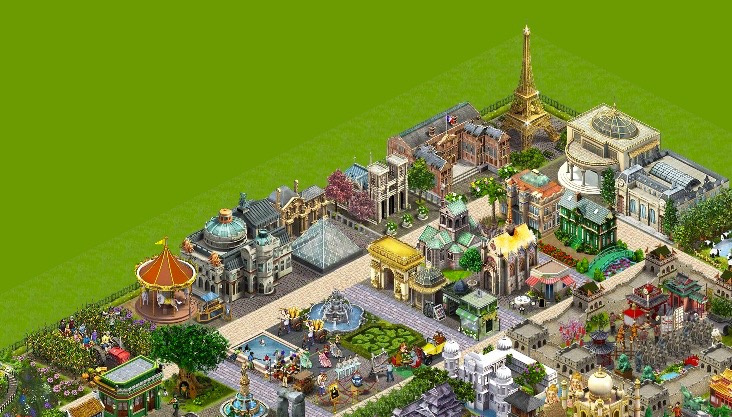 The worst part about playing Gardens of Time on the Playdom website was that there were tons of other players.  For whatever reason, Gardens of Time attracted some incredibly angry, nasty, people who refused to play nice with others.  While it is common for people to quibble over recent changes in their favorite video game, the worst Gardens of Time players took complaining to a whole new level.
Things got worse after Playdom installed a chat system.  It scrolled by on the side of the website while people played Gardens of Time.  The cool thing about it was that players could request an item that they needed for a build, and other players could give them one just by clicking on that request in the chat.  The bad thing was that so many people used the chat to scream about politics and/or religion, to harass other players, or to get their mob of friends to harass other players for them.  The horrible players were what finally made me quit playing Gardens of Time.
Sometime after Playdom shut down Gardens of Time, RockYou purchased the game.  It is my understanding that people can play Gardens of Time on Facebook today.  In addition, there is a Gardens of Time app that was last updated on April 24, 2015.  The app does not connect to the Facebook version of the game, so you are better off picking one or the other.  There is no way to sync the two of them together.
I started playing RockYou's Gardens of Time app very recently.  Part of the reason was that I missed the game (but not the players).  The other reason was that I now have an iPad Mini which I am using to play games.  The first one I installed was Gardens of Time.
There are some wonderful things about the Gardens of Time app.  It's free to download (but be aware that the app does allow for in-game purchases that require real-world money).  The game is exactly as I remembered it. RockYou kept the story line, the artwork, the music, the items, and everything else.  I have been enjoying putting things in my garden and moving them around whenever I feel like it.
Obviously, I had to completely start over with Gardens of Time.  There was no possible way to access my "old garden" that existed on the Playdom website.  This did not bother me.  I looked forward to playing the game again and rebuilding my garden.  I quickly realized that the app had a lot of ads included, but this was ok.  It seemed like a fair trade, considering that I don't have any real-world money to spend on Gardens of Time.
There are some problems with the Gardens of Time app.  It's crashy.  Once in a while, the game will crash and close after an ad finishes playing.  So far, I haven't lost anything when this happens, so I just re-open the app and continue playing.
Unfortunately. the app also frequently crashes when I try to visit other player's gardens.  It was not easy to figure out how to do that. (You have to look for buttons at the bottom of the screen that let you access your friends, or the button that looks like a trophy that lets you rate gardens). The game gives you an NPC (non-player character) neighbor named Lulu.  Sometimes, it crashes when I try to visit her garden.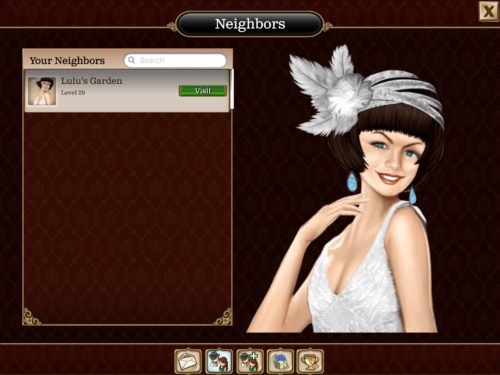 The reason why a player would want to visit another player's garden is because doing so gives you an extra point of energy.  It takes 10 energy to play one hidden pictures game.  The RockYou version of Gardens of Time starts you with 30 energy.  That's enough for 3 plays… and then you have to wait for it to fill back up again.  Visiting other player's gardens used to be a way to collect up more energy so you could continue playing.  It should work in the Gardens of Time app… and sometimes does…. but often crashes instead.
The biggest problem I'm having with the Gardens of Time app is that there is no way for me to find friends who play Gardens of Time.  The game wants me to connect the app to Facebook, which I cannot do because I do not use Facebook.  Oddly enough, the app does not sync with the Facebook version of the game.  It might let you post on your Facebook page when you complete a quest – but it doesn't appear to connect your app version of the game with Facebook friends who play it on Facebook.
The game connects to the Apple Game Center, which I use.  The only way to add friends through it is to type in another player's Game Center ID.  I don't know anyone else who plays Gardens of Time, and the chances of me finding someone who does and who also uses Game Center are pretty slim.  Put this all together, and it means that I'm unlikely to have any Gardens of Time friends other than Lulu (who cannot send items to players).
My progress in Gardens of Time is incredibly slow, especially compared to what it was like when I played it on the Playdom website. I was hoping that if I "liked" other player's gardens, that they would be able to become my neighbor.  So far, that hasn't happened.  Maybe the other players abandoned the game after becoming frustrated by the frequent crashes.  It is also possible that RockYou has not enabled any way for players to become neighbors. (I haven't figured out how to do that yet.)
On the one hand, it was smart for RockYou to get rid of the chat stream that helped players to connect to each other.  Playdom tried to curtail the abuse that was spreading on it, to no avail. Playdom had a mute button that would remove a specific player's words from your sight for a while.  It also added a way to turn off the chat (if I remember correctly).  Doing so meant missing out on the ability to request items from other players or to give other players an item they needed.
RockYou appears to have learned from this problem and wisely removed the one part of the game that enabled players to be vile to each other. Doing so meant that RockYou would not have to monitor the chat, or deal with angry parents whose kids started playing the game and got screamed at/insulted/harassed by some random player.
It would have been nice if RockYou added a means for players to connect their gardens to each other, though. The game is designed to have players become neighbors, visit other player's gardens, send gifts of necessary items to other players and to receive gifts in return. Without this ability, it feels like the game is broken.  The original game allowed for what is now called "in-game purchases", and RockYou has kept that part functional. My concern is that this game will quickly become unplayable unless I can spend a lot of money on it.
For now, I will continue to play Gardens of Time (and make incredibly slow progress).  I won't be able to complete any special builds, or ask for items that I need for the Time Machine stuff. Part of the game requires players to reach a certain number based on the items in their garden before they can unlock more hidden picture puzzles. The easiest way to do that is to add special items …like the ones that you need other player's help to complete. Or, to ask other players for certain items that can "level up" a regular item.
There's a chance I will end up bored with Gardens of Time because of these limitations.  It is a beautiful game, so it would be a shame if RockYou really did remove the ability for players to connect their gardens to each other.