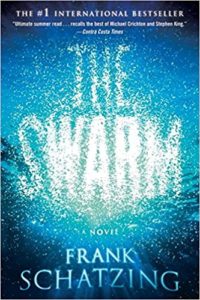 The Swarm is a science-fiction book that focuses on biology and genetics. The main premise is that there are aliens living in the oceans, who have been there much longer than humans. The aliens are much smarter than we are, and have gotten really tired of our destructive ways.
Most of the characters in the book are scientists, from different countries and branches of science. They are trying to connect the dots between the many catastrophes and plagues that are happening around the world – in the hopes of discovering the source of it all.
One scene describes a coordinated whale attack. A scene towards the end of the book includes a gigantic boat that is sinking.  There are lots of explosions, some gunfire, and a Tsunami. Overall, it feels like nature has decided to attack the humans. It makes sense that scientists are interested in solving the mystery behind the events.
The Swarm is filled with interesting discussions and details about STEM related topics. The SETI program plays a role in the story. The reader gets plenty of details about many of the ocean's creatures, habitats, and how they function together. You will find some discussion of mathematics in the book, too.
Some of the scientists specialize in genetics, and they talk to each other about things like how cells function, what cells can do – and what they cannot do, and how different chemicals affect cell function. In addition, there are underwater robots being used, lots of computers doing important things – and yes, even aliens.
Frank Schatzing does a wonderful job of providing a "refresher course" for readers who don't have a background in science (or who have forgotten the science they learned in school.) This makes the book very welcoming for people who love science-fiction, no matter how well or little they understand real-word science.  Schatzing was able to do this by having at least one character in the mix who isn't familiar with a particular scientific concept.  The other characters educate that character, and the reader, at the same time. It feels very natural.
Frank Schatzing was born in Cologne, Germany, (where the book is called Der Schwarm). As such, the story is not centered on only what happens to America and Americans. Very few of his characters are American (and the Americans are not shown in a very positive light). The events in the story affect the entire world, so readers should not expect it to be focused on one country.
The President of the United States in the story reminded me of our George W. Bush. He relies on advisors to make key decisions for him, and keeps phrasing things in ways that only Christians would use. The fictional President in the book wants to kill the aliens because he thinks humans, especially Americans, are "formed in God's image" and therefore – are supposed to "win".  Frank Schatzing gives readers an interesting (and realistic) tension between those who base their decision on fact and science – and those who make decisions based solely upon their religious beliefs.
This book review of The Swarm – by Frank Schatzing is a post written by Jen Thorpe on Book of Jen and is not allowed to be copied to other sites.
If you enjoyed this blog post please consider supporting me on Ko-fi. Thank you!