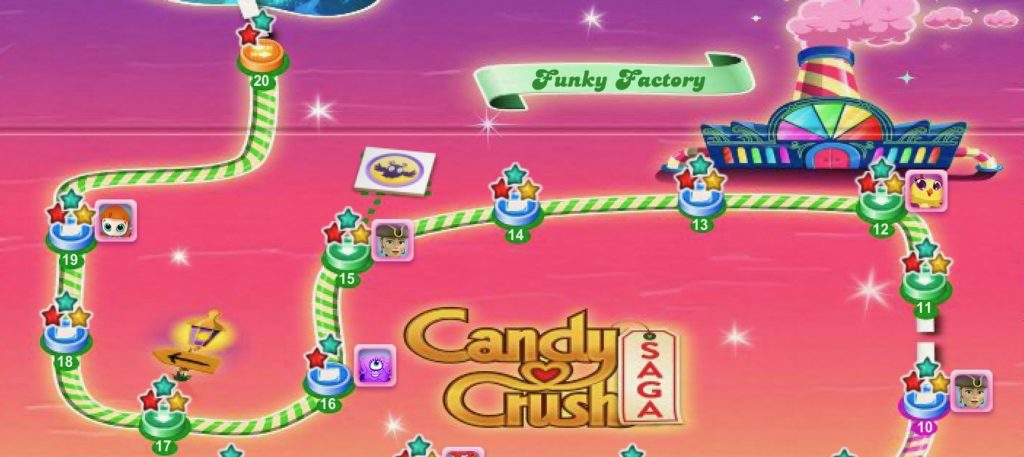 In order to unlock Dreamworld, a player must complete Episode 4 – Chocolate Mountains in Candy Crush Saga. It seems to me that Dreamworld is some sort of expansion.
Players do not have to play through the Dreamworld content in order to progress through Candy Crush Saga. That's a good thing – because the Dreamworld section of Candy Crush Saga silently disappeared shortly before I put together this blog post.
The second part of Dreamworld was called Funky Factory. At the start of this section, the little girl, Tiffi was standing next to a robot in what appears to be some sort of factory.
The robot appears at the end of Episode 15 – Sweet Surprise.  If you didn't play through Dreamworld – Funky Factory, you wouldn't have any idea why there is a robot among the characters that appear in earlier Candy Crush Saga episodes.
Dreamworld doesn't provide much context, either. The idea behind Dreamworld is that Odus the Owl brings Tiffi to Dreamworld when she gets tired. She falls asleep, and each section of Dreamworld appears to be part of Tiffi's dreams. So… maybe the robot works in the Candy Crush land factory, and Tiffi was dreaming about the factory?  It's unclear.
As with the previous section of Dreamworld, each level requires players to carefully choose which candies to match up – based on which colors are attached to the moon. Do it wrong, and Odus falls off the moon and the level instantly ends.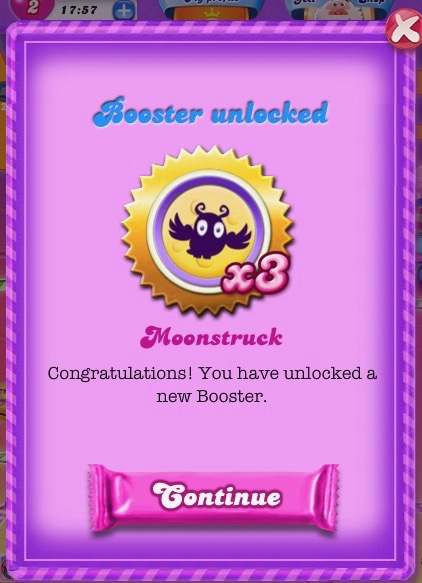 Booster unlocked – Moonstruck
Every time a player matches 3 (or more) candies, it has an effect on the moon that Odus is sitting on. Tipping it too far one way, or the other, will cause Odus to fall off. Careful players will be able to fill the moon while keeping it balanced. A Moonstruck will automatically happen, exploding some of the candy in the Level.
The player gets 3 Moonstruck Boosters. The game directs the player to use one right away.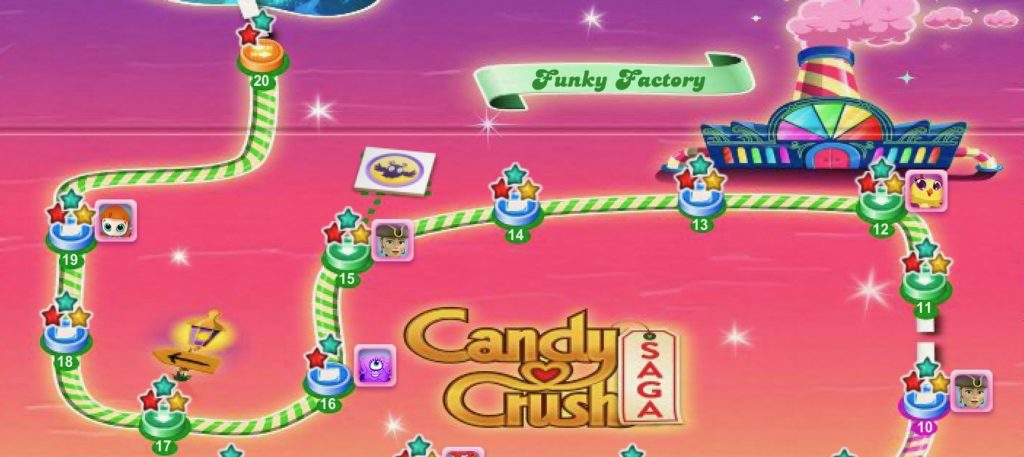 I completed Funky Factory with 3 stars in almost every level. There were two levels where I got 2 stars.
I completed Dreamworld – Funky Factory on January 2, 2017.
Candy Crush Saga: Dreamworld – Funky Factory is a post written by Jen Thorpe on Book of Jen and is not allowed to be copied to other sites.
If you enjoyed this blog post please consider supporting me on Ko-fi. Thank you!