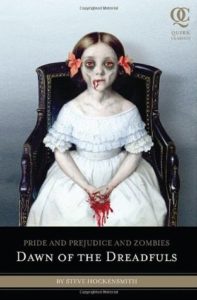 The full title of this book is Pride and Prejudice and Zombies: Dawn of the Dreadfuls. It is, of course, the prequel to Pride and Prejudice and Zombies, which was written by Seth Grahame-Smith. This is an original story, using some of Jane Austen's characters from Pride and Prejudice.
The Bennet sisters have not yet begun their training as warriors, and the reader gets to watch them transition from somewhat silly girls to extremely serious and deadly warrior women. Well, except for Lydia and Kitty, who manage to become adept warriors while still remaining quite silly and giggly.
It begins with a funeral, where the guest of honor becomes a lot more lively than expected. Mr. Bennet recognizes immediately that the curse of the Dreadfuls has returned. The word "zombie" is considered to be impolite, so, most of the characters refer to the decaying, roaming undead as "dreadfuls".
This realization causes him to turn Mrs. Bennet's greenhouse into the dojo it was supposed to be, so he can begin training his daughters in the ways of the warrior. Needless to say, the Bennet sisters are surprised by this unexpected course of events.
This story has all the wit of a Jane Austen novel, and all the horror and gore of a good zombie movie. Mrs. Bennet is mortified that her daughters are becoming warriors. She is certain that they will never find husbands now, and that the family will be "ruined". Mr. Bennet is at his sarcastic best, and he doesn't hold much back.
Jane is sweet and sensitive, and has a habit of looking down and blushing whenever she feels like too much attention is being paid to her. Lizzy is brilliant and truly has the heart of a warrior. Mary is stoic, and Kitty and Lydia are just as frivolous as you would expect them to be. Hockensmith adds in some original characters that are quirky and fascinating, each in their own way. It's a very nice mix, indeed.
Even the zombies are interesting! They aren't slow moving, and have quite the capacity for problem solving. One, towards the end, even manages to speak a word. You can likely guess what that word is! The descriptions of the fights between the heroes and the zombies are action packed, and disgusting, and wonderful.
Of course, any book even loosely based on a work by Austin must contain some "love interests". The sisters gain a teacher, called "The Master", who takes over their training, and lives in the greenhouse, um, dojo.
Master Hawksworth is dark, handsome, and athletic enough to make Jane blush and Lydia and Kitty smirk and giggle to each other in secret. Lizzy notices herself thinking about him often, and is uncomfortable about her feelings for him. Her sisters joke that he is smitten with Lizzy, but she simply can't see it. Regardless, the two of them smolder when they are around each other.
Later, Lizzy meets the somewhat mad Dr. Keckilpenny, who is studying the dreadfuls, hoping to find a way to communicate with them. He's bright, and amusing, and his hair is always disheveled in a very becoming manner. Lizzy enjoys talking with him, and preventing his death by the very dreadfuls that he seeks out. Almost too late, she realizes that he thinks of her as more than a friend.
Which of these two eligible single men will Lizzy end up with? You will have to read the book to see. Jane isn't without suitors either. Lord Lumpley, a large and lecherous man, has become smitten with Jane. This delights Mrs. Bennet, who cannot wait to see Jane married off to someone so well to do. Jane blushes when she is around him, and refuses to believe the stories about things Lord Lumpley has done, and who he has done it with. There is also a young officer, Lt. Tindall, who cannot keep his eyes off Jane.
Mrs. Bennet meets up with a long lost love, who now, due to some recent changes, travels with his own small entourage. I'll leave you to read about exactly why that is. Most of what happens between Mrs. Bennet and Captain Cannon is implied, but it doesn't leave much to the imagination.
This book review of Dawn of the Dreadfuls – by Steve Hockensmith is a post written by Jen Thorpe on Book of Jen and is not allowed to be copied to other sites.
If you enjoyed this blog post please consider supporting me on Ko-fi. Thank you!