Flight Rising is a browser-based game where players control a Lair full of dragons. One of the things you can do with your dragons is give them a Familiar. It is sort of like a pet for your dragons, and it gives the player gold once a day (when clicked on).
All of the artwork in this post is copyright of Flight Rising.
The Crumbling Goblin was the holiday Familiar for the 2016 Rockbreaker's Ceremony, which took place between November 27, 2016, and December 3, 2016.
Crumbling Goblin: Familiar – The eyes of the Earthshaker. (Rockbreaker's Ceremony Holiday Familiar 2016.)
I gave the Crumbling Goblin to a dragon named Cocoa, because they looked like they shared the same aesthetic.
Cocoa is a male Snapper
Primary: Soil Basic
Secondary: Slate Basic
Tertiary: Green Basic
Eye Type: Shadow Common
Here is a brief description of the Apparel Cocoa is wearing: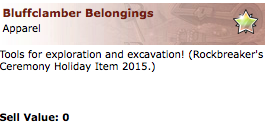 Bluffclamber Belongings: Apparel – Tools for exploration and excavation! (Rockbreaker's Ceremony Holiday Item 2015).
Earthstong Haori: Apparel – A silken, decorative garment worn traditionally by storytellers and performers. (Designed by Jazz.)
Chestnut Feathers Wings: Apparel – A full set of wings fashioned from wax and feather.
Copper Half-moon Spectacles: Apparel – A whimsical pair of reading glasses for the farsighted dragon.
#Blaugust2019
Flight Rising: Crumbling Goblin is a post written by Jen Thorpe on Book of Jen and is not allowed to be copied to other sites.
If you enjoyed this blog post please consider supporting me on Ko-fi. Thank you!