Flight Rising is a fun, browser-based, game where you control a Lair full of dragons. Each dragon can have its very own Familiar (which are sort of like pets for your dragon).
There are special Holiday festivals each month in Flight Rising. Most of them honor a specific dragon flight. The 2016 Thundecrack Carnivale took place at the end of July of 2016.  It honored the Lightning Flight.
All of the artwork in this post is copyright of Flight Rising.
The Flight Rising cycle of festivals begins in June of every year.  The theme for this year's Familiars is goblins.  If you want one of these special Familiars, the easiest way to get it is during the Holiday in which it is available.
There is potential that someone will put a previous month's (or year's) Familiar up on the Auction House after the corresponding festival is over.  You should expect to pay a high price for a Familiar that has been retired.
This is what the Sparkling Goblin Familiar looks like.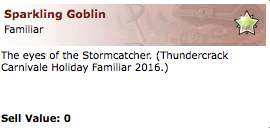 Sparkling Goblin: – Familiar – The eyes of the Stormcatcher.  (Thundercrack Carnivale Holiday Familiar 2016.) – Sell Value: 0
I gave the Sparkling Goblin Familiar to Tron, a dragon that matched the Goblin's colors.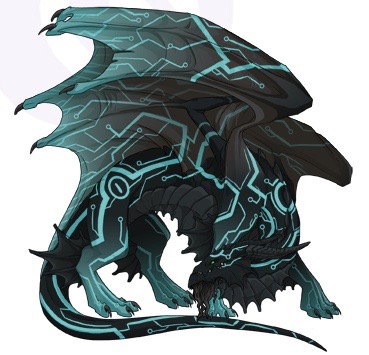 Tron is a male Guardian
Primary: Obsidian Basic
Secondary: Black Basic
Tertiary: Aqua Circuit
Tron matched the Sparkling Goblin even more after I bought Tron the Surgestream Coat.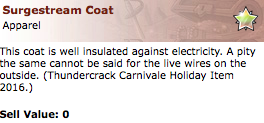 Surgestream Coat: – Apparel – This coat is well insulated against electricity.  A pity the same cannot be said for the live wires on the outside.  (Thundercrack Carnivale Holiday Item 2016). – Sell Value 0