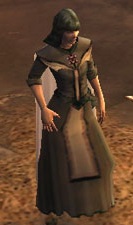 Diablo III does not have any in-game world events that resemble real world holidays. Perhaps to make up for that, the @Diablo Twitter account has been putting together some holiday related tweets.
In October, there was a cute (and creepy) story called Queen Asylla's Trick or Treat Tour. In December, they put together a story involving Kadala and and Legendary items. Who doesn't love Legendaries? I think the title of this story is "Gifts from Kadala".

The story is not exactly a "twelve days of Christmas" sort of thing, but kind of feels like it. Overall, I think this was a cute way to show off some Legendary items to players who are new to the game and might not know about them. It also reminds current players of the Legendary items that can now be put into Kanai's Cube.
I like that Diablo has featured two female NPC (non-player characters) in their little holiday stories. Queen Asylla is one of my favorites, and Kadala is one that most people love to hate. Maybe to even things out, they should pick an interesting male NPC for upcoming stories. (I've no clue what those stories would look like).
Looks like this nephalem has a big pile of blood shards to spend. Wonder what Kadala will have on offer… pic.twitter.com/owfmKpmo1H

— Diablo (@Diablo) December 17, 2015
Our nephalem's first gift from Kadala: a festive Furnace to keep the cold (and the elites) at bay. pic.twitter.com/ggILsuwCSq

— Diablo (@Diablo) December 18, 2015
Today's gift from Kadala: a matching pair of Shenlong's Fists! Really gets this monk in the spirit. pic.twitter.com/VdJx1LaLoq

— Diablo (@Diablo) December 19, 2015
Kadala's third gift: A Triumverate! Bonus: it doubles as a festive holiday light show. pic.twitter.com/VW5Dm8Hbtu

— Diablo (@Diablo) December 20, 2015
Today's gift from Kadala is Lut Socks! It's the kind of gift that would make any Barbarian jump for joy. pic.twitter.com/NXUDoUJVhy

— Diablo (@Diablo) December 21, 2015
On the fifth day, Kadala gave to me FIVE UNITYYYYYYS Time to do some regifting… pic.twitter.com/q43dqmC2PS

— Diablo (@Diablo) December 22, 2015
Seems Kadala was fresh out of ugly holiday sweaters, but Hammer Jammers are the next best thing. pic.twitter.com/lQrj3S97v9

— Diablo (@Diablo) December 23, 2015
Kadala's trying to get our nephalem ready for a chicken dinner, but she forgot the Carving Knife. pic.twitter.com/ngmRpv7J5A

— Diablo (@Diablo) December 24, 2015
Kadala's bound to be generous today! This time it's…four blues in a row? Guess we'll make 4 lumps of arcane dust. pic.twitter.com/FJilL1QRUj

— Diablo (@Diablo) December 25, 2015
Today, Kadala grants our nephalem what she truly hungers for. pic.twitter.com/5FoKzdFx8q

— Diablo (@Diablo) December 26, 2015
While this offering may seem crude, Kadala knows that the best gift is the gift of good company. pic.twitter.com/pAjEA73pfU

— Diablo (@Diablo) December 27, 2015
Let's see what Kadala – wait, did you hear that? Did someone say [Thunderfury, Blessed Blade of the Windseeker] pic.twitter.com/UKYgbcGjah

— Diablo (@Diablo) December 28, 2015
And for Kadala's grand finale…12 useless yellows. You shouldn't have, Kadala. Really. You shouldn't have. pic.twitter.com/B5veiWuoCR

— Diablo (@Diablo) December 29, 2015